Lake Family Crest, Coat of Arms and Name History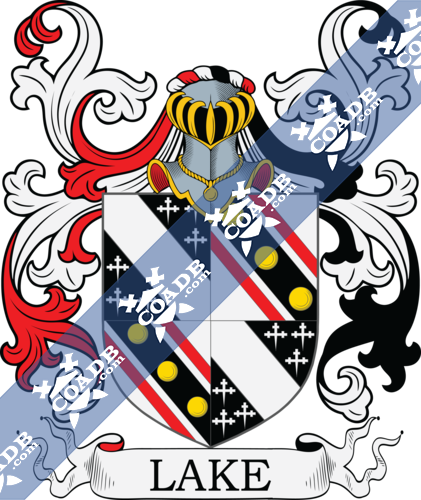 Lake Coat of Arms Gallery
Don't know which Coat of Arms is yours?
We can do a genealogical research. Find out the exact history of your family!
Learn More
This section has not yet been completed. If you are interested in having your genealogy done, we offer an affordable research servicethat traces your lineage so you can learn more about your ancestors, where they came from, and who you are.
Blazons & Genealogy Notes
1) (Viscount Lake, extinct 1848). Sa. a bend betw. six crosses crosslet fitchée ar., on a chief of augmentation of the last a representation of the flsh of Mogul barways per pale or and vert, banded vert and gu. pierced with a shaft erect headed with a crescent and by other shafts in saltire, headed variously with golden balls, an annulet, &c., granted in 1807 for services in the Mahratta war. Crest—A horse's head couped ar. charged on the neck with a bar gemel gu. Supporters—Dexter, a grenadier soldier of the 60th Regiment supporting with the exterior hand a musket all ppr.; sinister, a Malay soldier with his musket also ppr.
2) (Smarden, co. Kent; Thomas Lake M.D., d. 1595). Sa. a bend betw. six crosslets fitchee ar., quartering Bisnop, ar. on a bend sa. cotised gu. three bezants.
3) (Edmonton, co. Middlesex, bart.). Quarterly, 1st, for a coat of augmentation, granted to Edward Lake, Chancellor of the Diocese of Lincoln, by Charles I., for services at Edge Hill, to be borne in the 1st quarter, gu. a dexter arm embowed in armour, issuing from the sinister side of the shield, holding in the hand a sword erect all ppr. thereto affixed a banner ar. charged with a cross betw. sixteen escutheons of the first, on the cross a lion pass, guard, or; 2nd, sa. on a bend betw. six crosses crosslet ar. a mullet for diff, 3rd, ar. a chev. betw. three boars' heads couped sa.; 4th, quarterly, ar. and sa. on a bend of the last three fleurs-de-lis of the first. Crests—1st: A chevalier in complete armour on a horse courant ar. bridle and trappings all ppr. in the dexter hand a sword embrued gu. holding the bridle in his mouth, the sinister arm hanging down useless, round his body a scarf in bend of the last; 2nd: A seahorse's head ar. finned or, gorged with three bars gu. Motto—Un Dieu, un roy, un coeur.
4) (Welston and Buckland, cos. Bucks, Hertford, and Stafford). Quarterly, or and az. four crescents counterchanged. Crest—A cross formée fitchée in a crescent, all within an annulet or.
5) (co. Devon). Ar. on a chief gu. two annulets braced or, over all a bend engr. az.
6) (co. Hants). Or, on a saltire engr. az. nine annulets ar. on a canton gu. a tower of the third. Crest—A cannon mounted ppr.
7) (Sir Thomas Lake, Clerk of the Signet. Visit. London, 1568). Sa. on a bend betw. six crosses crosslet fitchée ar. a mullet of the field, quartering, Quarterly, ar. and sa. on a bend gu. three mullets ar. a martlet or, for diff.
8) (Stephen Lake, of London, Doctor of the Civil Law; impalement Fun. Ent. Ulster's Office, 1627, William Croe, whose wife was Elizabeth, dau. of said Stephen Lake). Sa. a bend betw. six crosses crosslet fitchée ar.