Langford Family Crest, Coat of Arms and Name History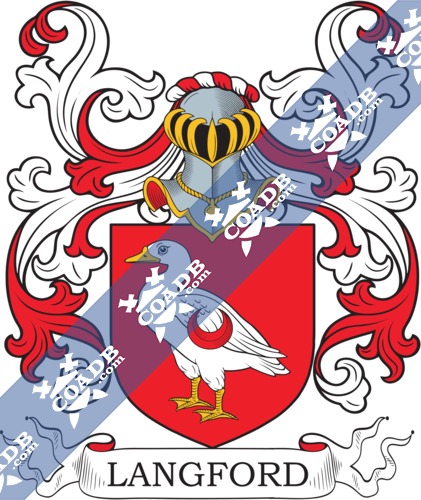 Langford Coat of Arms Gallery
Don't know which Coat of Arms is yours?
We can do a genealogical research. Find out the exact history of your family!
Learn More
LANGFORD
The name Langford is of Anglo-Saxon/English origin and is considered topographical as it derived its name from any of the towns found in Wiltshire, Bedfordshire, Somerset, Devonshire, Nottinghamshire, Essex, or Norfolk which are named Langford or Longford. Langford is a compound of two medieval English words, langa which translates to "length" or "long" and ford which translates to "shallow water".
Surnames in Britain prior to the Norman conquest were largely unheard of. In the small settlements and villages which existed during earlier times, residents found little need for surnames as everyone in these communities new each other and a given name would usually suffice. However, with the passage of time, population growth and expansions of communities as villages gave way to towns and cities, it became necessary to add a qualifier to a people's names to distinguish them, one from another. Therefore one person may have been identified by their given name plus their occupation while another may have been identified by their given name and one of their parent's names. The introduction of surnames by the Norman aristocracy after the invasion seemed to be the next logical step in this evolution. There was a boundless supply from which surnames could be formed, in addition to the use of patriarchal/matriarchal names or reference to the individuals occupational, there were things such as defining physical traits, to a familiar geographical location or a topographical landmark found near the individuals home or birthplace, the name of the village in which the person lived, and so much more. Soon, surnames would come not just to represent an individual but whole families.
There often exists variations in spelling of many surname's, as with many names which date back to the early centuries. The variation in spelling of both given and surnames during this time period can be attributed to a lack of continuity regarding guidelines for spelling which was compounded by the diversity of languages in use in European countries at this time. The variations in the spelling of the surname Langford include but not limited to; Langford, Langforde, Langfort, Longford, Longfort, and Longforde among others.
The earliest record of any variation of this surname is that of Osm' de Langeford which appears in the Wiltshire tax rolls from 1130. These rolls, were a series of census and tax records kept by the English Treasury by order of King Henry I, with the oldest dating back to the 12th century. They hold the distinction of being the oldest consecutive set of records detailing English governance in the United Kingdom. These records span a period of over 700 years and have proven invaluable to researches over the years. Additionally, the marriage of William Langford and Elizabeth Davis appear in church records found in London dated 1582. The records also show Batheia Lankford was christened in London in1692.
The first recorded immigrant to America bearing the surname or any variation of the spelling was Maurice Langford who arrived in 1635 and settled in Virginia. Walter Langford landed and settled in Virginia in 1643 and Edward Langford arrived and settled in Maryland in 1644.
There were also many immigrants to the British Common Wealth countries of Canada and Australia bearing the surname Langford. William Landford landed in 1749 and settled in Canada. Brothers, John and Samuel Langford landed in 1848 and settled in Adelaide, Australia. Phoebe Langford landed in 1851 and settled in Adelaide, Australia. John Alfred and Harriet Langford landed and settled in Wellington, New Zealand in 1840 and Richard and Ann Langford and their daughter Elizabeth landed and settled in Nelson, New Zealand in 1842.
Worldwide, the highest concentration of people with the surname Langfords are found in Australia, the United Kingdom, New Zealand, the United States, and Ireland . By state, the largest percentile of those with the surname Langford live in Texas and Louisiana.
There are many persons of note who bear the surname Langford. Sir William Langford was born in Devon in 1366. He served as a member of Parliament in the House of Lords from 1399 until 1406. The Langford's family seat and primary estate was located in Devon, although, they maintained three other manors as well. In the 14th century Langford's grandfather married into the de la Beche family, which added eight more estates to their holdings. Langford was knighted sometime before 1387 after having done military service overseas under the Earl of Devon of the Earl of Salisbury.
Blazons & Genealogy Notes
1) (Alington; confirmed by Segar, Garter). Gu. a wild goose close ar. a crescent for diff.
2) (Selford, co. Bedford; granted March, 1607). Paly of six ar. and gu. on a bend of the first three eagles displ. of the second. Crest—In a row of partridge feathers of divers colours three chibbals or and ar.
3) (cos. Wilts and Berks). Paly of six ar. and gu. on a chief az. a lion pass. or.
4) (Langford Hill, co. Cornwall; seven descents in Visit. Cornwall, 1620; the heiress m. Wollacombe). (Hallatrow, co. Somerset, 1620; descended from the Langfords of co. Wilts). (Trungle and Penzance, co. Cornwall). Paly of six ar. and gu. on a chief az. a lion pass. guard. or.
5) (co. Worcester). Paly of six or and gu. (sometimes az.) a bend ar.
6) (arms in the Manor House of Sarsden, co. Oxford; Edward Langford, with Thomas Stonor, and Richard Habcourt, granted the Manor of Tackley, co. Oxford, to John Newers, and Clementia, his wife, 1 Edward IV., 1461. Visit. Oxon, 1566). Paly of six ar. and gu. on a chief az. a lion pass. or.
7) (Sir John Langford, temp. Edward II.; his sister m. Edward Pierpoint, Esq., of Holm Pierpoint, ancestor of the extinct Dukes of Kingston. Visit. Notts, 1614). Quarterly, ar. and gu.
8) (Langford Hill, Poundstock, Liskerd, and Tromade, all in co. Cornwall; descended from Langford, of Langford, co. Devon. Visit. Cornwall, 1620). Paly of six ar. and gu. on a chief az. a lion pass. guard. or, a mullet for diff.
9) (cos. Derby, Nottingham, and Salop). Paly of six or and gu. over all a bend ar. Crest—A tiger pass, coward gu. maned and tufted or.
10) (Bratton, co. Devon). Paly of six ar. and gu. on a chief of the first a lion pass. sa.
11) (co. Leicester). Paly of six ar. and gu. a bend, of the first.
12) (London and co. Middlesex). Gu. a shoveller, wings close ar. a crescent for diff. Crest—A demi shoveller, wings displ. ar. charged with a crescent for diff.
13) (London). Per pale ar. and gu. three mullets counterchanged.
14) (co. Northumberland). Paly of six or and gu. a bordure ar.
15) (Muckmaire, co. Antrim; impalement Fun. Ent. Ulster's Office, 1630, Sir Hogh Clotworthy, Knt., whose wife was Mary, dau. of Roger Langford, from whom descend maternally Viscount Massereene and Ferrard, and Lord Langford). Paly of six sa. and or, on a chief vert a lion pass. of the field.
16) (Kilmackedret, co. Londonderry, bart., extinct; Sir Hercules Langford was created a bart. 1667, d. 18 June, 1683, and was s. by his son, Sir Arthur Langford, who d. s. p., leaving his sister, Mary Langford, his heiress; she m. Sir John Rowley, ancester of Lord Langford; Fun. Ent. Ulster's Office). Paly of six sa. and or, on a chief vert a lion pass. guard. of the second. Crest—A demi lion ramp. holding in the dexter paw a truncheon all or.
17) Quarterly, gu. and ar. (another, gu. fretty engr. erm.).
18) Langford-Nibbs. (Island of Antigua; granted 1759). Az. a chev. engr. erm. on a chief ar. two stags' heads cabossed gu. Crest—A stags' head cabossed gu. stricken in the scalp with an arrow or, feathered ar.