Larkin Family Crest, Coat of Arms and Name History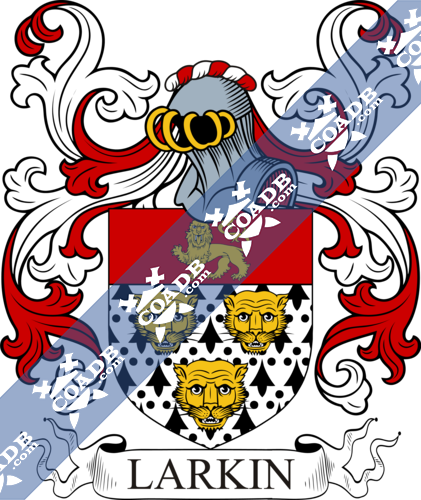 Larkin Coat of Arms Gallery
Don't know which Coat of Arms is yours?
We can do a genealogical research. Find out the exact history of your family!
Learn More
Surname Name Meaning, Origin, and Etymology
This last name is of baptismal origin meaning "the son of Lawrance". Shortened version or nickname for Lawrence was Larry, and Larkin was a diminutive of Larry, with the suffix kin (of Low German origin) meaning "little one". The name Lawrence or Laurence is an Old French masculine given name ultimately deriving from a Roman word meaning victory, or from a place in Italy known for its bay or laurel trees. The surname Larkin can also be an Anglicized form of the Gaelic surname O'Lorcain, meaning a descendant of Lorcan, which was a medieval personal name from the diminutive of lorc, meaning fierce or cruel.
A separate origin theory is offered in An Etymological Dictionary of Family and Christian Names by William Arthur, which suggests it derives 1) from the word lark, a sweet, musical bird or 2) from the word learcean or leargan, a sloping green hill near the sea, from the Gaelic word lear, meaning sea.
Spelling Variations
Common spelling variants or names with similar etymologies include Larking (the letter G eventually was dropped) Larkyng, Larken, O'Larkin, Larkins, Lorkin, Lark, and Larke.
Larkin of Ireland
The book, Genealogy of Irish Families by John Rooney published in 1895, has a section dedicated to this name. Rooney asserts the family descends from King Milesius of Spain through his son Heremon, which is a dubious claim he makes in regard to several other Irish families as well, since historian consider said king to be mythological. It is stated the founder of the family was Fiacha Baiceda, son of Carhine More, a Great King of Ireland in 144 AD. The name was anciently spelled Loiorchan, which means Inquirer. The sept held lands in counties Wexford and Galway. The O'Larkins were once Chiefs of Fothart, which later became the barony of Forth, and their build a fortress at Carn, now called Carnsore Point. They were a prominent clan from the tenth to the sixteenth centuries. The name is still common in the parish of Loughrea in county Galway. Rooney recounts the following story: "Of this family was Larkin, one of the three young men hanged in Manchester, England, in 1867, and known as The Manchester Martyrs. He was one of a party of Fenians who attempted the rescue of Colonel Kelly and Capain Deasy from a prison van guarded by the police. In the rescue one of the policemen inside the van was accidentally killed. Larkin and four others were tried, convicted on confessedly perjured evidence, and sentenced to death. Larkin, Allen, and O'Brien were hanged; Maguire, who was convicted on the same evidence, was pardoned, and Condon, an American citizen, had his sentence commuted and was subsequently released. Larkin, Allen, and O'Brien were executed in order to terrorize others, and to glut the savage desire of the English masses for blood. They died in a manly manner, uttering with their last breath the words: God Save Ireland".
Popularity & Geographic Distribution
The last name Larkin ranks 1,418th in popularity in terms in the United Status as of the 2000 Census. The name ranks particularly high in the following seven states: Connecticut, Massachusetts, New York, Pennsylvania, Utah, Minnesota, and New Jersey.
The surname Larkin frequency/commonness ranks as follows in the British Isles: England (1,051st), Scotland (1,497th), Wales (1,467th), Ireland (158th) and Northern Ireland (375th). In England, it ranks highest in Kent, Sussex, Hertfordshire, and Lancashire. In Scotland, it ranks highest in West Lothian. In Wales, it ranks highest in Brecknockshire. In Ireland, it ranks highest in King's County.
The name is also present throughout the remainder English speaking world:  Canada (2,297th), New Zealand (1,662nd), Australia (796th), and South Africa (5,544th).
Early Bearers of the Surname
The earliest known bearer of this surname was Thomas Lorekyn who was documented in the Pipe Rolls of Sussex in 1296 AD. A one Adam Lartkyn was recorded in the Subsidy Rolls in 1296 AD. A one Thomas Lorkyn was recorded in the Subsidy Rolls of Cambridgeshire in 1327 AD. An early baptism involving this surname was Joane Larkings, daughter of Thomas, at St. James Clerkenwell in London in 1620 AD. An early marriage involving this last name was Thomas Larkyng to Clare Sanders in 1546. An early burial was Elizabeth Larkin, a servant, was buried at St. Dionis Backchurch in 1684 AD.
History, Genealogy, and Ancestry
John Larkin was born in England in 1585. He married a woman named Mehitable and had two issue with her: John and Edward. His son Edward was born in England in 1615 and he married twice: once to Joanna Hale Penetecost in Concord, Massachusetts, in 1635 and Lydia Wilcox in Stonington, Connecticut in 1654. He had the following children: John, Elizabeth (Newton), Sarah, Hannah, Thomas, Sarah (Brand), Edward, Joanna (Newton), Sarah (Wheeler), and Inesse. His son John was born in Charlestown, Massachusetts in 1640 and he married Joanna Hale Dodge and had two issue with her: Joanna (Dodge) and Sarah (Fay).
A one William Francis Larkin was born in 1868 and he married Isabel Margaret Scott in Kempsey, New South Wales, Australia in 1882. They had the following issue together: Francis D., Mary A., Leslie William, Ethel Margaret, Douglas Raymond, Nora, Alina Minnie McFadyen, Douglas, and Isabel.
Early American and New World Settlers
The book Genealogical Guide to the Early Settlers, mentions 4 people bearing this surname:
1) Edward Larkin of Charlestown, 1639, who married a woman named Joan and had issue John, Sarah, Elizabeth, Thomas, and Edward. He was a freeman in 1640 and was in an artillery company in 1644
2) Edward Larkin of Newport, who was in a list of freemen in 1655, and was a representative in 1663. He was from Westerly and he married Elizabeth, daughter of Henry Hall, and had issue with her named Edward, John, Roger, and Hannah
3) Edward Larkin of Charlestown, perhaps son of the first Edward mentioned, who in 1688, married Mary Walker and had a issue named Edward, John, Mary, John, Edward, Joanna, and Samuel
4) John Larkin of Charlestown, perhaps the brother of the first Edward mentioned, had a wife named Joan and had a daughter named Hannah who married John Newell.
Other settlers in colonial America include William Larkin (Boston 1630), Elizabeth Larkin (Virginia 1635), Benjamin Larkin (Maryland 1720), and John Larkin (1769). In Canada, one of the earliest bearers recorded was Michael Larkin, who came to the province of Nova Scotia in 1837. In Australia, two of the earliest settlers were Martin Larkin (a herdsmen) and Thomas Larkin (a joiner, a person who joins pieces of wood) who came to New South Wales in the late 1820s or early 1830s. In New Zealand, one of the first settlers bearing this name was Michael Larkin, a servant age 17, who came to the city of Wellington in 1873 aboard the Douglas.
Mottoes
I have been unable to identify the Larkin family motto.
Grantees
We have three coats of arms for the Larkin surname depicted here. These three blazons are from Bernard Burke's book The General Armory of England, Ireland, and Scotland, which was published in 1848. The bottom of this page contains the blazons, and in many instances contains some historical, geographical, and genealogical about where coat of arms was found and who bore it. People with this last name that bore a Larkin Coat of Arms include:
1) John Delrow Larkin of Aldenham, county Hertford, 1891
2) Larken, A. Staunton, (Richmond Herald of Arms) Reverend E.R., of Burton Rector, county Lincolnshire, 1884
Notables
There are hundreds of notable people with the Larkin surname. This page will mention a handful. Famous people with this last name include: 1) Anatoly Ivanovich Larkin (1932-2005) who was a Russian theoretical physicist who worked in the area of condensed matter, 2) Philip Arthur Larkin (1922-1985) who was an English poet from Radford Coventry, 3) Thomas Oliver Larkin (1802-1858) who was an American businessman from Alta California who was the United States' first consul to Mexican Alta California and one of the signers of the California Constitution, 4) Stephen Patrick Larkin (1910-1969) who was a pitcher in Major League Baseball from Cincinnati, Ohio who played for the Detroit Tigers, 5) Patty Larkin *1951) who is a singer-songwriter based in Boston who is known for folk rock and was from Des Moines, Iowa, 6) Joan Marie Larkin (1958), known as Joan Jett, was an American musician from Wynnewood, Pennsylvania known best known for her 1982 hit I Love Rock n' Roll, and 7) Lina Larkin (1970) who is an American actress from Los Angeles, California best know for voicing Princess Jasmin in Disney' 1992 animated film Aladdin.
Blazons & Genealogy Notes
1) (or Larkins). (cos. Cambridge, Hereford, and Frinsbury, co. Kent). Erm. three leopards' faces sa. Crest—A lark, wings endorsed, holding in the beak a columbine all ppr.
2) Erm. three leopards' faces or, on a chief gu. a lion pass. guard. of the second.
3) Chequy gu. and ar. a cross az.