Latham Family Crest, Coat of Arms and Name History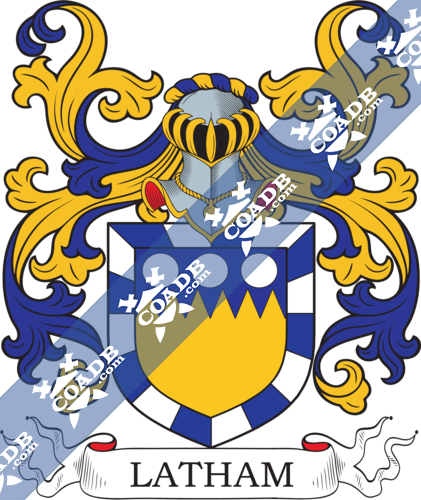 Latham Coat of Arms Gallery
Don't know which Coat of Arms is yours?
We can do a genealogical research. Find out the exact history of your family!
Learn More
LATHAM
The name Latham is English but thought to be Scandinavian in origin. It is not uncommon to find names, which for centuries have been claimed by the citizens of one country, often found their origins in another. In the case of the name Latham, it is believed to have come over with the Norsemen during the time of the Viking invasions predating the Norman invasion of 1066. The name is considered topographical, as it is thought to have derived from the Old Norse words "hlatha" or "hlathum" which translates to "near the barn". The Anglicized form "latha" lends itself as the suffix to the following locations; Lathom in Lancashire, Laytham in East Yorkshire, and Latham in West Yorkshire.
There are multiple variations of the spelling of the surname including but not limited to; Latham, Lathem, Laytham, Leathum, and Lathom among others. The variation in spelling of both given and surnames during this time period can be attributed to a lack of continuity regarding guidelines for spelling which was compounded by the diversity of languages in use in European countries at this time.
The earliest record of any variation of this surname is that of Robert de Lathun which appears in the Yorkshire tax rolls from 1204. These rolls, were a series of census and tax records kept by the English Treasury by order of King John, with the oldest dating back to the 12th century. They hold the distinction of being the oldest consecutive set of records detailing English governance in the United Kingdom. These records span a period of over 700 years and have proven invaluable to researches over the years. Lancashire land records show a listing for Robert de Lathom 4th Earl of Lathom. Lancashire was the location of the Lathom estate and family seat.
The first recorded immigrant to America bearing the surname Latham or any variation of the spelling was William Latham who arrived on the Mayflower in 1620 and settled in Plymouth, Massachusetts. Robert Latham landed and settled in Virginia in 1629. Carey Latham landed in 1630 and settled in New London, Connecticut. Jane Latham landed and settled in Virginia in 1651 and
William Latham arrived and settled in Virginia in 1653.
A significant number of Lathams migrated to Australia as well. The first recorded immigrant to Australia was Harry Latham who sailed upon the "Caspar" landing in Adelaide in 1849. John Latham sailed on the "Admiral Boxer" and landed in South Australia in 1855.
Worldwide, the highest concentration of people with the surname Latham are found in the the United Kingdom, Australia, New Zealand, United States, and Canada. By state, the largest percentile of those with the surname Latham live in Alabama.
There are many persons of note who bear the surname Latham. Lord Latham, Sir Thomas Paul
Latham, 1st Baronet of Crow Clump was an English businessman and worked for the Ministry of Pensions during World War I. He maintained a residence in Surrey until his death in 1931. Lord Latham 1st Baronet's heir apparent was his eldest son, who was named Charles also.
Lord Latham, Herbert Paul Latham, 2nd Baronet of Crow Clump was a Member of the British Parliament. He maintained his residence at the family estate, Herstmonceux Castle in Sussex until his death in 1955. Lord Latham, 2nd Baronet's heir apparent was his only child, who was named Richard.
Lord Latham, Richard Thomas Paul Latham, 3rd Baronet of Crow Clump is the current Baronet and maintain a residence in Sussex, the location of the family seat.
Charles Latham, 1st Baron of Latham was from England and held many public offices during his lifetime. He served in official capacity as Alderman of the London County Council, London Passenger Transport Board, and the Metropolitan Water Board. He received his title, Baron Latham, of Hendon in January 1942.
Robert Gordon Latham was a noted British scientist who specialized in anthropology, primarily ethnology and philology. He was educated at Eton and King's College at Cambridge. He then went on to medical school at the University of London where he receive his M.D. He began giving lectures at Middlesex Hospital and soon joined the staff. Latham gave up medicine in 1849 to return to his study of anthropology. His primary research was in study of languages and how they influenced genealogical relationships. Latham was the author of multiple books on topics from anthropology to the English language, he even revised a dictionary which Samuel Johnson published.
Blazons & Genealogy Notes
1) (Papworth-Agnes, co. Cambridge, and Northokenham, co. Essex). Or, on a chief indented az. three plates within a bordure gobonated ar. and of the second.
2) (Hanley, co. Worcester). Same Arms as Lathom, of Lathom, chief dancettée.
3) (Bradwall, co. Chester). Mottoes—Expertus fidelem; and, Secunda alite. Erminois on a chief indented az. three bezants, over all a bend gu. Crest—On a rock ppr. an eagle, wings elevated erminois, preying on an infant ppr. awaddled az. banded ar.
4) (from the monument of Nicholas Latham, of Brigstock Great Park, in Church of Barnwell, St. Andrew, 1620). Or, on a chief indented az. three plates. Crest—A pelican in her nest or.
5) (Weaste, Pendleton, co. Lancaster, from co. Chester; represented by Arthur Goege Leatham, Esq., of Weaste). Motto—Aequanimitate. Same Arms as last. Crest—On an oak branch lying fessways, truncated and leaved vert, an eagle rising or.
6) Quarterly, 1st and 4 th, az. two chev. or; 2nd and 3rd, gu. a fesse dancettée betw. six billets or.
7) Quarterly, 1st and 4th, az. two chev. or; 2nd and 3rd, ar. an inescutcheon within an orle of eight cinquefoils pierced sa.
8) Sa. six annulets or, three, two, and one.
9) (Smith's Ordinary, Ulster's Office). Quarterly, 1st and 4th, or, on a chief az. three plates; 2nd and 3rd, gu. a fess dancettée betw six crosses crosslet or.