Latimer Family Crest, Coat of Arms and Name History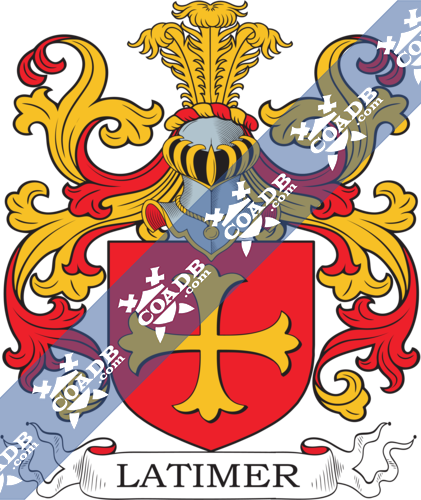 Latimer Coat of Arms Gallery
Don't know which Coat of Arms is yours?
We can do a genealogical research. Find out the exact history of your family!
Learn More
LATIMER
Latimer is an English surname which migrated over with the Normans during the invasion of 1066. The name is the Anglicized version of the old French "latinier" which translates to speaker of Latin. In this context the name would be considered occupational. During much of the Middle Ages and prior, Latin was the the language of choice for official documents making the position of a "Latiner" or "Latimer" very important.
The variations in the spelling of the surname includes; Latimer; Lattimer; Latimore; Lattimore; Latimor; and Lattimore among others. The variations in spelling of surnames dating back to ancient times can be attributed to a lack of consistency regarding guidelines for spelling in use by the scribes who recorded such information, many of which were in the habit of spelling phonetically. The issue of multiple spellings of names in records was compounded by the diversity of languages in use in European countries at this time.
Until the Norman invasion and conquest, surnames were rarely if ever used. In the small settlements and villages which existed during earlier times in most of Britain, residents found little need for surnames as everyone in these communities knew each other and a given name would usually suffice. However, as communities grew and people began to migrate on a larger scale, along with the need of the government having a reliable way to track people for tax and census purposes, the Norman aristocracy's penchant for using surnames seemed the appropriate evolution to this problem. In most instances to distinguish themselves, one from another, those not of the noble class would often be identified by their given name plus their occupation while others may have been identified by their given name and one of their parent's names. There was a boundless supply from which surnames could be formed, in addition to the use of patriarchal/matriarchal names or reference to the individuals occupation, there were things such as defining physical traits, a familiar geographical location or a topographical landmark found near the individual's home or birthplace, the name of the village in which the person lived, and so much more. Over the course or time, surnames would come not just to represent an individual but whole families.
One of the earliest record of any variation of this surname is that of Gocelinus le Latimer which appears in the Cambridge tax rolls from 1213. The tax rolls, were a series of census and tax records kept by the English Treasury by order of King John. These documents, the oldest dating back seven hundred years to the 12th century, are considered the oldest continuous set of records detailing English governance in the United Kingdom.
The task of record keeping was primarily the responsibility of the churches, priories, and government as literacy was often a skill found only among the wealthy, the clergy, and those in government. For practical purposes, governments found the use of surnames made the recording and tracking of people for census, taxation, and immigration purposes easier.
One of the first recorded immigrants to America bearing the surname was Thomas Latimer who arrived in 170 1and settled in Virginia.
There were also immigrants to the British Commonwealth countries of Canada, Australia, and New Zealand bearing the surname. Greg and Elizabeth Latimer and their daughter, Sarah, landed in 1839 and settled in Adelaide, Australia. Robert Latimer was one of the early settlers to New Zealand, arriving in 1874 and settling in Lyttelton and Mary Ann Latimer arriving in 1878 and settling in Auckland.
Worldwide, the highest concentration of people with the surname Latimer are found in New Zealand, Australia, the United Kingdom, Canada, and the United States. By state, the largest percentile of those with the surname Latimer live in Utah, Idaho, North Carolina, Oklahoma, and Nebraska.
There are many persons of note who bear the surname such as British born clergyman, William Latimer. He was educated at Oxford University and the University of Ferrara in Italy where he studied Greek. Latimer was a noted scholar of Ancient Greek.
American born Wendell Mitchell Latimer was a noted chemist. He was educated at and received his PhD from the University of California at Berkeley. During the course of his career, Latimer won numerous awards and honors including; lifetime membership status in the National Academy of Science, the William H. Nichols Medal from the American Chemical Society, and the President's Certificate of Merit.
Blazons & Genealogy Notes
1) (Baron Latimer, of Danby, passed to the Nevills 1380, now vested in Lord Willoughby de Broke; William de Latimer summoned to Parliament 1299). (Baron Latimer, of Braybrooke, passed to tho Griffins; Thomas Latimer, son of John de Latimer, brother of William, first Baron Latimer, of Danby, by the heiress of the Braybrookes, was summoned to Parliament 1299). Gu. a cross patonce or. Crest—A plume of feathers or.
2) (co. Devon). Gu. a cross patonce or, charged with, five escallops sa. a bordure ar.
3) (co. Dorset). Gu. on a cross patonce or, five torteaux (another, with a border engr. az.).
4) (co. Suffolk). Az. a chev. ar. in chief a cinquefoil of the second pierced, in base three crosses crosslet or.
5) (co. York, temp. Edward I.). Gu. on a cross patonce or, four escallops sa.
6) Ar. on a chief gu. four crosses crosslet or. Crest—An eastern crown gu.
7) Gu. a cross moline or, in the 1st quarter a crescent of the last. Crest: On a mount vert a hind sejant ar. collared and chained or, under a tree ppr.
8) (Hugh Latimer, Bishop of Worcester, 1535-39; arms in a window at Hartlebury Castle, co. Worcester). Gu. a cross patonce or, over all a bend az. semée-de-lis of the second.
9) Ar. two bars gu. on a canton of the last a cross couped or.
10) Gu. on a cross patonce or, five maunches of the field (another, seven pellets).
11) Gu. a cross patonce or, on a bordure az. three fleurs-de-lis of the second.
12) Gu. a saltire ar. charged with an annulet.
13) Gu. on a fesse betw. six crosses crosslet sa. three cinquefoils ar.