Lavington Family Crest, Coat of Arms and Name History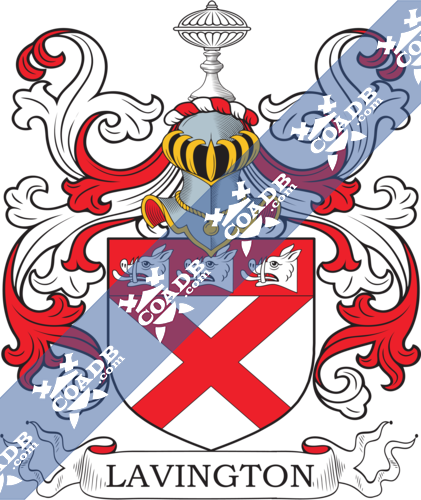 Lavington Coat of Arms Gallery
Don't know which Coat of Arms is yours?
We can do a genealogical research. Find out the exact history of your family!
Learn More
Lavington Origin:
England
Origins of Lavington:
This interesting name is of Anglo-Saxon origin and is a locational surname deriving from any of the places called 'Lavington' in Sussex and in Wiltshire. The two places in Sussex, now called 'Woolavington' and 'Barlavington', and recorded in the Domesday Book of 1086 as 'Levitone' and 'Barleventone' respectively, were once (circa 750) called 'Lafingatun', which means 'the hamlet of Lafa's people', derived from the Old English pre 7th Century particular name 'Lafa', with the addition 'ing' showing 'people, family or clan of', with 'tun', hamlet or settlement. The places recognized by the additions 'wella', water source and 'beorg,' which means hill, slope or 'bere,' barley, at an early date. The places in Wiltshire called priest's (or West) and Market (or East) Lavington share the similar original meaning and origin as those in Sussex. The wedding of John Lavington and Joyce Button noted at All Hallows, London Wall, London, in May 1680.
Variations:
More common variations are: Leavington, Levington, Livington, Luvington, Lvngton, Livingtone, Livingeton, Liveington, Livingwton.
England:
The surname Lavington first appeared in Wiltshire, where they held a family seat from ancient times.
The very first recording spelling of the family was shown to be that of Hugh de Lavinton, dated about 1272, in the "The Book for Fees for Lincolnshire." It was during the time of King Edward I who was known to be the "The Hammer of the Scots," dated 1272 – 1307. The origin of surnames during this period became a necessity with the introduction of personal taxation. It came to be known as Poll Tax in England.
Ireland:
Many of the people with surname Lavington had moved to Ireland during the 17th century.
United States of America:
Individuals with the surname Lavington landed in the United States in three different centuries respectively in the 17th, 18th, and 19th. Some of the people with the name Lavington who arrived in the United States in the 17th century included Abell Lavington, who sailed to America in 1658. John Lavington, who landed in Maryland in 1658. William Lavington to Barbados in 1679.
Australia:
Some of the individuals with the surname Lavington who landed in Australia in the 19th century included John Lavington at the age of 29, arrived in South Australia in 1855 aboard the ship "Mallard."
Here is the population distribution of the last name Lavington: England 419; United States 151; Australia 56; Wales 45; Scotland 26; New Zealand 9; Canada 9; Trinidad and Tobago 2; Belgium 1; Germany 1.
Notable People:
George Lavington (January 1684 –September 1762) was a priest of Exeter from 1746 to 1762. He was born in Mildenhall, Wiltshire to Rev Joseph Lavington and his wife Elizabeth nee Constable, he got an education at New College, Oxford (becoming a fellow in 1708) and later selected Minister to King George I. He gave services as a Prebendary at Worcester Cathedral. After that, he gave services as Weldland Prebendary at St Paul's Cathedral, London.
Ralph Payne, 1st Baron Lavington (1739–1807), was a British leader.
Blazons & Genealogy Notes
1) Ar. a saltire gu. on a chief of the last three boars' heads couped of the first. Crest—A covered cup ar.
2) (Bassishaw, Scotland). Ar. a saltire gu. in chief a crescent sa. on a chief of the second three boars' heads couped.