Lawford Family Crest, Coat of Arms and Name History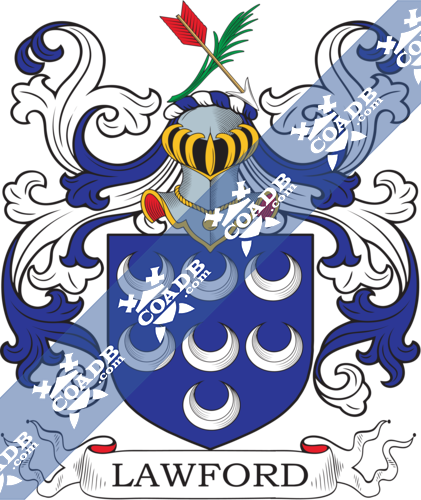 Lawford Coat of Arms Gallery
Don't know which Coat of Arms is yours?
We can do a genealogical research. Find out the exact history of your family!
Learn More
Lawford Origin:
England
Origins of Lawford:
This surname is of Anglo-Saxon origin and is a geographical name from any of the different places called Lawford which have as their component elements the Olde English pre 7th Century special name "Lealla," similar to the Old High German "Lallo," and the Olde English "Ford," a fort. These places contain Lawford in Essex, noted as "Lalleford," near the year 1042 in the Anglo-Saxon Wills Recordings, and as "Laleforda" in the Domesday Book of 1086. Parish and Long Lawford in Warwickshire, showing as "Leileforde, Lilleford" and "Lelleford" in the Domesday Book, and respectively as "Churche," and "Long Lalleford" in the 1235 Charter Rolls of Warwickshire and Lawford, a locality in the Williton rural county of Somerset. Locational surnames, like this, were originally given to local landholders, and the lord of the estate, and especially as a source of classification to those who departed from their birthplace to settle elsewhere. In December 1589, Thomas Lawford and Isabella Holbech married at Fillongley, Warwickshire.
Variations:
More common variations are: Laford, Lafford, Leaford, Layford, Layford, Lewford, la Ford, Lauford, Laforde, Lawfort, Lowford.
England:
The surname Lawford first appeared in Essex, where they held a family seat from old times.
The very first recorded spelling of the family was shown to be that of John Lawforde, dated about 1569, marriage to Elizabeth Carlett, in the "St.Giles' Cripplegate," London. It was during the time of Queen Elizabeth I who was known to be the "Good Queen Bess," dated 1558- 1603. The origin of surnames during this period became a necessity with the introduction of personal taxation. It came to be known as Poll Tax in England.
Ireland:
Many of the people with surname Lawford had moved to Ireland during the 17th century.
United States of America:
Individuals with the surname Lawford landed in the United States in two different centuries respectively in the 17th and 20th. Some of the people with the name Lawford who arrived in the United States in the 17th century included Mary Lawford, who sailed to Virginia in 1649. William Lawford to Barbados in 1671. Richard Lawford to Barbados in 1671.
The following century saw much more Lawford surnames arrive. Some of the people with the surname Lawford who arrived in the United States in the 20th century included Betty Teesdale Lawford, aged 1, who landed in America from England, in 1907. Charles H. Lawford, aged 33, who emigrated to America from Leicester, England, in 1907. Algernon Lawford, aged 22, who emigrated to the United States from Liversedge, England, in 1908. Egerton C. B. Lawford, who moved to the United States from London, England, in 1908. Ernest Lawford, who landed in America from London, England, in 1909.
Here is the population distribution of the last name Lawford: England 1,006; Australia 470; United States 234; Canada 156; South Africa 73; New Zealand 50; Scotland 46; Italy 45; Ireland 33; Norway 20.
Notable People:
Herbert Lawford (1851–1925), was a Scottish tennis player.
John Lawford (c. 1756–1842), was a Royal Navy administrator.
Ningali Lawford (born 1967), was an Australian actress.
Blazons & Genealogy Notes
1) Az. seven crescents ar. three, three, and one. Crest—An arrow point downwards and palm branch in saltire all ppr.
2) (the late Admiral Sir John Lawford, K.C.B.). Motto—In utrumque paratus. Quarterly, gu. and erminois on a band wavy cotised ar. an anchor sa. betw. two estoiles gu. Crest—A demi lion ramp. erm. holding a naval crown or, in the mouth a laurel branch ppr.
3) (Edward Lawford, Esq.). Motto—In Deo confido. Az. three lions ramp. ar. ducally crowned or, a mullet for diff. Crest—A lion ramp. ppr. ducally crowned, as in the arms.