Laxton Family Crest, Coat of Arms and Name History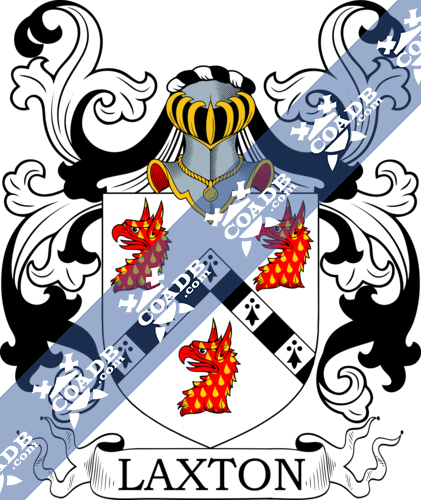 Laxton Coat of Arms Gallery
Don't know which Coat of Arms is yours?
We can do a genealogical research. Find out the exact history of your family!
Learn More
Laxton Origin:
England
Origins of Laxton:
This interesting surname is of English geographical origins from Laxton in Northamptonshire, Nottinghamshire or the East Riding of Yorkshire, noted in the Domesday Book of 1086 as "Lastone," "Leston," and "Laxinton." The place name acquires from the Old English pre 7th Century particular name "Leaxa" and "tun" which means residence or hamlet, So, the whole meanings of the name is "Leaxa's Settlement." Among the Middle ages, when the movement for job searching was becoming more popular, people often took their previous hamlet name as a source of recognition, thus resulting in a wide distribution of the name. The surname was first noted in the second half of the 13th Century. One, Simon de Laxton, appears in the Norfolk Feet of Fines (1361). In the new era, the surname has many various spellings such as Laxson, Laxston, laxtonne, Laxen, laxon, and much more. Robert Laxton, named at St. Margaret's, Westminster, in July 1562. The wedding of Elizabeth Laxton and Thomas Stradling took place in November 1621, at St. Augustine Watling Street, London. In September 1627, Ann, daughter of Rycharde and Elizabeth Laxton, named at St. Bride Fleet Street, London.
Variations:
More common variations are: Laxtone, Lauxton, Lxton, Luxton, Loxton, Lexton, Lixton, Laxten, Laxtan, Loxtone.
England:
The surname Laxton was first observed in Laxton, a small hamlet in the local church of Laxton and Moorhouse which records back to the Domesday Book where it first noted as Laxintone, and perhaps came from Anglo-Saxon Leaxingtun, which actually meant " farmland or estate of the people of a man called Leaxa." Laxton Palace is an 11th- or early 12th-century Motte-and-bailey palace found in the north of the village. Laxton Hall was basically formed as a three-gabled brick estate house in 1405. Laxton is also a hamlet and local church in the East Riding of Yorkshire, but this last village has survived over the years.
The very first recording spelling of the family was shown to be that of Henry de Laxington, dated about 1273, in the "Hundred Rolls of Lincolnshire." It was during the time of King Edward I, who was known to be the "The Hammer of the Scots," dated 1272-1307. The origin of surnames during this period became a necessity with the introduction of personal taxation. It came to be known as Poll Tax in England.
Ireland:
Many of the people with surname Laxton had moved to Ireland during the 17th century.
United States of America:
Some of the people with the surname Laxton who arrived in the United States in the 18th century included Sarah Laxton, a linked traveler who came to Maryland in the year 1741.
Australia:
Some of the individuals with the surname Laxton who landed in Australia in the 19th century included Fanny Laxton arrived in Adelaide, Australia aboard the ship "Susannah" in the year 1849. Jarnes Laxton arrived in Adelaide, Australia aboard the ship "Susannah" in the year 1849. John Laxton at the age of 21, arrived in South Australia in the year 1859 aboard the ship "Escort."
Here is the population distribution of the last name Laxton: United States 2,496; England 812; Canada 389; South Africa 384; Australia 245; France 61; Scotland 59; Wales 45; Sweden 29; New Zealand 24.
Notable People:
Robert Laxton was born in September in the year 1944. He is a British Labour Party leader, who was the representative of Parliament (MP) for Derby North from 1997 until standing down at the 2010 general election. He attended the Woodlands Secondary Modern School (became the Woodlands Community School) on Blenheim Drive in Allestree. He also attended the Derby College of Art and Technology on Kedleston Road (became the University of Derby).
Brothers Reg and Cyril Laxton (c. 1910-9 March 2006, c 1912-23 July 2006) were two of Britain's top swimming and diving trainers in the mid-twentieth century.
Blazons & Genealogy Notes
1) (Lord Mayor of London, 1544). Ar. a chev. componee erm. and sa. betw. three griffins' heads gu. guttee d'or.
2) (Sir William Laxton. Visit. London, 1563. His brother, John Laxton, had a dau., Joane, heir to her uncle, m. Thomas Wanton, citizen of London). Erm. a chev. engr. betw. three griffins' heads erased gu.
3) (London). Gu. a fesse betw. three conies ar.
4) (co. York). Barry of six ar. and gu. on a chief az. three catharine wheels or.
5) (co. York). Gu. a chev. betw. three hedgehogs ar.
6) Paly of six ar. and sa. on a chief gu. a lion pass. guard. or. Crest—Out of a tower ppr. a demi griffin or.
7) (Fun. Ent. Ulster's Office, 1677, Lady Hay, wife of Sir James Hay, Bart.). Ar. a chev. chequy sa. and erm. betw. three griffins' heads erased gu. guttee d'or.