Leaf Family Crest, Coat of Arms and Name History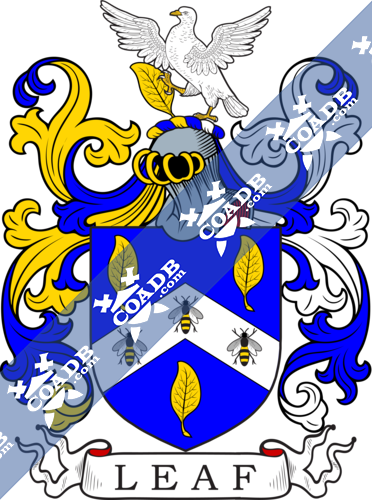 Leaf Coat of Arms Gallery
Don't know which Coat of Arms is yours?
We can do a genealogical research. Find out the exact history of your family!
Learn More
Leaf Origin:
England
Origins of Leaf:
Listed with many spellings such as Leaf, Leafe, Leefe, Life, Liff, Leif, Leaves and Leavis, this is ultimately an English surname. It has many possible sources. The first acquired from the old English pre 7th-century word "leof," which means dear or darling, and as such was an introduction name. After in the Middle Ages, it was also given as a nickname of affection similar to Dear or Darling, which in themselves became ultimately famous surnames. Secondly, it may have been a geographical nickname for a person who lived in a forest or woodland, and also one who lived in a "leafy" area, as in the document of one Robert In the leaves, in the London recordings of the 14th Century. Thirdly it may be a shortened form of the first Swedish names like Lovberg which means leaf hill, Lovdahl, leaf Dale, or Lovquist, leaf twig.
Variations:
More common variations are: Leafe, Leafa, Leaff, Leafi, Leafu, Leaif, Leafy, Laf, Lef, Leaife.
England:
The origins of the surname Leaf was found in Norfolk where people held a family seat from early times.
The very first recording spelling of the family was shown to be that of Godwin Lief, dated about 1198, in the "pipe rolls of the division of Norfolk," Huntingdonshire. It was during the time of King Richard I who was known to be the "The Lionheart," dated 1189-1199. The origin of surnames during this period became a necessity with the introduction of personal taxation. It came to be known as Poll Tax in England.
Ireland:
Many of the people with name Leaf had moved to Ireland during the 17th century.
United States of America:
Individuals with the surname Leaf settled in the United States in three different centuries respectively in 17th, 18th, and 19th. Some of the people with the name Leaf who settled in the United States in the 17th century included Henry Leaf arrived in Barbados in the year 1663.
The following century saw much more Leaf surnames come. Some of the people with the name Leaf who settled in the United States in the 19th century included Dennis Leaf settled to Pennsylvania in the year 1865.
Here is the population distribution of the last name Leaf: United States 4,040; England 721; Australia 189; India 66; Canada 242; South Africa 365; New-Zealand 237; China 70; Malaysia 278; Taiwan 290.
Notable People:
Andrew Keith "Andy" Leaf was born in January in the year 1962. He is an old English professional football player.
Caroline Leaf was born in August in the year 1946 in Seattle, Washington. He is a Canadian-American film producer and painter
Lieutenant General (Resigned) Daniel P. "Fig" Leaf was assistant Commander and Acting officer in the United States Pacific Command, Camp H. M. Smith, Hawaii.
Henry Meredith Leaf was born in October 1862 and died in April 1931. He was a British fighter who took part in the 1908 Summer Olympics.
Jonathan Leaf is a scripture and scholar. He lived in New York City. He is the author of the off-Broadway play The Caterers, which was selected for Best Full-Length Original Script of 2005-2006 in the Innovative Theater Awards.
Richard Leaf was born in January 1967. He is an English actor. He has many small performances in television and stage productions. He is married to actress Tamsin Greig, star of Black Books, Green Wing, and Love Soup.
Robert Daniel Leaf (February 1936 – October 2005) was an American writer.
Robert Daniel Leaf was born and grew up in Lindsborg, Kansas. The son of Bernard and Judith (Valine) Leaf, he joined Luther Academy and College in Wahoo, Nebraska, played bugle in the Air Force band, and completed his undergraduate degree at MacPhail School of Music in Minneapolis, Minnesota.
Ryan David Leaf was born in May in the year 1976. He is American football player who was a quarterback in the National Football League (NFL) for four seasons.
Ty Jacob "T. J." Leaf was born in April 1997. He is an American–Israeli college basketball player for the UCLA Bruins.
Sir Walter Leaf (November 1852, Norwood, Middlesex – March 1927, Torquay) was an English financial analyst.
Blazons & Genealogy Notes
(Park Hill, Streatham). Az. on a chev. ar. betw. three staff tree leaves slipped or, as many bees volant ppr. Crest —A dove rising ppr. resting the dexter claw on a staff tree leaf or.