Leatham Family Crest, Coat of Arms and Name History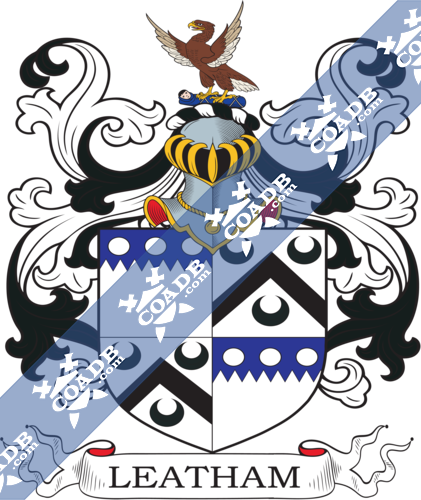 Leatham Coat of Arms Gallery
Don't know which Coat of Arms is yours?
We can do a genealogical research. Find out the exact history of your family!
Learn More
Leatham Origin:
England
Origins of Leatham:
Listed as Leatham and Letham, this is an English geographical surname. It is a modification of the more common surname Latham, itself from any one of the following places as Latham, in West Yorkshire; Lathom, in Lancashire; and Laytham in East Yorkshire. All of these share a similar meaning and origin, which is "The place of the shelters," from the pre 7th century Old Norse word "hlatha," which means a shelter, and a short form of the Olde English word "ham" which means a house or property. Lathom in Lancashire was noted as "Latune" in the Domesday Book of 1086, while Laytham in East Yorkshire shows as "Ladone" in the similar document. Geographical Surnames frequently originated by those residents of a place who shifted to another area and were there best recognized by the name of their birthplace. Examples of documentations contain the wedding of John Leatham, and Kathleen Lee noted in Carlton near Snaith in Yorkshire in January 1626, while Thomas Letham was a naming observer at St Katherines Creechurch, in the city of London, in April 1764.
Variations:
More common variations are: Latham, Leetham, Laytham, Lathom, Lethem, Leathern.
England:
The surname Leatham was first found in Lancashire at Lathom, a hamlet and local church about 5 km northeast of Ormskirk. The place name records back to the Domesday Book of 1086 where it was recorded as Latune and next as Lathum in 1200, and Lathom in 1223. One of the earliest documents of the name was Robert Fitzhenry de Lathom who held estates all over the South Lancashire in 1189. "This place was the seat of the Lathom family, of whom Robert de Lathom, in the period of Edward I., received the donation of a weekly market and an annual celebration, and whose baronial house of Lathom House, unusual for its length and grace, and impressive for its strength, afterwards became so famous in history. " At Whiston in the church of Prescot, "in the rule of Richard II. the Lathoms had lands here, which descended through many generations and the Torbocks, of whom the Lathoms were a section, were, at a very old period, maintained of Rudgate, in this palace." The church of Huyton was another old family seat.
The very first recording spelling of the family was shown to be that of Robert de Latham, dated about 1204, in the "Assize Court Rolls of Yorkshire." It was during the time of King John who was known to be the "Poll Tax," dated 1199-1216. The origin of surnames during this period became a necessity with the introduction of personal taxation. It came to be known as Poll Tax in England.
Ireland:
Many of the people with surname Leatham had moved to Ireland during the 17th century.
Canada:
Some of the people with the surname Leatham who came to Canada in the 18th century included Thomas Leatham and Thomas Leatham, both landed in Nova Scotia in the same year 1749.
New-Zealand:
Some of the population with the surname Leatham who arrived in New Zealand in the 19th century included Alice Leatham and John Leatham also arrived in Auckland, New Zealand aboard the ship "Nimroud" in the same year 1860. Elizabeth Leatham arrived in Auckland, New Zealand aboard the ship "Nimroud" in 1860. George Leatham and Ann Leatham, both arrived in Auckland, New Zealand aboard the ship "Waitangi" in the same year 1874.
Here is the population distribution of the last name Leatham: United States 1,268; England 613; Australia 392; Greece 123; Canada 96; New Zealand 83; Scotland 53; Ireland 33; Sweden 22; Spain 8
Notable People:
Edward Aldam Leatham (August 1828–February 1900) was an English Liberal Member of Parliament.
William Leatham (1785–1842) was a leading Banker in Wakefield.
Albert Leatham (August 1859–July 1948) was an English cricket player.
William Henry Leatham (July 1815–November 1889) was a British manager, poet, and Liberal leader.
John Leatham was born in August 1946. He is an old Australian rules football player who played with Carlton in the Victorian Football League (VFL).
Blazons & Genealogy Notes
1) (High Hall, Hemsworth, co. York). Motto—Virtute vinces. Quarterly, 1st and 4th, ar. on a chief indented az. three plates, for Leatham; 2nd and 2rd, ar. a chev. betw. three crescents sa. Crest—An eagle with wings elevated, preying on an infant ppr. swaddled az. banded ar.
2) (Hemsworth Hall, co. York). Motto—Virtute vinces. Per saltire erm. and or, on a chief engr. az. three bezants, each charged with a saltire gu. Crest—Upon a nest an eagle, wings elevated or, the nest and wings fretty vert.