Leaton Family Crest, Coat of Arms and Name History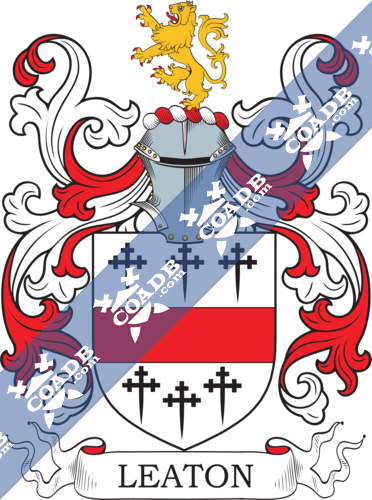 Leaton Coat of Arms Gallery
Don't know which Coat of Arms is yours?
We can do a genealogical research. Find out the exact history of your family!
Learn More
Leaton Origin:
England, Scotland
Origins of Leaton:
According to the early recordings of the spelling forms of the name, this interesting and unique name is listed as Layton, Laytoun, Leaton, Leighton, Leyton, and Leaton, this is a famous surname of English or sometimes Scottish, origins. It is locational from either Leaton, a hamlet near Shrewsbury in Shropshire, or one of the different villages called Leighton in the divisions of Bedfordshire, Cheshire, Huntingdon, Shropshire or Laytoun in Scotland. All acquire from the pre 7th-century word 'leac' which means a leek, and explain leek farms. From old times, the name holders have made their mark, with Richard Leighton being knighted by King Edward II of England in 1313, while in 1330 Randolph de Leighton was similarly rewarded by King Edward III. Other early records include Roger de Leyton in the Hundred Rolls of Huntingdon in 1276 and William de Leton who shows in the Cheshire Rolls of 1287. The surname was early into Scotland, with Henry Leghton being a priest of Aberdeen in 1440. Frederick Leighton RA was the first Baron Leighton of Stretton, (1830-1896).
Variations:
More common variations are: Leayton, leyaton, Lieaton, leeaton, L Eaton, Leahton, Laton, Leton, Leyatone, Lawton.
England:
The surname Leaton first appeared in Shropshire, where "the Leightons are declared to have seated at Leighton in this division before the Invasion as Domesday has 'Rainald (vicecom') ten' Lestone; Leuui tenuit temp. Reg. 151de Hence there can be no difficulty the name Lestone, i.e. Lewi's-town, now Leighton acquired. "Today Leighton is named Leighton and Eaton Constantine. Later in Huntingdon, Roger de Leyton and Clement de Leyton noted in the Hundredorum Rolls of 1273. The same rolls noted Henry de Leyton in Buckinghamshire. As one would expect, Leighton in Cheshire was at one time held by the family. "At the time of the Domesday Survey, this place related to Robert de Rodelent, after whose death it given to the barons of Montalt, of whom it held by the Leighton family."
The very first recorded spelling of the family was shown to be that of Richard de Lecton, dated about 1201, in the "Pipe Rolls of Staffordshire". It was during the time of King John, dated 1199 – 1216. The origin of surnames during this period became a necessity with the introduction of personal taxation. It came to be known as Poll Tax in England. Surnames all over the country began to develop, with unique and shocking spelling variations of the original one.
Ireland:
Many of the people with surname Leaton had moved to Ireland during the 17th century.
Here is the population distribution of the last name Leaton: United States 600; England 134; Australia 35; Canada 14; New Zealand 5; Thailand 1; Czech Republic 1; Russia 1; Morocco 1; Isle of Man 1.
Notable People:
Anne Leaton (born July 1932) is a novel writer, short story writer, and poet whose works have been released in England and America and whose radio plays have been announced on the BBC. She was born in Cleburne, Texas, she studied English and creative writing at Indiana University and Texas Tech University and was a Fulbright professor in Germany, after which she spent twenty years travelling and working in Europe, the Middle East, South Africa, and Canada. She has got various awards for her fiction and poetry, including twice being the winner of an O. Henry Award for her short stories. Leaton's work has been compared to other authors whose focus has been primarily upon social mores and human characteristics—specifically such novel writers and short story writers as Jane Austen, Henry James, and John Cheever. She lives in Fort Worth, Texas.
Tim Leaton (born December 1983) is an American film producer, assistant director, and editor. He won important critical attention in 2006 when he was awarded the grand prize of the 2006 Film Your Issue competition, decided by President Barack Obama, George Clooney and the Dalai Lama, among others. He presented his winning film Orphans in Africa and gave acceptance speeches, covered by the press, at three awards ceremonies like at the United Nations Headquarters, then again in Hollywood, and finally during Sundance in Park City with Kevin Bacon and Mandy Moore. He also won the 2006 grand prize Walt Disney Pictures paid internship.
Blazons & Genealogy Notes
(Whick, co. Durham). Motto—Dieu defende le droit. Ar. a fess betw. six crosses crosslet fitchee sa. Crest—A lion ramp. or.