Leicester Family Crest, Coat of Arms and Name History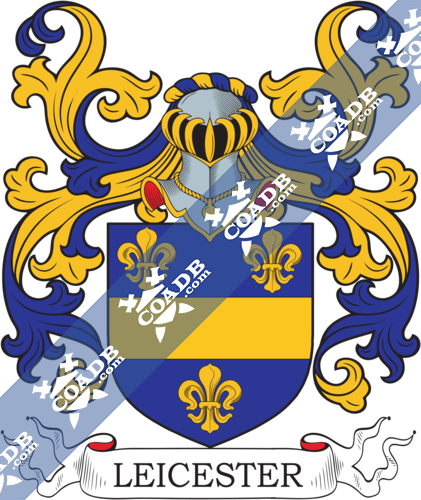 Leicester Coat of Arms Gallery
Don't know which Coat of Arms is yours?
We can do a genealogical research. Find out the exact history of your family!
Learn More
Leicester Origin:
England
Origins of Leicester:
This unusual name is of Anglo-Saxon origin and is a locational surname acquiring from Leicester, the district town of Leicestershire. The placename was noted in the "Anglo-Saxon Records" of 942 as "Ligora Ceaster", and in the Domesday Book of 1086 as "Ledecestre", the origin being from the Old English pre 7th Century tribal name "Ligore", which means "dwellers on the river Legra" with "Ceaster" a Roman fort, from the Latin "Castra", legionary camp. The advancement of the surname has contained Nicholas de Leycester (1286, Cheshire), William Leycetter (1480, Yorkshire), Henry Lasisture (1503, ibid.) and Richard Lasseter (1550, Sussex). The new surname can appear in forms as different as "Leicester, Lestor, Lesseter and Laister". In December 1590, Elizabeth Leicester, an infant, named in St. Michael's, Wood Street, London
Variations:
More common variations are: Leiscester, Lecester, Leycester, Liecester, Leceister, Lecestre, Lezister, Lacester, Locester, Lycester.
England:
The surname Leicester first appeared in Cheshire at Leycester, more commonly known as Leicester, a city now in the unitary executive area in the East Midlands. The first record of the place name appeared in the early 10th century as Ligera ceater, " but by the Domesday Book of 1086 the place name had derived to Ledecestre. Literally the place name means "Roman town of the people called Ligore," having acquired from the Tribal name and the Old English word "ceater." As far as the surname is concerned, the family are "declined from Sir Nicholas Leycester, who acquired the manor of Nether-Tabley in marriage, and died in 1295."
The very first recorded spelling of the family was shown to be that of Hugo de Legrecestra , dated about 1130, in the "Leicestershire Pipe Rolls". It was during the time of King Henry I who was known to be the "The Lion of Justice", dated 1100 – 1135. The origin of surnames during this period became a necessity with the introduction of personal taxation. It came to be known as Poll Tax in England.
Ireland:
Many of the people with surname Leicester had moved to Ireland during the 17th century.
United States of America:
Individuals with the surname Leicester landed in the United States in two different centuries respectively in the 17th and 18th. Some of the people with the name Leicester who arrived in the United States in the 17th century included Peter Leicester settled in Pennsylvania in 1682. Peter Leicester, who landed in Pennsylvania in 1682.
The following century saw much more Leicester surnames arrive. Some of the people with the surname Leicester who arrived in the United States in the 18th century included John Leicester, who settled in Virginia in 1732.
Australia:
Some of the individuals with the surname Leicester who landed in Australia in the 19th century included Mary Leicester arrived in Adelaide, Australia aboard the ship "Duke Of Bronte" in 1849.
Here is the population distribution of the last name Leicester: England 1,049; South Africa 475; Australia 329; United States 174; New Zealand 76; Scotland 66; Canada 44; Singapore 30; Netherlands 27; India 26.
Notable People:
Jon Leicester was an American baseball player.
Blazons & Genealogy Notes
1) (Tabley, со. Chester, bart., extinct 1742; Meriel. Leicester, only dau. and heir of Sir Francis Leicester, third and last bart. of Tabley, m. as her second husband, Sir John Byrne, Bart., of Timogue, Queen's co., and her son, Sir Peter Byrne, assumed the name and arms of Leicester, and was father of the first Lord de Tabley). Az. a fess betw. three fleurs-de-lis or.
2) (Lord de Tabley). Motto—Tu domine gloria mea (another, Pro rege et patriâ). See also Warren, Lord de Tabley. Same Arms. Crest—A swan's head and neck couped ar. guttée de sang. Supporters— Dexter, a bay horse caparisoned ppr. collared and chained or, supporting a standard of the King's Regiment of Chester Yeomanry, viz., gu. charged with the letters K. Ry. C. Yy. and fringed or; sinister, a swan ar. guttée de sang, charged on the body with five fleurs-de-lis in saltire ar.
3) Same Arms, a bordure ar.
4) Per pale indented ar. and gu.
5) Bendy sa. and or.
6) (Earls of). (Robert de Bellamont, or Beaumont, so created by Charter 1103, extinct 1204). Gu. a cinquefoil erm.
7) (Westbury, co. Salop). Quarterly, 1st and 4th, az. a fesse betw. three fleurs-de-lis or; 2nd and 3rd, gu. a fret or. Crest—A swan's head ar. guttée de sang.
8) (Toft, co. Chester; impalement Fun. Ent. Ulster's Office, 1633, Sir Basil Brooke, Knt., of Donegal, whose wife was Anne, dau. of Thomas Leicester, Esq.). (Kilcarmick, King's co.; Fun. Ent. Ulster's Office, 1684, John Leicester). Az. a fese betw. three fleurs-de-lis or.