Leight Family Crest, Coat of Arms and Name History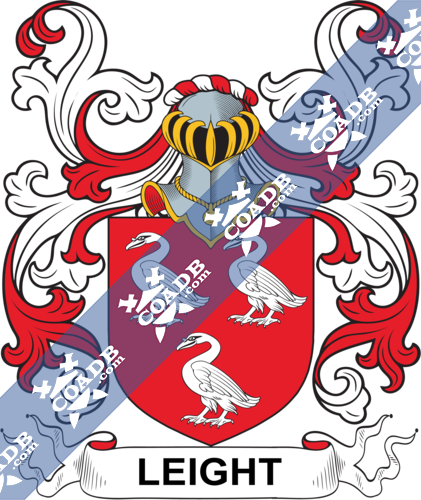 Leight Coat of Arms Gallery
Don't know which Coat of Arms is yours?
We can do a genealogical research. Find out the exact history of your family!
Learn More
The Anglo-Saxon name Leight comes from the baptismal name Lettice. A popular girls name in old times.  This personal name originally acquired from the Latin Iaetitia, which means gladness and joy.  Baptismal names started to appear as surnames relatively late in the growth of the naming tradition.  It is a little surprising, given the popularity of biblical figures in the Christian countries of Europe. Nevertheless, surnames acquired from baptismal names grew in popularity during the Middle Ages, and have become one of the foremost sources for surnames.  One relatively recent invention that did much to regulate English spelling was the printing press. However, before its invention, even the most educated people noted their names according to sound rather than spelling.  The spelling variations of which the name Leight appeared include Lett, Layt, Laite, Layte, Let, Lete, Latt, Leyt, Letts, Lettson and much more. More common variations are: Leighty, Leighto, Leighte, Lheight, Leighti, L Eight, Light, Leightey, Leightty, Leighatt. The surname Leight was first found in Gloucestershire, where they held a family seat as Lords of the manor of Lett, before the taking of the Domesday Book in 1086.
Some of the people with the surname Leight who arrived in the United States in the 19th century included Peter Leight, who arrived in New England in 1760.  John Leight, who arrived in Maryland in 1798. Some of the people with the surname Leight who arrived in the Canada in the 19th century included William Leight, aged 28, a gentleman, who arrived in Saint John, New Brunswick in 1833 aboard the ship "Arnynta" from Plymouth, England.
Blazons & Genealogy Notes
Gu. three swans close ar.