Lester Family Crest, Coat of Arms and Name History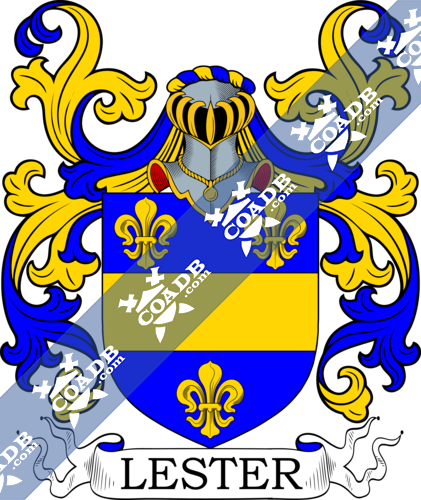 Lester Coat of Arms Gallery
Don't know which Coat of Arms is yours?
We can do a genealogical research. Find out the exact history of your family!
Learn More
Lester Origin:
England
Origins of Name:
The surname of Lester is of an Anglo-Saxon origin, and is a locational surname that derives from Leicester, which is the county ton of Leicestershire. The name derives from the Old English Pre 7th Century tribal name "ligore" which translates to mean "dwellers on the river Legra," and "ceaster" which is a Roman fort, whose name comes from the Latin "Castra" which translates to mean "legionary camp." Locational surnames were often given to denote new settlers to an area, who often came looking for work, and they were identified by their place of birth.
Variations:
More common variations are:
Leister, Lesiter, Leaster, Leyster, Liester, Le Ster, Lesteur, Loester, Lesteri, Leester, Licester, Leycester
History:
England:
The first recorded spelling of the surname of Lester was found in the Leicestershire Pipe Rolls in the year 1130. Hugo de Legrecestra was named and recorded in this document which was ordered and decreed under the reign of King Henry I, who was commonly reffered to as "The Lion of Justice" throughout the ages and times of history, and who was the ruling King of England from the year 1100 to the year 1135. Other mentions of this surname include Nicholas de Leycester who was recorded in Cheshire in the year 1286, William Leycetter who was recorded in Yorkshire in the year 1480, Henry Lasisture, who was recorded in Ibid in the year 1503, and Richard Lasseter, who was recorded in Sussex in the year 1550. Those who reside in England that bear the surname of Lester were originally found in County Cheshire. However, those with this surname eventually spread to other areas in England. These areas include Leicestershire, Yorkshire, Lancashire, Essex, Kent, Staffordshire, and the city of London.
Scotland:
Those who bore the surname of Lester were most highly concentrated in the Fife, Midlothian, and Lanarkshire counties.
United States of America:
In the 1600's, settlers began to emigrate to the United States of America, in search for a new life for them and their families. This new life was largely available in the United States of America, which at that time was referred to as The New World, or The Colonies, and promised freedom from religious persecution, new fulfilling and largely available work, and land. The first recorded settler to emigrate to the United states who bore the surname of Lester was one Edward Lester, who landed in Plymouth, Massachusetts in the year 1620. Edward Lester was one of the first settlers to emigrate to the United States, as well as being the first person with this surname to step on US soil. It is possible that more settlers tried to emigrate to the United States of America. However, during the long voyages that it took to make it to the United States, the vessels of travel were cramped, allowing for the spread of disease among much of the traveling population. This not only left some travelers deceased en route to their new life, it also caused many of the emigrating passengers to arrive in the New World ailed by disease. Those who bear the surname of Lester are often found in the states of Virginia, Georgia, Illinois, Texas, Iowa, Michigan, New York, Pennsylvania, California, and the state of Ohio.
Lester Today:
United States 48,089
England 8,540
Australia 3,314
South Africa 2,867
Canada 2,377
Philippines 1482
New Zealand 729
Wales 463
Germany 437
Jamaica 428
Notable People:
Mary Louise Lester (born in 1921) who was an All-American Girls Professional Baseball League infielder who played from the year 1943 to the year 1944, and is part of the Women in Baseball exhibition at the Baseball Hall of Fame and Museum in Cooperstown, New York
Mark L. Lester (born in 1946) who is an American award-winning writer, producer, and director, who is most well known for his work on Commando which was produced in 1985, Firestarter which was produced in 1984, and Showdown in Little Tokyo which was produced in 1991
John Ashby Lester (1871-1969) who was an American First Class cricketer
Albert Lester (1803-1867) who was an American lawyer and politician, and was the Lieutenant Governor of New York in the year 1847
Sonny Lester (born in 1924) who was an American Grammy-award winning music producer from New York City, and was the recipient of a Purple Heart
Richard Lester (born in 1932) who was a British-based two-time BAFTA nominated film director who was famous for his work with The Beatles and the Superman film series in the 1980's era
Blazons & Genealogy Notes
1) (co. Chester). Ar. a fesse az. betw. three fleurs-de-lis gu. Crest—A demi griffin segreant gu.
2) (Wimborne Minster, co. Dorset). Gu. a fesse betw. two fleurs-de-lis or, in chief and the caduceus ar. in base. Crest—A demi griffin ar. holding the caduccus.
3) (Sir George Lester, knighted at Dublin Castle, 6 Aug. 1599). Az. a fess betw. three fleurs-de-lis or.
4) (Wimborne Minster, co. Dorset; exemplified to Lester Garland, Esq., upon his assuming, by royal licence, the surname of Lester only). Motto—Favente Deo. Gu. a fesse erminois betw. two fleurs-de-lis in chief ar. and a caduceus in base ppr. thereon the cap of Mercury of the third. Crest—A demi gryphon, wings elevated erm. beaked and membered or, in the claws a trident erect az. headed gold.