Lever Family Crest, Coat of Arms and Name History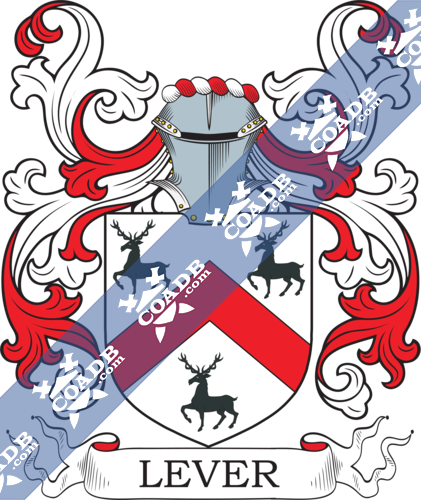 Lever Coat of Arms Gallery
Don't know which Coat of Arms is yours?
We can do a genealogical research. Find out the exact history of your family!
Learn More
Lever Origin:
England
Origins of Lever:
This unique name, with variant spellings Levers and Leaver, has three possible sources. The first origin of the name may acquire from the old French "levre," which means a coney and frequently given as a nickname to a speedy person. Originally, Lever may be a shortened form of the Norman French "leve(i)er," which means a runner or a person who hunts of hares. Roger Leverier in Cambridgeshire in the year 1230, being the earliest noted holder of the name in its full form. The name may also be geographical from an apartment by a part of the grassy ground. The derivation in this situation is from the old English pre 7th Century "loefer," which means stick, rush or iris. Great and Little Lever in Lancashire called with this word, and the surname may also be geographical from either of the above places. Finally, the old English particular name Leofhere, a combination of the components "leof," which means loved, and "here," which means army may be the origin of the surname. Ralph Lever, Conon of Durham, 1567, wrote "The Arte of Reason," a memoir on logic, in 1573.
Variations:
More common variations are: Leaver, Leever, Leiver, Levear, Levery, Levere, Leveri, Leuver, Levera, Liever.
England:
The surname Lever was first found in Lancashire at Little Lever, now a large hamlet in the Metropolitan Borough of Bolton in Greater Manchester.
The very first recorded spelling of the family was shown to be that of Dante de Lever, dated about 1246, in the "The Assize Court Rolls of Lancashire." It was during the time of King Henry III who was known to be the "The Frenchman," dated 1216 – 1272. The origin of surnames during this period became a necessity with the introduction of personal taxation. It came to be known as Poll Tax in England.
Ireland:
Many of the people with surname Lever had moved to Ireland during the 17th century.
United States of America:
Individuals with the surname Lever landed in the United States in two different centuries respectively in the 18th, and 19th. Some of the people with the name Lever who arrived in the United States in the 18th century included Ashton Lever and James Lever, both settled in Maryland in the same year 1775.
The following century saw much more Lever surnames arrive. Some of the people with the name Lever who arrived in the United States in the 19th century included Adam, James, John, Lawrence, and William Lever, all came to Philadelphia between 1840 and 1860.
Australia:
Some of the individuals with the surname Lever who landed in Australia in the 19th century included John Lever arrived in Canterbury aboard the ship "Hastings" in 1856.
Here is the population distribution of the last name Lever: England 4,431; United States 2,525; Australia 1,625; South Africa 968; Canada 734; Mexico 471; Netherlands 439; Colombia 349; France 343; Philippines 258.
Notable People:
Sir Arthur Lever, 1st Baronet (1860–1924), was a British leader.
Arthur Lever (footballer) (1920–2004), was a Welsh professional footballer.
Asbury Francis Lever (1875–1940), was a representative of the United States House of Representatives from South Carolina.
Sir Ashton Lever (1729–1788), was an English collector of natural objects.
Caitlin Lever (born 1985), was a Canadian softball player.
Charles Lever (1806–1872), was an Irish novel writer of English descent.
Colin Lever (born 1939), was an old English cricket player.
Darcy Lever (c.1759–1839), was a British writer and expert in seamanship.
Don Lever (born 1952), is a Canadian professional ice hockey left winger.
Eddie Lever was a manager of English football club Portsmouth.
Lafayette "Fat" Lever (born 1960), is an American professional basketball player.
Sir Hardman Lever, 1st Baronet (1869–1947), was an English clerk and local servant.
Harold Lever, Baron Lever of Manchester (1914–1995), was an English advocate and leader.
Harry Lever (born 1886), was an Australian rules football player who played with St Kilda in the VFL.
Hayley Lever (1876–1958), was an Australian-American artist, sculptor, professor and art teacher.
Blazons & Genealogy Notes
1) (Arlington, co. Lancaster). Ar. two bendlets sa. the under one engr. Crest—On a trumpet lying fesseways a cock all ppr.
2) (Lever, co. Lancaster). Same Arms, a crescent gu. Crest—On a trumpet a cock, wings expanded all ppr. Another Crest—A hare ppr.
3) (co. Lancaster). Ar. a chev. gu. betw. three harts trippant sa.
4) Sa. three boars' heads couped or (another, bears' heads).