Lile Family Crest, Coat of Arms and Name History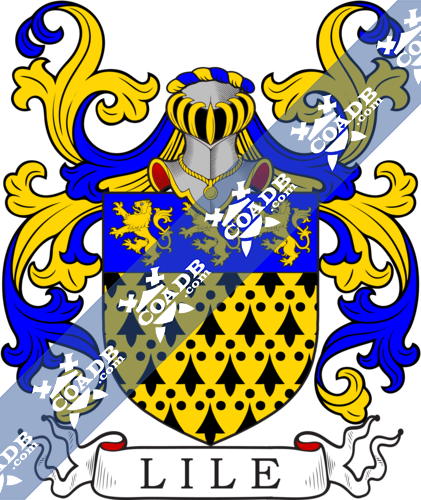 Lile Coat of Arms Gallery
Don't know which Coat of Arms is yours?
We can do a genealogical research. Find out the exact history of your family!
Learn More
Lile Origin:
England
Origins of Lile:
This interesting and unique surname is of Norman sources and was brought into England after the invasion of 1066. It derives from the Old French, "Isle", which means an island, (from the Latin "insula", with the combined definite article "le", and is a geographical name for a person who resided on an island. Geographical names were created in very old times, as geographical styles, whether actual or artificial, given as actual and a useful source of recognition. The surname may also be a habitational name for a person from the French town of "Lille," which acquires its name from the Old French "Isle," which means an island. Locational names were frequently given as a source of recognition to those who shifted from their hamlet or place of origin to live in another place. The surname was first listed in the second half of the 11th Century, and can also appear as Lisle, Lile, Lyle, de Lisle and De L'Isle. Peter de Isla was recorded in the Red Book of the Exchequer, Yorkshire (1166). Recordings of the surname from the parish records consist of the wedding of Thomas Lisle and Margaret Ladd in February 1609 at St Gregory's parish, London, and Thomas Liell, who married Mrs. Mary Knapman at St Michaels Rotherhithe, in April 1692. A Royal symbol gave to the family is a gold shield, on a red chevron in the mid of three red demi lions rampant, three silver trefoils.
Variations:
More common variations are: Lisle, Liley, Lille, Lilee, Lilie, Liale, Lilje, Lihle, Laile, Liule.
England:
The surname Lile first appeared in Oxfordshire at Shirburn, a church, in the union of Thame, hundred of Pirton. "This owner of the place was Richard, Earl of Cornwall, and transferred to Alice, wife of Warine de L'lsle, whose offsprings of the similar name gained from Edward III. License to embattle his house here. Shirburn Castle, the seat of the champion of Macclesfield, is covered by a trench, over which is a drawbridge. It consists of a magnificent hall, an armory, and a couple of outstanding houses, with a good collection of paintings.
The very first recording spelling of the family was shown to be that of Hunfridus de Insula, dated about 1086, in the "Domesday Book of Wiltshire." It was during the time of King William 1st, who was known to be the "The Conqueror," dated 1066-1087. The origin of surnames during this period became a necessity with the introduction of personal taxation. It came to be known as Poll Tax in England. Surnames all over the country began to develop, with unique and shocking spelling varietions of the original one.
Ireland:
Many of the people with surname Lile had moved to Ireland during the 17th century.
United States of America:
The following century saw more Lile names arrive. Some of the population with the surname Lile who arrived in the United States in the 17th century included Daniell Lile landed in Virginia in 1639. William Lile landed in Maryland in 1653. Priscilla Lile landed in Maryland in 1656. Dan Lile arrived in Virginia in 1657. John Lile came to Maryland in 1662.
New-Zealand:
Some of the individuals with the surname Lile who settled in New Zealand in the 19th century included Robert Lile landed in Wellington, New Zealand in 1840.
Here is the population distribution of the last name Lile: United States 3,223; Albania 621; Algeria 446; Romania 167; Macedonia 154; France 147; Indonesia 138; Mexico 131; England 129; New Zealand 90.
Notable People:
Jeremy Lile was an American bass musician for the Southern Gospel quartet Brian Free.
Adam "Addie" Lile was a New Zealand rugby football player who played from the year 1907 to 1909.
James Buel Lile (1933-1991), was famous as Jimmy Lile or The Arkansas Knifesmith. He was an American knife manufacturer who made the Rambo Knife for the films First Blood and Rambo.
Maude Lile was an American Democrat leader.
John A. Lile (b. 1897), was an American Democratic leader and representative of West Virginia State House of Delegates from Greenbrier Division.
Blazons & Genealogy Notes
(co. Middlesex). Erminois, on a chief az. three lions ramp. or.