Littlejohn Family Crest, Coat of Arms and Name History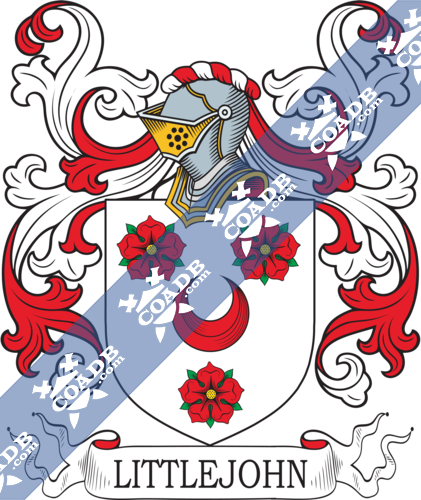 Littlejohn Coat of Arms Gallery
Don't know which Coat of Arms is yours?
We can do a genealogical research. Find out the exact history of your family!
Learn More
LITTLE JOHN
The surname, probably made most famous by the story of Robin Hood, is historically found in both English and Scotland. The name originated as a pet or nickname as the use of "little" as a prefix to a given name was a practice used in medieval England to distinguish a beloved child that was not the eldest. Thus in this case, the name would have derived as a pet name of a younger child with the given name John. A second source of origin of the use of "little" prior to a given name was also used as a contradictory nickname for a large man, showing the ironic sense of humor of people in the middle-ages.
There are variations of the spelling of this name which include but are not necessarily limited to; Littlejohn; Lyttlejohn; and Lytteljohn. The variation in spelling of names during this time period can be attributed to a lack of continuity regarding guidelines for spelling. Many of these record keepers were in the habit of spelling phonetically, however, what may have sounded one way to one person may have sounded completely different to another. The issue of multiple spellings of names in records was which was compounded by the diversity of languages in use in European countries at this time.
Surnames in Europe prior to the Norman influence were largely unheard of. In the small settlements and villages which existed during earlier times, residents found little need for surnames as everyone in these communities knew each other and a given name would usually suffice. However, with the passage of time, population growth and expansions of communities as villages gave way to towns and cities, it became necessary to add a qualifier to a people's names to distinguish them, one from another and to make the keeping of tax and census records easier. Therefore, the Norman Nobles' practice of surnames gained in popularity. In the creating of surnames for the masses, one person may have been identified by their given name plus their occupation while another may have been identified by their given name and one of their parent's names. There was a boundless supply from which surnames could be formed, in addition to the use of patriarchal/matriarchal names or reference to the individuals occupation, there were things such as defining physical traits, a familiar geographical location or a topographical landmark found near the individuals home or birthplace, the name of the village in which the person lived, and so much more. Soon, surnames would come not just to represent an individual but whole families.
With the discovery of the Americas and the addition to the British Common Wealth of countries such as Australia, immigration to these new worlds was inevitable. Some of the first settlers on record to America bearing this surname were George Littlejohn who landed in 1630 and settled in New Hampshire. Duncan and Elizabeth Littlejohn arrived in 1775 and settle in New York. Brothers, Peter and Thomas Littlejohn were some of the early settlers to Canada, Landing in Saint Andrews, New Brunswick in1784. Two of the earliest records of Littlejohns migrating to Australia were Hannah and her daughter Mary who arrived in 1849 and settled in South Australia. David Littlejohn was one of the early settlers, landing in Auckland in 1883.
Worldwide, the highest concentration of people with the surname Littlejohn are found in New Zealand, Australia, the United States, the United Kingdom, and Canada. State by state, the largest percentile of those with the surname Littlejohn live in South Carolina, Arkansas, Mississippi, North Carolina, and Tennessee.
There are a number of persons of note who bear the surname such as, Scottish born surgeon, forensic scientist and public health pioneer, Sir Henry Duncan Littlejohn.
Littlejohn was born in Edinburgh and studied medicine at the University of Edinburgh, graduating in 1847. Littlejohn co-founded the Royal Hospital for Sick Children in Edinburgh. He was also a pioneering force in the public health movement I Edinburgh, introducing model sanitation. He also introduced legal requirements regarding notification of cases of infectious diseases.
Littlejohn served as a lecturer at the Royal College of Surgeons of Edinburgh. In 1897, he was appointed Chair of Medical Jurisprudence at the University of Edinburgh and was Medical Adviser to the Crown in Scotland in criminal cases, often being called as an expert witness. As a result of this, Littlejohn was one of Arthur Conan Doyle's inspiration for Sherlock Holmes.
Blazons & Genealogy Notes
1) (Woodston, Scotland, 1761). Motto—Ferio. Ar. three arrows gu. two in saltire and one in pale and banded vert betw. six trefoils slipped of the last, two in chief, two in fesse, and two in base. Crest—Two naked arms issuing out of a cloud, holding a bow in full bent to let fly an arrow all ppr.
2) (Scotland). Ar. a crescent betw. three roses gu.