Loch Family Crest, Coat of Arms and Name History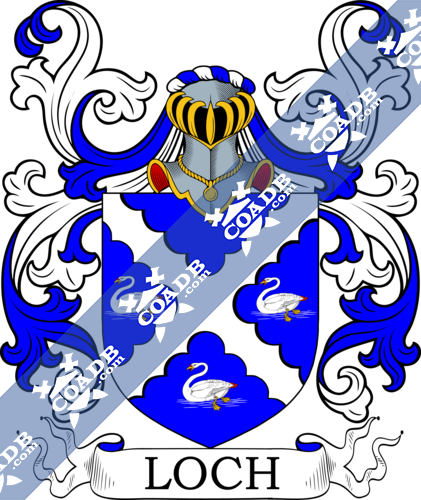 Loch Coat of Arms Gallery
Don't know which Coat of Arms is yours?
We can do a genealogical research. Find out the exact history of your family!
Learn More
Loch Origin:
England, Germany, Scotland
Origins of Loch:
According to the early recordings of the spellings of the surname, this interesting and unusual name was listed as Loch and Lough. It is Scottish but from the 17th century as Lough, it is also well noted in Northern Ireland. It is habitational and shows to explain a resident by a lake, generally a water filled Dale, sometimes connected with the sea. Probably, surprisingly as both Scotland and Ireland are full of lakes, and according to Black's Surnames of Scotland, the name is said to have a particular place of origin. If correct, this is Portmore Loch in the church of Eddleston in Peebleshire. Originally, the first documentation is from this region with that Reginald of the Loch who for some reason gave up his marriage and his estates in about 1214. Other recordings of that time contain as Walterus de Lacu, a name recording which is a combination of Latin, French and Old English, a witness to a document confirming lands to the priest of Neubotle in the year 1230 A.D., although this seems to have nothing to do with the old estate loss. However, it looks like for the next two centuries, the family wanted to regain their lands, although without much success. In 1296, one Malise de Loughs was taken by conflict by the English and held in Dunbar Castle. Apparently, he was of some value, because he was allowed "monies." Finally in the 17th-century named ancestors got the estates of Drylaw in Midlothian, and also the estates of Rachan in Peebleshire.
Variations:
More common variations are: Louch, Loach, Loech, Wloch, Loc'h, Hloch, Looch, Lyoch, Loach.
England:
The surname Loch first appeared in England, where the name Loken was recorded for its many occurances in that area.
Ireland:
Many of the people with surname Loch had moved to Ireland during the 17th century.
United States of America:
Individuals with the surname Loch settled in the United States in two different centuries respectively in the 18th, and 19th. Some of the people with the name Loch who settled in the United States in the 18th century included George Loch, who settled in Louisiana in the year 1722 with his wife and children. Jacob Loch, Johanis Loch at the age of 16 and Johannes Loch, all landed in Pennsylvania in the same year 1739. Anna Elisabetha Loch, who arrived in Pennsylvania in the year 1749.
The following century saw much more Loch surnames arrive. Some of the people with the surname Loch who settled in the United States in the 19th century included Henry Loch came to America in 1850. Friedrich Loch, who arrived in Ohio in 1852. Christ Loch and Johann Andreas Wilhelm Loch, both landed in America in the same year 1854. Heinrich Jakob Loch, who came to Brazil in the year 1855.
Here is the population distribution of the last name Loch: Cambodia 5,277; Brazil 4,150; Germany 4,102; United States 2,905; Poland 1,098; France 453; Kenya 392; Guatemala 369; Australia 360; Chile 342.
Notable People:
George Loch of Drylaw (1749-1788), was an Edinburgh land-holder.
James Loch (1780–1855), was a Scottish estate minister and after that representative of Parliament
John Loch (1781–1868), was a Chairperson of the East India Company.
George Loch (1811–1887), was a representative of Parliament.
Henry Loch, 1st Baron Loch (1827–1900), was a Scottish fighter and colonial administrator.
Edward Loch, 2nd Baron Loch (1873–1942), was a senior British Army officer.
Joice NanKivell Loch (1887–1982), was an Australian writer and scholar.
Kenneth Loch (1890–1961), was an assistance-General, a Scottish fighter and defense planner.
Tam Dalyell was born as Thomas Dalyell Loch, was a Scottish leader and Labor representative of Parliament from the year 1962 to 2005.
Samuel Loch was born in June 1983. He is an Australian rower. He got his early education and rowed at both the King's School in Sydney and Princeton University from which he graduated in 2006.
Blazons & Genealogy Notes
1) (Drylaw, co. Edinburgh). Motto—Assiduitate, non desidia. Or, a saltire engr. sa. betw. two swans naiant in fesse in a loch ppr. Crest—A swan with wings endorsed devouring a perch both ppr.
2) (Scotland, 16th century). Az. a saltire engr. betw. three swans naiant in lochs ppr. two in the flanks and one in base.