Lockey Family Crest, Coat of Arms and Name History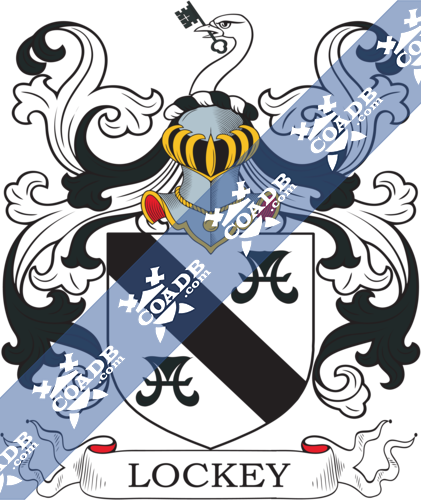 Lockey Coat of Arms Gallery
Don't know which Coat of Arms is yours?
We can do a genealogical research. Find out the exact history of your family!
Learn More
Locke Origin:
England, Germany
Origins of Name:
The Locke surname derives from possibly three very different sources. First, it could originate from the Old English word "loc" meaning lock and used as an occupational surname for a locksmith. Second, it could be a geographical surname used for someone who lived near an enclosure or a place that could be locked. These definitions derived from the Old English word "loca" and later the Middle English word "loke". Loke was commonly used to describe a river barrier, one that could be open or closed and consisted of a bridge. Third, the surname could have been used as a nickname to describe someone with curly hair. The Old English word "loc" and the Old High German word "loc" meant a lock of hair.
Variations:
More common variations are: Loch, Lock, Locke, Lochlair, Locklair
History:
England:
The first known recorded instance of the name is of Leuric Loc in 1130 in Warwickshire in the Pipe Rolls.
The surname Locke is the 1077th most common name in Great Britain. The highest concentrations are in Denbighshire, West Sussex, Norfolk, Cheshire, Surrey, and Kent.
William de Lok in 1230 was recorded in Berkshire, William Lock in 1273 was recorded in Oxfordshire, and Rober Atteloke was recorded in 1300 in Cambridgeshire.
The first known church recordings of the surname are in London Church Registers for the christening of Joan Lock at St Giles Cripplegate in 1568. Robert Lock was recorded in 1572 for the marriage between him and Mary Baker at St Dunstan's Stepney.
William Lock left London for the New World aboard the "Planter" in 1634 sailing for the Virginia colony.
Ireland:
The Locke surname is an Anglicized version of the Irish surname O Lochlainn. Domnall Ua Lochlainn was high King of Ireland in the 11th century. 100 years later, Muirchertach Mac Lochlainn would become Hih King of Ireland.
Colm O Lochlainn born in 1892 was a famous Irish printer and collector of Irish ballads.
Scotland:
The family held an ancient manor in Peeblesshire, a former county in Southern Scotland. The name appeared in very early census rolls for taxation purposes.
Wales
The Lock surname in Wales originates from a band of gypsies. One possibility is they acquired their name because the family was adept at picking the locks of farmers to graze their horses.
United States:
In 1621, Robart Locke landed in Virginnia. 2 years later Robert Locke, no relation, arrived in Virginia as well. Another Locke, William Locke, arrived in America in 1634, but it is unknown where he would go on to settle. His son WM Locke at the age of 6 arrived with him. In 1644, in New Hampshire, John Locke arrived from England
The 18th century would see more Locke's arrive from Europe. Febee Locke arrived in Virginia in 1703. In 1739, Peter Locke arrived in Pennsylvania.
In 1830, Lydia Locke at the age of 7 landed in Kennebunk, Me. That same year Jacob Locke arrived in Maine as well.
The Locke surname today is mainly found in Florida, Tennessee, Maine, Vermont, Massachusetts, Washington, and Oregon.
Here is the population distribution of the last name Locke:
32,000 in the United States, 6,000 in England, 4,000 in Canada, 2,000 in Australia, 2,000 in South Africa
Notable People:
Alain LeRoy Locke (1885), African American writer, philosopher, and educator. He was the first Rhodes Scholar in 1907. He was known as the "Dean" of the Harlem Renaissance. He graduated from Harvard University and received the prestigious Bowdoin Prize.
Dean Jewett Locke (1823), doctor, founder of Lockeford, California. He was a student at Harvard medical school and eventually founded the town that would become his namesake. He left Harvard medical school to join the gold rush trip to California.
John Locke (1632 – 1734), English philosopher. He is widely known to be regarded as one of the most influential Enlightenment thinkers, and the "father of liberalism".
John Locke (1764), member of the U.S. House of Representatives. He was born in Hopkinton, and eventually graduated from Harvard in 1792. He was admitted to the bar in Mass. In 1796.
John Locke (1847 – 1889), Irish poet. He was most famous for writing "Dawn on the Irish Coast" also known as "The Exiles Return, or Morning on the Irish coast".
Joseph Locke (1805), English civil engineer. He was known for the numerous railroad projects he was a part of. He is widely regarded as one of the major pioneers of railroad development.
Lewis Locke (1835), American Civil War Medal of Honor recipient.
Blazons & Genealogy Notes
1) (Homes, co. Hertford, cos. Essex, Hereford, and York). Ar. a bend betw. two water bougets sa. Crest—An ostrich's head couped at the neck ar. holding in the beak a key sa.
2) Ar. a chev. betw. three cinquefoils az.