Loeser Family Crest, Coat of Arms and Name History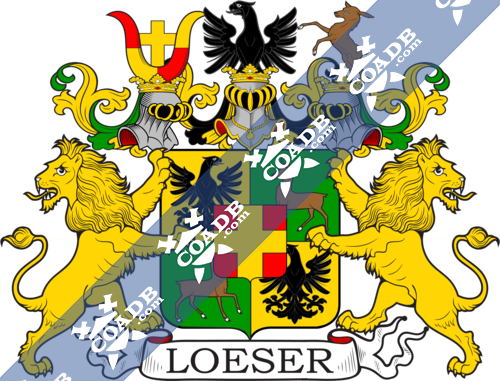 Loeser Coat of Arms Gallery
Don't know which Coat of Arms is yours?
We can do a genealogical research. Find out the exact history of your family!
Learn More
The colourful history of Saxony provides a glimpse at the oldest origins of the Loeser family.  In the old era, the German lands inhabited by a variety of Barbarian clans.  The old dukedom of Saxony acquired its name from the Germanic tribe name the Saxons who inhabited the territory after the fall of the Roman Empire.  Spelling variations of this family name include Leser, Lesser, Lesserer, Leserer, Leyser, Leyserer, Layserer, Layser, Loeser and much more. More common variations are: Loesser, Loewser, Leser, Loser, Lesser, Leiser, Leyser, Leaser, Lieser, Looser.
The surname Loeser first found in Saxony, where the name anciently associated with the tribal conflicts of the area.  They declared allegiances to many nobles and princes of early history, lending their authority in struggles for power and status within the region.  The oldest form of the name is Loeser or Lesar, which stems from Lazarus and the Hebrew names Eleazer and Elieser.
Some of the people with the name Loeser who arrived in the United States in the 17th century included Frederick Loeser, who arrived in Philadelphia in 1753.  Jacob Loeser, who landed in Pennsylvania in 1760.  John Christian Loeser, who arrived in Pennsylvania in 1762.
Blazons & Genealogy Notes
1) Saxe – (Comtes du St.-Empire, 11 sept. 1745) Écartelé aux 1 et 4 d'or à l'aigle de sable celle du 1 contournée aux 2 et 3 de sinople à un chevreuil passant au naturel celui du 3 contourné Sur le tout de gueules à la croix d'or Trois casques couronnés Cimiers 1° l'aigle du 1 issante Lambrequin d'or et de sable 2° une croix latine d'or entre deux proboscides coupées alternativement de sable et de gueules Lambrequin d'or et de gueules 3° le chevreuil du 2 issant Lambrequin d'or et de sinople Supports deux lions regardants d'or.
2) Saxe De sinople à un agneau passant au naturel Casque couronné Cimier l'agneau issant Lambrequin d'or et de sinople. English: Vert a lamb passant proper, helm crowned, crest with lamb issuing, mantling or and vert.