Longworth Family Crest, Coat of Arms and Name History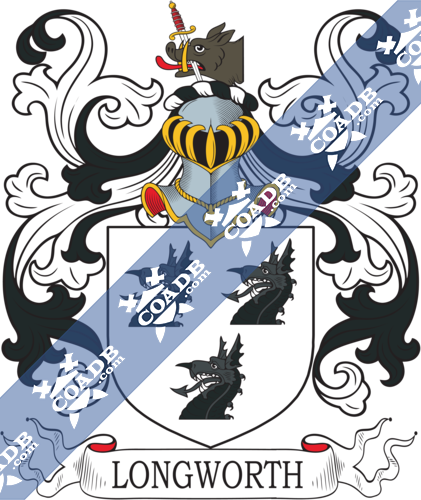 Longworth Coat of Arms Gallery
Don't know which Coat of Arms is yours?
We can do a genealogical research. Find out the exact history of your family!
Learn More
Longworth Origin:
England, Ireland
Origins of Longworth:
This name is of Anglo-Saxon origin and is a geographical surname acquiring from any one of the places called "Longworth" in Berkshire, Herefordshire, and Lancashire. The areas in Berkshire and Lancashire were listed as "Langwrth" in 1291 and as "Langeworthe" near the year 1210 respectively, and both share the similar meaning and derivation, which is "the area bounded by some barrier, settlement", acquired from the Old English pre 7th Century "lang, long", which means long, with "worth", area bounded by some barrier, settlement often used in the sense of a helpful settlement dependent on a main hamlet. The place in Herefordshire was frequently named in 1242 as "Langeford," the long fort, from the Old English "lang," which means long with "ford," which means fort, castle. The place name converted to Longworth sometime during the 14th Century. One John Longworth of Northamptonshire shows in the Record of the University of Oxford for the year 1621.
Variations:
More common variations are: Longworthy, Long-Worth, Longorth, Longwrth, Langworth, Longwirth, Longowrth, Longwerth, Lingworth, Lngworthy.
England:
The surname Longworth first appeared in Lancashire where they held a family seat from old times and their first register was found in the early poll rolls derived by the old Kings of Britain to decide the rate of taxation of their activities.
The very first recording spelling of the family was shown to be that of Robert Lech, dated about 1250, in the "Chartulary of Ramsey Abbey," Huntingdonshire. It was during the time of King Henry III who was known to be the "The Frenchman," dated 1216 – 1272. The origin of surnames during this period became a necessity with the introduction of personal taxation. It came to be known as Poll Tax in England.
Ireland:
Many of the people with surname Longworth had moved to Ireland during the 17th century.
United States of America:
Individuals with the surname Longworth settled in the United States in two different centuries respectively in the 17th, and 19th. Some of the people with the name Longworth who settled in the United States in the 17th century included John Longworth, who landed in Maryland in 1637-1640. James Longworth settled in Virginia in 1652. Roger Longworth, who landed in Pennsylvania in 1687.
The following century saw more Longworth surnames arrive. Some of the people with the surname Longworth who settled in the United States in the 19th century included P Longworth landed in San Francisco, California in 1850. Richard Longworth, who arrived in Allegany (Allegheny) Division, Pennsylvania in 1852.
Australia:
Some of the people with the surname Longworth who settled in Australia in the 19th century included John Longworth, an English prisoner from Derby, who shifted aboard the "Andromeda" in October 1826, settling in Van Diemen's Land, Australia.
Here is the population distribution of the last name Longworth: United States 2,617; England 2,156; Australia 693; Canada 480; South Africa 457; Scotland 92; Wales 90; Ireland 71; New Zealand 62; France 61.
Notable People:
Alice Lee Roosevelt Longworth (February 1884 – February 1980) was an American author.
Eric Longworth (July 1918-August 2008) was a British actor, famous for his semi-regular part in the famous BBC comedy Dad's Army as Mr. Gordon, the town clerk of Walmington-on-Sea.
Helen Longworth was born in 1976, Preston, Lancashire. She is a British actress.
John Longworth, QC (September 1814 – April 1885) was an advocate, judge, and politician in Prince Edward Island. He mentioned 2nd Queens in the Legislative Assembly of Prince Edward Island from the year 1846 to 1850 and from 1858 to 1867 as an old representative.
Karina Longworth (born July 10, 1980) is an American film reviewer, writer and scholar who lives in Los Angeles.
Norman Longworth was an honorary Professor of Lifelong Learning at the University of Stirling in the UK.
Paulina Longworth Sturm (February 1925 – January 1957) was an American aristocrat.
William Longworth (September 1892–October 1969) was an Australian freestyle swimmer who competed for Australia in the 1912 Summer Olympics.
Toby Longworth is a British actor.
Blazons & Genealogy Notes
1) (Longworth, co. Lancaster). Ar. three dragons' heads couped sa. Crest—A boar's head couped holding in the mouth a sword ppr.
2) (co. Gloucester; as borne by Francis Longworth, Esq., of Cotswold House, near Cheltenham). Ar. three dragons' heads erased sa.
3) (Upper Rawcliffe, co. Lancaster, 1664). Ar. three wolves' heads erased sa.