Love Family Crest, Coat of Arms and Name History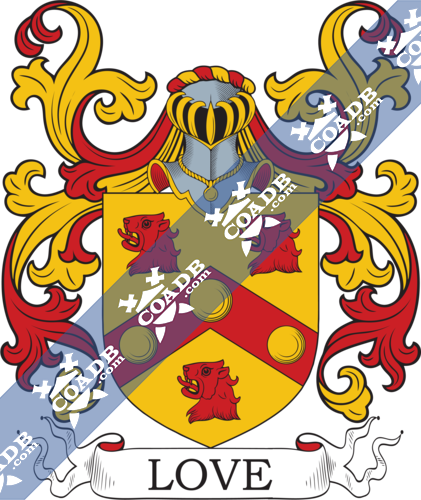 Love Coat of Arms Gallery
Don't know which Coat of Arms is yours?
We can do a genealogical research. Find out the exact history of your family!
Learn More
Love Surname Name Meaning, Origin, History, & Etymology
The last name Love has six distinct origins. First, in England, it developed as a derivation of a Middle English personal (first) name derived from the Old English female given named Lufu, meaning love, or the masculine equivalent Lufa, perhaps similar to Leaf in origin (the Anglo-Saxon masculine given name Leofa, from the Old English leof, meant dear or beloved). Another author states it came from the Flemish personal name Loef.
Second, in England and Scotland, it developed from a nickname from the Angl0-Norman French word louve or love, meaning "female wolf", a name often applied to men in an approving sense.
Third, in Scotland, it may be in some instances related to the Anglicized Gaelic surname McKinnon. In his 1964 book titled A Guide to Irish Names, author Edward MayLysaght states the following in regard to this origin: "Woulfe gives Mac Ionmhain for this and does not mention that it is a well known English name which came to Ireland in the seventeenth century. Mac Ionmhain is a modern attempt at translation into Irish. Love is a numerous name in Co. Derry".
Fourth, in England/France, according to Patronymica Britannica, "This name relates not to the tender passion, but is an old modification of the French Loup, wolf. In the same way Lupellus, the diminutive, became Loupel and Lovel. One family of this name bear wolves in their arms".
Fifth, in the Netherlands or Holland, it in some cases, as de Love, is a reinterpretation of the Dutch surname Delvove, a habitational surname deriving from Hove and L'Hoves, Hainault.
Sixth, in his 1903 book titled British Family Names, author Henry Barber makes the following annotation in regard to this surname: "(Danish.) A lion".
Spelling variants or names with similar etymologies include: Luf, Lufe, Lupos, and Luife.
According to RedBirdAcres.net: "It was used as a surname in Normandy in the 11th century, and several of that name accompanied William the Conqueror when he invaded England from Normandy in 1066, including a nephew of William's who was rewarded with an English earldom. After that the name appeared occasionally throughout England, and then Scotland. There is a common thread that seems to tie all together – the coat of arms. Most of those bearing the name Lupus, Lufe, Love, or some similar variation, have had a coat of arms bearing three wolves heads, which would lead one to suspect a common origin for all".
Early Bearers of the Love Surname
The earliest documented bearer of this last name was Peter Love, who was recorded in the Fines Court Rolls in Essex, England in 1255 AD. The Hundred Rolls of 1273 AD, a census of Wales and England, known in Latin as Rotuli Hundredorum lists two bearers of this surname, both in Cambridgeshire: Alan le Love and Walter Love. In the names other forms, early bearers include: Galfridus filius Love (Pipe Rolls 1208 AD), Walter Lupus (a burgress of Dundee, Scotland c. 1200 AD), and Thomas Lufe (Glasgow, Scotland 1472 AD).
Popularity & Geographic Distribution
The last name Love ranks 363rd popularity in the United Status as of the 2000 Census. The name ranks particularly high in the following four states: Mississippi (184th), Tennessee (218th), Michigan (219th), and Oklahoma (222nd).
The surname Davenport frequency/commonness ranks as follows in the British Isles: England (546th), Scotland (323rd), Wales (552nd), Ireland (1,347th) and Northern Ireland (391st). In England, it ranks highest in counties Wiltshire and Northamptonshire. In Scotland, the surname ranks highest in Clackmannanshire. In Ireland, it ranks highest in county Donegal. In Northern Ireland, it ranks highest in Fermanagh. In Wales, it ranks highest in Monmouthshire. The name is also present throughout the remainder English speaking world: Canada (862nd), New Zealand (440th), Australia (446th), and South Africa (1,382nd).
In his 1890 book, Homes of Family Names in Great Britain, Henry Brougham Guppy, states the following in regard to this last name: "Love is an ancient Kentish surname. Reginald Love held property around Chatham and Rochester in the reign of Henry V.; and in the time of Henry VIII., Giles Love was a gentleman of Dover; John Love was rector of Woodchurch in 1685 (H.). The Loves have long been an old Staplehurst family of gentry; a hundred years since there were several inscriptions to this family, some of them obliterated, in the church and churchyard".
Love Family Tree & Love Genealogy
Sir John Luf was born in Scotland c. 1400 AD. He married Amice Manduit and had a son with her named Nigel. The following is a lineage or pedigree beginning with him:
-Nigel Luf (born in Paisley, Renfrewshire, Scotland in c. 1420, had sons Thomas, Allan, Simon, Patrick, John, and William)
-John Luf (born in the same town in c. 1450 AD)
-John Luf or Luife (born in Lochwinnoch Parish, Renfrewshire, Scotland in 1492, had sons John, Robert, and James)
-Robert Luife or Love (born in Govan, Lanarkshire, Scotland c. 1550, father of John and James)
-John Love or Luiff (born in Glasgow, Scotland in 1592, married Isobel Andertonn)
-John Love (born in Glasgow in 1610, married Agnes Jamison)
-William Love (born in Glasgow in 1629, married Janet Wallace, had children named James, William, and Bessie)
-James Love (born in Glasgow in 1656, married Isabelle Alexander and Jonet Byre)
-James Love (born in Ardmore, Tyrone, Ireland in 1671, married April Osterman)
-Alexander Love (born in Northumberland County, Virginia in 1690, married Elisha Basye, had issue named Hannah Honor, Amos Sr., John, James Sr., Judith, Elizabeth, Alexander, William, and Jane)
-Amos Love Sr. (born in Virginia in 1705, married Mary Ingram and Sarah Willis (had issue named Thomas, Mary, Winneford, Elishe, Elizabeth, Margaret, and Charles)
-Amos Love Jr. (born in Virginia c. 1749, had children named Winnifred, Rebecca, Elishe, John, Mary, Hannah, Charles, Penelope, and Amos III)
-Amos Love III (born in Onslow County, North Carolina, married Margaret James, had issue named Eliza Jane, Peter Early, and Mary Ann)
-Peter Early Love (born in Laurens, Georgia in 1816, married Mary Martha Bracewell, had daughters named Mattie M. and Margaret Jane, born around the 1840s)
-John Love was born in 1350 AD. His son, John Love II, was born in Boring, County Hants, England in 1415. He married Johane Thorpe and had a son with her named John II, the following is a pedigree or lineage from beginning with him:
-John Love III (born in England in 1440 AD)
-Richard Love (born in Hampshire, England in 1465 AD, married Elizabeth)
-John Love Esq. (born c. 1581, married Rebecca, daughter of Thomas Eyre, MP and Elizabeth Rogers Eyre, and had one son named Richard and one daughter named Susanna)
-Richard Love (born c. 1600 AD, married Barbara Yarden)
-Richard Love (born in Basing, Hampshire, England, married Charity Tichborne)
-William Love (married Ann Mitchell)
-John Love (born in 1625 in Singleton, Essex, England, married Catherine Granger)
-John Love II (born in Strabone, Scotland in 1654, married Isabell Alexander)
-John Love, also known as James Love, or possibly Robert Love (born in Ardmore, Tyrone, Ireland c. 1672 AD, went to colonial America). He married Margaret Miller and had the following issue with her: Robert, Alexander, Daniel, Andrew, Jane, William, Sarah, Margaret, Mary, James, Rachel, John, and Elizabeth. He died in Lancaster, Pennsylvania c. 1751
Marriages of Loves
1) Nicholas Love married Margaret Creake in Yarmouth, Norfolk, England in June 1634
2) Rob Love married Kath Laman in Sutton, Bedford, England in April 1547
3) Arthur Love married Elizabeth Dunk in England in May 1771
4) John Love married Susan Tooley in Ashmanhaugh, Norfolk, England in 1579
5) Molly Love married Thomas Patterson in Doneraile, Cork, Ireland in 1748
6) James Love married Margaret Inice in Kilbarchan, Renfrew Scotland in May 1694
7) Robert Love married Isabell Samuell in Carriden, West Lothian, Scotland in July 1693
8) Rufus Love married Clarissa Bowers in Huron, Ohio in March 1821
9) Elizabeth Love married John Blake in Warren, Ohio in November 1804
10) Alexander Love married Rebeccah Vincent in Greensville, Virginia in 1787
Early American and New World Settlers
Some of the earliest settlers in colonial America and early Canada bearing this name include:
1) Agnes Love came to Massachusetts in 1634
2) John Love came to Canada in 1629
3) John Love came to Virginia in 1636
4) Thomas Love came to Virginia in 1637
5) Richard Love came to Virginia in 1642
6) Robert Love came to Maryland in 1649
7) Elizabeth Love came to Virginia in 1652
8) John Love came to Boston, Massachusetts in 1653
9) Rose Love came to Virginia in 1654
10) Charity Love came to Virginia in 1665
11) Dorothy Love came to Maryland in 1665
12) Patrick Love came to Virginia in 1665
Several thousand members of the Love family came to the United States through Ellis Island, during the nineteenth century, including:
1) John Love came from England aboard the New York in 1903
2) William Love came from Ireland aboard the City of Paris in 1871
3) Mitchell Love came from Scotland aboard the Iowa in 1868
4) Rebecca Love came from Toronto, Canada aboard the Celtic in 1903
5) Mary Love came from Ireland aboard the City of Sunerick in 1871
6) Robert Love came from Ireland aboard the City of Montreal in 1872
7) Olaf Andersen Love came from Tjodling aboard the Norge of 1903
8) Charles Love came from England aboard the City of Washington in 1871
9) Robert Love came from Scotland aboard the Ellen Stevens in 1868
10) William Love came from Ireland aboard the Bolivia in 1880
In Australia, several bearers of the Love surname came in the year 1849: Matilda Love came aboard the Prince Regent, John Love came to Adelaide aboard the Duncan, and James Love (a convict from Middlesex, England) came aboard the Adelaide. One of the earliest bearers in New Zealand was John Love who came in 1830. In 1840, another John Love came to Wellington.
Grantees of Arms
1) Nicholas Richard Love of Basing in Froxfield, Southhants, gentleman, 5 February 1612-1613 or 7 December 1613 by Camden
2) Robert Love of Kerstead, Norfolk, England, 10 December 1663
Notables
There are hundreds of notable people with the Love surname. This page will mention a handful. Famous people with this last name include:
1) Davis Milton Love III (1964) who is a professional golfer from Charlotte, North Carolina who has won 21 events of the PGA Tour, the most notable of which was is 1997 PGA Championship win.
2) Michael Edward Love (1941) was a musician, singer, and songwriter from Los Angeles, California who is one of the co-founders of the iconic American rock/pop band The Beach Boys
3) Kermit Ernest Hollingshead Love (1916-2008) was a puppeteer, puppet maker, actor, and costume designer most known for his work on the Muppets and Sesame Street, born in Spring Lake, New Jersey
4) Peter Love (died 1610) was an English pirate born in Lewes, Sussex who was the captain of the Priam
5) Robert John Love (1917-1986) was a flying ace in the American Air Force during the Korean War, born in Grande Prairie, Canada, known for shooting down six MiG-15 jet aircraft in 1952
6) Nancy Harkness Love (1914-1976) was an American pilot from Houghton, Michigan, who founded the Women's Auxiliary Ferrying Squadron, and obtained the rank of Lieutenant Colonel in 1952
7) John Arthur Love (1916-2002) was Governor of Colorado from 1963-1973 and served in World War II as a US Navy pilot, born in Gibson City, Illinois
8) Donald Alistair Love (1994) is football (soccer) player, born in Rochdale, Scotland whose senior career began in 2013 when he plated for Manchester United, and had played for U21 Scottish National Team in 2015 and 2016
9) Shirley Love (1940) was an operatic mezzo-soprano born in Detroit, Michigan
10) General Sir James Frederick Love (1789-1866) was an officer in the British Army who took part in the Battle of Bussaco during the Peninsula War and later served as the Lieutenant Governor of Jersey.
Love America Civil War Veterans
There were several soldiers with the last name Love who served in the American Civil War, including the following:
1) Adam O. Love of the 168th Regiment Pennsylvania (Union)
2) Benjamin H. Love of 18th Regiment Indiana Infantry (Union)
3) James Love of the 29th Regiment Illinois Infantry (Union)
4) Humphrey S. Love of the 2nd Independent Battery Kansas Light Artillery (Union)
5) Andrew Love of the 1st Regiment New Jersey Cavalry (Union)
6) Joseph E. Love, General Staff Officer (Confederacy)
7) Jackson I. Love of the 62nd Regiment Tennessee (Confederacy)
8) Lewis White Love of the 9th Regiment Tennessee Cavalry (Confederacy)
9) James A. Love of the 1st Regiment Arkansas Mounted Rifles (Confederacy)
10) Alexander B. Love of the 29th Regiment Mississippi Infantry (Confederacy)
Love America Revolution Veterans
There were several soldiers with the last name Love who served in the Revolutionary War, including the following:
1) Corporal John Love of Virginia
2) Corporal Robert Love of Virginia
3) Lieutenant William Love of South Carolina
4) Corporal Alexander Love of New Jersey
5) Private Charles Love of Virginia
6) Private David Love of Maryland
7) Corporal John Love of New York
8) Surgeon David Love of Pennsylvania
9) Private James Love of Massachusetts
10) Sergeant Samuel Love of Virginia
To receive a complete surname meaning report by PDF you can order our SURNAME MEANING PACKAGE for $129.   This report is great to share with family and friends.  It includes everything you see above plus any other information we can find on the specified surname.  It does take approximately 10 to 15 days for us to complete this custom report.
To receive a direct lineage & coat of arms search for your specific line(s) you can order one of our GENEALOGY PACKAGES ranging in price from $249 to $999.   All research is completed by a professional genealogist with over 30 years' experience.  All reports and coat of arms files are sent by email in PDF and JPG format.
Blazons & Genealogy Notes
1) (Basing, co. Hants. Visit. 1634. The heiress, Susanna. only child of Richard Love, Esq., of Basing, m. Francis Beckford, Esq.; her son and heir, Francis Love Beckford, s. to the estates). Ar. three bars gu. in chief as many lions' heads erased of the last. Crest—On a cross formée fitchée gu. a bird ar.
2) (Norton and Goudhurst, co. Hants, and co. Oxford). Vert a lion ramp. ar. charged on the shoulder with a cross pattée gu. Crest—Out of a ducal coronet or, a cross formée gu. thereon a bird ar.
3) (Sevenoaks, co. Kent). Az. a tiger pass. or. Crest—A demi buck.
4) (Kirksted, co. Norfolk; granted 10 Dec. 1663). Vert an heraldic tiger pass, or, mane and tuft of the tail ar. Crest—An heraldic tiger's head erased vert, maned ar.
5) (Aynho, co. Northampton; Edward Love, second son of Giles Love. Captain of Dover Castle; his dau. Elizabeth, m. Simon Perrote, of Oxford. Visit. Oxon, 1574). Vert a lion ramp. reguard. or. Crest—A demi greyhound ramp. ar. collared and lined sa. end of line coiled.
6) (Broughton, co. Oxford; Giles Love, second son of Edward Love, of Aynho. Visit. Oxon, 1574). (co. Suffolk; Rev. Edward M. Love, A.M., Rector of Somerleyton). Vert a lion ramp. or, charged on the breast with a cross pattée gu. Same Crest.
7) Az. a lion ramp. ar. Crest—A hand holding an annulet ppr.
8) (quartered by Alchorne. Visit. Kent, 1619). Vert a lion ramp. guard. ar. Crest—On a chapeau gu. turned up erm. a lion pass. ar.
9) Or, on a chev. betw. three lions' heads erased gu. as many bezants.