Lovelace Family Crest, Coat of Arms, and Name History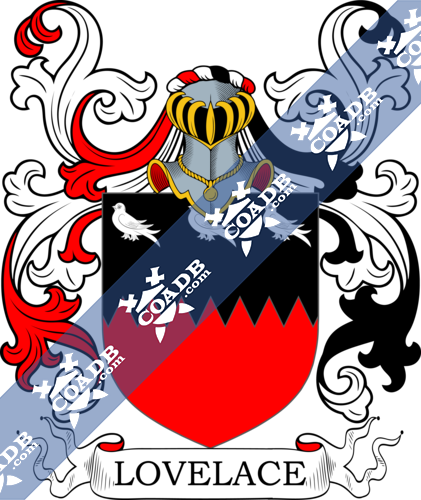 Lovelace Coat of Arms Gallery
Don't know which Coat of Arms is yours?
We can do a genealogical research. Find out the exact history of your family!
Learn More
LOVELACE COAT OF ARMS
The Anglo-Saxon surname Lovelace is a modern deviation of the medieval nickname "lufuleas". Lufuleas is a compound word made up of the prefix "lufu" which translates to mean love in modern English and the suffix "leas" which translates to mean free or without. It is believed this nickname would have been applied to an individual who had not yet married or been in love.
Surnames in Europe prior to the mid-sixteenth century were largely unheard of outside of the noble class. In the small settlements and villages which existed during earlier times, residents found little need for surnames as everyone in these communities new each other and a given name would usually suffice. However, with the passage of time, population growth and expansions of communities as villages gave way to towns and cities, it became necessary to add a qualifier to a people's names to distinguish them, one from another. Therefore one person may have been identified by their given name plus their occupation while another may have been identified by their given name and one of their parent's names. The introduction of surnames after the medieval era seemed to be the next logical step in this evolution. There was a boundless supply from which surnames could be formed, in addition to the use of patriarchal/matriarchal names or reference to the individuals occupation, there were things such as defining physical traits, a familiar geographical location or a topographical landmark found near the individuals home or birthplace, the name of the village in which the person lived. Surnames also served an additional role by allowing governments a more effective way of keeping records for census, taxation, and immigration records.
These official records often contained variations in spelling of many surnames. The variation in spelling during this time period can be attributed to a lack of continuity regarding guidelines for spelling which was compounded by the diversity of languages in use in European countries at this time. The variations in the spelling of the surname include but not limited to; Lovelace; Lowles; Lowless; and Loveless among others.
An early record of any variation of this surname is that of Edith Luvelece which appears in the
Somerset tax rolls dated 1243. These rolls, were a series of census and tax records kept by the English Treasury by order of King Henry III, with the oldest dating back 700 years to the 12th century. They hold the distinction of being the oldest consecutive set of records detailing English governance in the United Kingdom.
One of the first recorded immigrant to America bearing the surname or any variation of the spelling was Francis Lovelace who arrived in 1651 and settled in Virginia. Edward Lovelace landed and settled in New England in 1764 and Thomas Lovelace arrived and settled in Mississippi in 1798.
There were also many immigrants to the British Commonwealth countries such as New Zealand. Maria Lovelace landed in 1851 and settled in Auckland, New Zealand.
Worldwide, the highest concentration of people with the surname Lovelace are found in the United States, Canada, the United Kingdom, New Zealand, and Switzerland. By state, the largest percentile of those with the surname Lovelace live in Alabama, Arkansas, Mississippi, North Carolina, Oklahoma, Tennessee, and Virginia.
There are many persons of note who bear the surname Lovelace. Sir Richard Lovelace, Baron of Lovelace was a title created in the Peerage of England in 1627. Six members of the Lovelace family bore the title until it became extinct upon the death of the sixth Baron in 1736. The title was, however, revived Baron King, 8th Baron King was made Earl of Lovelace. King was married to Ada who was the daughter and only legitimate child of Lord Byron and descended of the Barons Lovelace.
Ada Lovelace made a name for herself outside of the fame brought to her by her ancestry. She has been commemorated in writing and has been the inspiration for many characters in both literary and works for the theater. The United States Department of Defense uses a computer language named Ada in her honor, The British Computer Society has an award named for her, and there is a non-profit organization to promote women's involvement in science named for her among other honors.
Ada was most renowned as a mathematician and her work on the Analytical Engine, Charles Babbage's mechanical general-purpose computer. Many historians refer to Lovelace as the first computer programmer, although this claim has often been disputed her contributions to the influence of women in science is not.
Blazons & Genealogy Notes
1) (Hurley, co. Berks, Lovelace and Canterbury, co. Kent). Gu. on a chief indented ar. three martlets sa. Crest—On a staff raguly vert an eagle displ. ar.
2) Per fesse indented sa. and gu. in chief three martlets ar.
3) Paly of six engr. gu. and ar.
4) (Sir William Lovelace, knighted by Robert, Earl of Essex, Lord Lieutenant of Ireland, 30 July, 1599). Gu. on a chief indented sa. a mullet ar.