Lovejoy Family Crest, Coat of Arms and Name History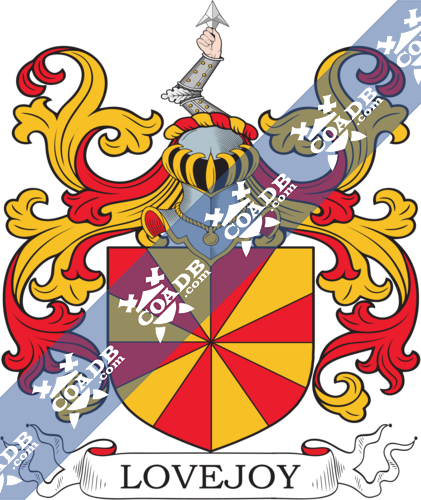 Lovejoy Coat of Arms Gallery
Don't know which Coat of Arms is yours?
We can do a genealogical research. Find out the exact history of your family!
Learn More
Lovejoy Origin:
England
Origins of Lovejoy:
This unusual surname, having long relationships with Buckinghamshire, is of Anglo-Saxon origin, and is an interesting example of that sizeable group of early European surnames that gradually created from the habitual use of nicknames.  These nicknames are given in the first example with relating to the profession, or to a variety of personal characteristics, such as physical characteristics or unusualnesses, mental and moral characteristics, or to habits of dress and behavior.  The origin, in this instance, is from the Olde English pre 7th Century "lufu" (Middle English "lufe"), love, with the Middle English and Old French "joie, joye", joy; hence, "Lovejoy", used to denote someone who craved pleasure, or who particularly enjoyed life.  Other nicknames in this category contain as Lovelady, denoting a philanderer, or man particularly attentive to the desires of women, and Loveless, probably used in a sense "fancy-free."  The birth of William, son of Samuel Lovejoy, was recorded at Little Marlow, Buckinghamshire, in 1530, and in July 1556, Thomas Lovejoy and Johanna Thatcher married at Dorney, Buckinghamshire.
Variations:
More common variations are: Lovejoey, Lovejay, Lovejoi, Lovajoy, Lavejoy, Lovijoy, Lovejoh, Lovyjoy, Lifejoy
England:
The surname Lovejoy first appeared in Kent where they held a family seat from early times and their first records appeared on the early census poll derived by the early Kings of Britain to decide the rate of taxation of their problems.
The very first recorded spelling of the family was shown to be that of Johannes Lovejoy, dated about 1487,  in the "Little Marlow Buckinghamshire".  It was during the time of King Henry VII who was known to be the "Henry Tudor," dated 1485 – 1501.  The origin of surnames during this period became a necessity with the introduction of personal taxation.  It came to be known as Poll Tax in England.  Surnames all over the country began to develop, with unique and shocking spelling varieties of the original one.
Ireland:
Many of the people with surname Lovejoy had moved to Ireland during the 17th century.
United States of America:
Individuals with the surname Lovejoy landed in the United States in three different centuries respectively in the 17th, 18th, and 19th.    Some of the people with the name Lovejoy who arrived in the United States in the 17th century included John Lovejoy, who landed in Massachusetts in 1633-1634.  Roger Lovejoy settled in Virginia in 1649.
People with the surname Lovejoy who landed in the United States in the 18th century included Mark Lovejoy, who landed in Virginia in 1714.  Andrew Lovejoy, who arrived in Virginia in 1724.  William Lovejoy settled in Virginia in 1729
The following century saw more Lovejoy surnames arrive.  Some of the people with the surname Lovejoy who arrived in the United States in the 19th century included John Lovejoy arrived in New Orleans in 1821.  C. Lovejoy arrived in San Francisco in 1852.
Here is the population distribution of the last name Lovejoy:
United States 9,698; England 1,065; Australia 373; Philippines 322; South Africa 183; India 145; Canada 139; New Zealand 118; Jamaica 71; Wales 45.
Notable People:
Allen P. Lovejoy, American leader.  He was born Allen Perry Lovejoy in March 1825, in Wayne, Maine and raised on the family farm.  He attended Wesleyan Seminary, now Kent's Hill School, and for a year at the age of eighteen; he taught school.  In 1844 he took up an apprenticeship in the carpenter and building trade, and in 1850 he moved to Janesville, eventually expanding his contractor business into lumber retailing and manufacturing, with extensive raw timber holdings in Wisconsin and Michigan.
Arthur Oncken Lovejoy (1873–1962), was an American philosopher and intellectual historian.
Asa Lovejoy (1808–1882), was an American pioneer and politician, founder of Portland, Oregon.
Ben Lovejoy (born 1984), was an American ice hockey player.
Deirdre Lovejoy (born 1962), is an American actress.
Elijah Parish Lovejoy (1802–1837), was an American writer and abolitionist, brother of Owen.
Esther Pohl Lovejoy (1869–1967), was an American doctor and activist.
F. T. F. Lovejoy (1854–1932), was an American industrialist.
Frank Lovejoy (1912–1962), was an American actor.
George Lovejoy (died 2003), was an Australian rugby league commentator.
George A. Lovejoy (1931–2015), was an American leader and businessman.
Lynda Lovejoy (born 1949), is a Navajo leader.
Owen Lovejoy (1811–1864), was an American congressman and abolitionist, brother of Elijah.
Owen Lovejoy (anthropologist) (born 1943), was an American evolutionary biologist.
Thomas Lovejoy is an American biologist.
Blazons & Genealogy Notes
1) Gyronny of twelve gu. and or. Crest—An arm from the elbow in armour, holding a galtrap.
2) (Caleys Grange or Callis Court, Thanet, co. Kent). Az. three bars dancettée or.