Lucci Family Crest, Coat of Arms and Name History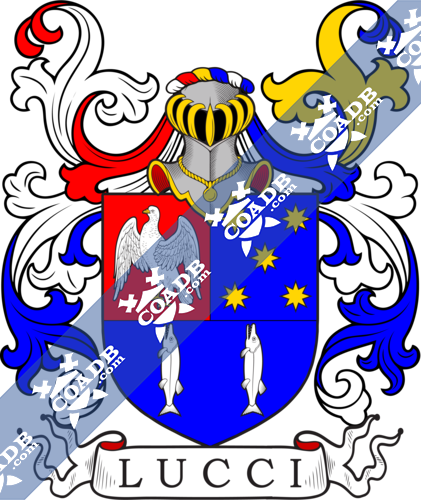 Lucci Coat of Arms Gallery
Don't know which Coat of Arms is yours?
We can do a genealogical research. Find out the exact history of your family!
Learn More
Lucci Origin:
Italy
Origins of Lucci:
The distinguished surname Lucci started in an area of Italy, known as the Papal States. Although people were originally known only by a single name, it became necessary for people to pick a second name to identify themselves as residents grew and travel became more common. The process of adopting fixed inherited surnames was not complete until the new era, but the use of hereditary family names in Italy started in the 10th and 11th centuries. Italian hereditary surnames advanced according to fairly general sources, and they were distinguished by an abundance of derivatives coined from given names. The most traditional type of family name appeared in the area of the Papal States is the patronymic surname, which acquired from the father's given name. During the Middle Ages, Italians picked the patronymic system of name-making because it perfectly balanced the general Feudal System. In Italy, the popularity of the patronymic type of surname is also due to the reality that during the Christian period, people often named their children after martyrs and biblical figures. The surname Lucci came from the old given name Luciani. The particular name Luciani originally acquired from the Latin name Lucius, which was an old Roman personal name that means light. It was also the name of a large number of early Christian martyrs and consequently, the name was extremely famous in Italy during the Middle Ages.
Variations:
More common variations are: Lucchi, Leucci, Luccio, Luccia, Liucci, Laucci, Luicci, Luccie, Lucciee, Lucchio.
England:
The surname Lucci first appeared in the unique region of Lazio, in the city of Rome. Earliest recordings can appear dating back to 180 B. C. with Gaius Lucilius, a Roman writer.
Ireland:
Many of the people with surname Lucci had moved to Ireland during the 17th century.
United States of America:
Individuals with the surname Lucci landed in the United States in the 20th century. Some of the people with the name Lucci who arrived in the United States in the 20th century included Angela Lucci at the age of 18, who landed in America from Palermo, Italy, in 1900. Anna Lucci at the age of 23, who moved to the United States from Salerno, in 1901.Alessandro Lucci at the age of 17, who moved to the United States from Sassoferrato, Italy, in 1909. Adelina Lucci at the age of 24, who landed in America from Amelia, Italy, in 1910. Andrea Lucci at the age of 28, who emigrated to the United States from Carassi, Italy, in 1910.
Here is the population distribution of the last name Lucci: Italy 6,416; United States 2,066; Brazil 1,749; Argentina 1,195; Venezuela 276; France 220; Hungary 164; Canada 163; Germany 134; Mexico 131.
Notable People:
Blessed Antonio Lucci (August 1682 –July 1752) born Angelo Nicola Lucci, was an Italian Roman Catholic professed member of the Order of Friars Minor Conventual and the priest of Bovino from 1729 until his death. The beatification cause began in December 1764 under Pope Clement XIII while he was later named as Venerable in June 1847 under Pope Pius IX. Pope John Paul II beatified Lucci in June 1989 in Saint Peter's Square.
Michael Gene Lucci (born December 1939) was a National Football League player for the Cleveland Browns for three seasons from 1962 to 1964 and nine seasons with the Detroit Lions from 1965 to 1973. He played collegiately at the University of Tennessee and for one year at the University of Pittsburgh.
Settimio Lucci (born September 1965 in Marino) is an Italian professional football referee and an older player. He played nine seasons (204 games, three goals) in the Serie A for Avellino, A.S. Roma, Empoli F.C., Udinese Calcio and Piacenza Calcio. He played for Roma in the UEFA Cup Winners' Cup.
Susan Victoria Lucci (born December 1946) is an American actress, television host, writer, musician, and manager, best known for representing Erica Kane on the ABC daytime drama All My Children from 1970 to 2011. The character was thought of as an icon and Lucci had been called "Daytime's Leading Lady" by TV Guide, with The New York Times and the Los Angeles Times citing her as the highest-paid actor in daytime television. As early as 1991, her salary had been listed as over $1 million a year. In 1996, TV Guide ranked Lucci number 37 on its 50 Greatest TV Stars of All Time list.
Blazons & Genealogy Notes
1) di Velletri Semipartito spaccato; nel 1. di rosso, caricato da una colomba d'argento movente dalla punta; nel 2. d'azzurro, a cinque stelle di otto raggi d'oro, poste 2, 1 e 2; nel 3. d' azzurro, caricato da due lucci posti in palo, colla testa in alto.
2) di Modena (Estinta) D'azzurro, a due lucci d' argento ordinati in palo, accompagnati in punta da una stella di otto raggi d' oro.