Luttrell Family Crest, Coat of Arms and Name History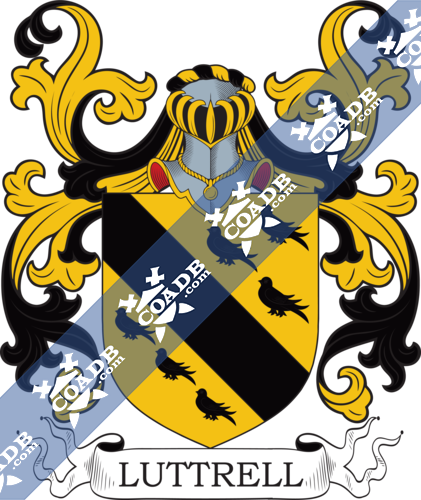 Luttrell Coat of Arms Gallery
Don't know which Coat of Arms is yours?
We can do a genealogical research. Find out the exact history of your family!
Learn More
This section has not yet been completed. If you are interested in having your genealogy done, we offer an affordable research servicethat traces your lineage so you can learn more about your ancestors, where they came from, and who you are.
Blazons & Genealogy Notes
1) or Loterel (Baron Luttrell, passed in 1417 to the Hiltons, and from them through the Arundels of Wardour, to the Cliffords. Sir Robert de Luterell, of Hooton Pagnel, co. York, was summoned to Parliament as a baron in 1295). Or, a bend betw. six martlets sa.
2) (Dunster Castle, co. Somerset; the parent stock of Luttrell, of Luttrellstown, co. Dublin, Luttrell, of Hartland, Honnebere, Sandon Court, and Chelsea; descended from John Luttrell, of Chilton, M.P. for Devon, 37 Edward III., youngest son of Andrew Luttrell, of East Quantoxhead, temp. Edward I. Margaret, only dau. and heir of Alexander Luttrell, Esq., of Dunster Castle, to. Henry Fownes, Esq., of Nethway House, co. Devon, whu assumed in consequence tbe name and arms of Luttrell). Quarterly, 1st and 4th, or, a bend betw. six martlets sa., for Luttrell; 2nd and 3rd, az. two eagles displ. in fosse and a mullet in base ar., for Fownes. Crest—Out of a ducal coronet or, a plume of five feathers ar. Motto—Quæsita marte tuenda arte.
3) (Hanbury, co Somerset, and of Hartland Abbey, co. Devon; Nicholas Luttrell., Visit. Devon, 1620, sixth in descent from Sir John Luttrell, living temp. Henry VI., who took the Queen of Scotland prisoner on the field of battle, and then bore a coronet for his crest; he subsequently took an earl prisoner in France, and thenceforth bore for his crest a swan chained and collared; he was eighth in descent from Sir John Luttrell, Knt., temp. King John). Or, a bend betw. six martlets sa. Crest—A boar pass. ar. bristled or, charged on the shoulder with a rose gold.
4) (Luttrellstown, Ireland). Ar. a fesse sa. betw three otters of the last, in the mouth of each a fish ppr. Crest—An otter pass. sa. in the mouth a fish ppr. Motto—En Dieu est ma fiance.
5) Luttrell-Olmius (Earl of Carhampton; extinct 1829). Per fesse az. and ar. a fesse counter-embattled or, in chief a mullet of six points of the second, in base on a mount vert en elm tree ppr. Crest—A demi Moor habited in armour ppr. garnished or, betw. two laurel branches vert, a wreath round the temples ar. and gu. and on the breast a fesse, as in the arms. Supporters—Dexter, an ancient warrior ppr. arms and thighs vested in mail of the last, body habited crimson, round the waist a sword-belt or, across the body from the dexter shoulder a sash az. from the middle of the thighs to the knees a vest vert tied with bows, face, hands, and legs ppr. in the right hand a bow, at the back a quiver of arrows, at the side a sword, hilt and pommel gold, shoes ar. his helmet adorned with feathers of the last; sinister, a female representing Plenty, imder robe white, the upper robe flowing, crimson, in her left hand a cornucopia with fruit, all ppr. Motto—En Dieu est ma fiance.
6) (Four Oaks, co. Warwick). Ar. a fesse betw. three otters sa. Crest—An otter sa. in the mouth a fish ppr.