Lye Family Crest, Coat of Arms and Name History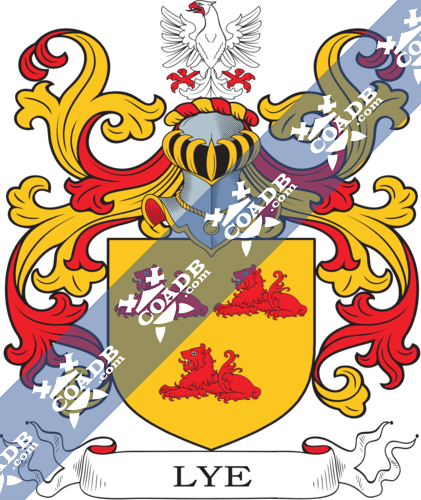 Don't know which Coat of Arms is yours?
We can do a genealogical research. Find out the exact history of your family!
Learn More
Lye Origin:
England
Origins of Lye:
This name is of English locational origin from any of the many places named with the Olde English pre 7th Century component "leah" translating differently as "an open place in the wood, a glade or low-lying pasture." Examples are Lee in Buckinghamshire, Hampshire, Essex, Kent, and Shropshire, also Lea in Cheshire, Lincolnshire, Wiltshire, etc. The name may also be geographic for someone who lived by a meadow or clearing. The surname first noted in the mid-12th Century. One, Turqod de la Lea shows in the 1193 "Pipe Rolls of Warwickshire" and a Richard de la Lee in the 1273 "Hundred Rolls of Wiltshire." In January 1564, Ales Lea named in Bebington, Cheshire and in August 1590, Ann Lea married Thomas Millington in Frodsham, Cheshire. New alternatives of the name include Lea, Leah, Lay(e) and Lye(s).
Variations:
More common variations are: Laye, Loye, Leye, Lyee, Lyoe, Liye, Luye, Lyeo, Lyeu, Lywe.
England:
The surname Lye first appeared in Cheshire, at High Leigh, where the name is from "an important family, who for centuries in that division nearly all the gentry families of that name claim decline.
The very first recording spelling of the family was shown to be that of Ailric de la Leie, dated about 1148, in the "Early Northamptonshire Charters," Huntingdonshire. It was during the time of King Stephen who was known to be the "Count of Blois," dated 1135 – 1154. The origin of surnames during this period became a necessity with the introduction of personal taxation. It came to be known as Poll Tax in England.
United States of America:
Individuals with the surname Lye landed in the United States in three different centuries respectively in the 17th, 18th, and 19th. Some of the people with the name Lye who arrived in the United States in the 17th century included Robert Lye, who landed in Lynn, Massachusetts in 1638. John Lye, who arrived in Maryland in 1660.
People with the surname Lye who landed in the United States in the 18th century included Stephen Lye, Fredrick Lye and Anderas Lye, all landed in Pennsylvania in 1753.
The following century saw more Lye surnames arrive. Some of the people with the surname Lye who arrived in the United States in the 19th century included Robert Q Lye, who arrived in Allegany (Allegheny) Division, Pennsylvania in 1866.
Australia:
Some of the individuals with the surname Lye who landed in Australia in the 19th century included Alfred Lye arrived in South Australia in 1852 aboard the ship "Sea Park."
New-Zealand:
Some of the population with the surname Lye who arrived in New Zealand in the 19th century included T. Lye arrived in Auckland, New Zealand aboard the ship "William Watson" in 1859.
Here is the population distribution of the last name Lye: Malaysia 11,054; Singapore 3,194; SriLanka 1,695; England 1,167; Australia 787; United States 561; Canada 426; New Zealand 277; Taiwan 232; Hong Kong 214.
Notable People:
Len Lye was a New Zealand-born artist.
Blazons & Genealogy Notes
1) (cos. Wilts and Hereford). Or, three lions couchant gu. Crest—An eagle displ. ar. beaked and legged gu.
2) Per pale gu. and az. two wings conjoined ar.
3) Ar. a fess fusily sa. betw. three crescents gu.
4) Ar. a bend fusily sa. betw. six crescents gu.
5) Ar. a fleur-de-lis sa.