Maddox Family Crest, Coat of Arms and Name History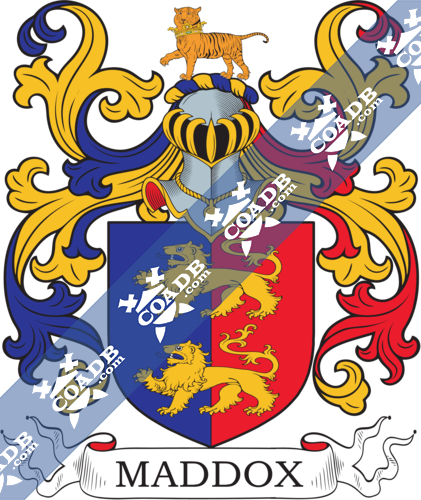 Maddox Coat of Arms Gallery
Don't know which Coat of Arms is yours?
We can do a genealogical research. Find out the exact history of your family!
Learn More
Maddox Origin:
English, Irish, Welsh
Origins of Name:
The surname of Maddox has derivative roots in the Welsh given name of Mattoc, from "mad" which means "fortunate" or "good." This still survives in the personal name Madog today. The Maddox name and all of the possible spelling variants have been granted over fifteen Coats of Arms.
Variations:
More common variations are:
Maddoxx, Maddoxe, Moddoxa, Maeddox, Maaddox, Madox, Maddx, Mddox, Maddix, Muddox
History:
England:
The first recorded spelling of the surname Maddox was noted as one William Madoc, who was named in the "Hundred Rolls of Shropshire" in the year 1274, under the reign of King Edward I, who is known as "The Hammer of the Scots" and ruled from the year 1272 to the year 1307. In England, those who bear the surname Maddox are concentrated in the Counties of Lancashire, Staffordshire, Shropshire, and the city of London. In the Doomsday Book of 1086 for Gloucestershire (which encompassed the "Great Survey of England") Madoch was noted, and Kenwrec filifus Maddoc and Madoc de Sotton both appear in the Pipe Rolls of Shropshire in 1161 and 1272, respectively. Robert Mattok was noted in Cheshire in 1290, followed by Robert Madduk, who was recorded in Wiltshire in 1297.
Wales and Scotland:
Throughout Wales, there are many people who bear the surname of Maddox, though many of them are concentrated in the southern parts of the country, especially in the area of Glamorgan. In Scotland, the only region with a notable amount of people who bear the surname of Maddox is in Midlothian county. It is believed that Madog who lived from the year 1150 and died in the year 1180 and who was the son of Owain Gwynedd, the King of North Wales, discovered America. This is a much disputed fact, but still believed by some today.
Ireland
Joseph Maddocks arrived in Dublin in the 1690s who was originally from Chester. His son, Isaac Maddocks would migrate to county Wexford. A large number of Maddocks from this town would eventually leave for the United States and Canada during the 19th century.
United States:
Many families emigrated to the United States of America in search of a better life during the European Migration. These families were looking for a better, more sustainable way of life, and hoped to find this in the promised New World. Those who immigrated with the surname of Maddox, who were recorded often settled in the states of Georgia, Virginia, Alabama, Kentucky, and eventually spread out West, and into Texas, Missouri, Illinois, California, and Oklahoma. The first recorded person to emigrate to America and bore the surname Maddox was John Maddox, who at the age of 43 years, boarded the ship named the "Planter" which was set to sail from London to New England in March of the year 1634. Shortly behind him was Alexander Maddox, who at 22 years of age boarded the "Abraham" which was set to sail to Virginia in the year 1635.
Australia and New Zealand:
In the 19th Century, settlers began to migrate to both Australia and New Zealand. The first recorded Maddox to arrive in Australia was Dennis Maddox, who was a convict from London, and was transported on the "Albion" in 1828, and landing in New South Wales, Australia. The first Maddox to settle in New Zealand was a servant, aged 16 years, and named Sarah Maddox who arrived in Wellington, New Zealand aboard the ship named the "Bolton" in the year 1840. Shortly following was the Maddox family, consisting of Thomas and Ann Maddox who arrived in Nelson, New Zealand in 1842.
Maddox Today:
United States 40,684
England 2,791
Australia 791
Germany 370
Canada 350
South Africa 274
New Zealand 244
Wales 147
Brazil 143
Scotland 125
Notable People:
Brigadier-General Louis Wilson Maddox (1891-1956) who was a Chief Finance Officer of the US Army Forces in the Far East from 1943 to 1945
Major-General Halley Grey Maddox (1899-1977) who was a Deputy Commanding General in the US Forces Army in Europe from 1956 to 1957
William A. T. Maddox (1814-1889) who was a U.S. Marine, and had the USS Maddox (DD-168), the USS Maddox (DD-622) and the USS Maddox (DD-731) named after him
Thomas "Tommy" Alfred Maddox (born in 1971) who was an NFL football player from America
Tom Maddox, who was a science fiction author from America
Scott Maddox (born in 1968) who was the Mayor of Tallahassee, Florida, and was an American politician
Theodore D. "Tito" Maddox (born in 1981) who was a professional NBA basketball player from America
Rose Maddox (1925-1998) who was a country singer that was nominated for an American Grammy Award, and was born with the name Roselea A. Brogdon
Robert Maddox (1870-1965) was the 41st Mayor of Atlanta, Georgia, and was an American politician
Blazons & Genealogy Notes
1) (London, and Masterley, co. Salop). Per pale gu. and az. two lions pass. or. Crest—A lion sejant or, in the dexter paw a sword ar. hilt and pommel of the first.
2) Same Arms. Crest—A lion's paw erased, holding a dagger both ppr.
3) (Wormley, co. Herts, bart., extinct 1716; Sir Benjamin Maddox to Dorothy, dau. and heir of Sir William Glascoke, Knt., of Wormley, was so created, 1676, d. s. p. m.). (Isaac Maddox, Bishop of St. Asaph, 1736-43, and of Worcester, 1743-59). Per pale az. and gu. two lions pass. in pale or. Crest—A Bengal tiger pass. guard. ducally gorged ppr.