Magee Family Crest, Coat of Arms and Name History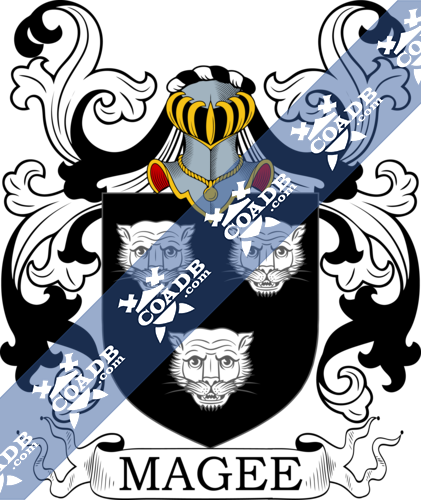 Magee Coat of Arms Gallery
Don't know which Coat of Arms is yours?
We can do a genealogical research. Find out the exact history of your family!
Learn More
Magee Origin:
Ireland, Scotland, Isle of Man
Origins of Name:
The Magee surname derives from the combination of words Mag, which means "son of" and the nickname Aodh, meaning "Fire". Aodh was an Irish god of the underworld. The eventual anglicized version of the name would become Hugh, Eugene or Magee. The surname is sometimes meant to mean "son of Hugh". Often times Magee would be used as a Protestant name and McGee would be used as a Catholic name.
Variations:
More common variations are: Meagee, Magiee, Maugee, Mageye, Maagee, Ma Gee, Maygee, Mageee, Maegee, Mage, Magee, Mac Gee, Mc Gee, MacGhee, McGoey, McGahy, Mogey, Moggy, Moggie, MacGhie
History:
England:
The surname Magee would be used in England as a descriptive surname to mean "son of Hugh". The personal name Hugh arrived in England during the Norman conquests.
The surname Magee is the 1669th most common name in Great Britain. The highest concentrations are in County Down, E Riding of Yorkshire, Hampshire, and London.
Ireland:
The Magee surname has a long history in Ireland. It was a popular name for several Irish kings. The first known recorded spelling of the name was Teag MacGee in 1000 A.D. in County Westmeath. He was noted as the chief of the family.
The modern Magee name originated in Ulster, Donegal, and Tyrone. The name is still very popular in those counties. In Antrium, Down, and Armagh variations of the name are more common.
Island Magee was home to a family of Magees, and it is possible that they originally came from the Scottish Rinns of Islay.
The variation McGee was brought to Ireland by Scottish settlers.
Scotland:
The first known instance of the surname Magee was in Dumfriesshire, a southern area of Scotland that borders England. The family Magee were medieval lords in ancient times. The name would later appear on Scottish census rolls.
The first known recorded instance of the name was in 1296 in Dumfries as Gilmighel MacEthe.
Michael MacGhethe in 1304 in Annandale was recorded as a juror during an inquisition. Michael Magy was recorded in 1424 in Orkney. Agnis Muggye was recorded for a marriage in 1649 in Templemore, Derry. Alexander Moggy was recorded in 1831 in Ballymoney, Antrim for a christening.
United States:
The Magee line would arrive in America in the 18th century and were Scots Irish. Michael McGee arrived in Virginia in 1750. His origin is supposed to be of Island Magee.
John McGee arrived in America on the boat "Jenny" in 1766 and settled in Boston.
Patrick Magee from Ireland would arrive in Georgia in 1779.
The surname Magee is the 373rd most popular surname in the United States.
Canada
In the 18th century the first settlers of the surname Magee would arrive in Canada. Robert Magee in 1749 would arrive in Nova Scotia along with his brother WM Magee. In 1783, Henry Magee would arrive in Halifax, Nova Scotia with his wife and son John Magee. One year later Henry Magee would settle in Canada.
The 19th century would see more Magees arriving in Canada. At the age of 25, George Magee arrived in Saint John New Brunswick sailing on the ship "Edward Reid" in 1833. Aboard the same ship would be his brother Michael Magee who was three years younger, aged 22. They were both listed as labourers.
Here is the population distribution of the last name Magee:
31,000 in the United States (mainly in Texas), 4,000 in England , 4,000 in Northern Ireland, 3,000 in Canada, 2,000 in Australia
Notable People:
Christopher Magee (1848 – 1901) American political boss. Him and his partner controlled the Republican party for over 20 years in Pittsburgh. His family was prominent in local politics.
Sherry Magee, (1884), American baseball player. He played for 15 years and amassed a record of 83 home runs and 1,176 runs batted in.
Walter W. Magee (1862 – 1927), New York congressman. He was born in Groveland, New York and would graduate from Harvard. He served in the New York House of Representatives until his death.
William A. Magee (1873), Mayor of Pittsburgh. He was born in what is today known as Mellon Arena, a well-known hub for African-American culture. He oversaw many notable developments of the city.
Tommy Magee, (1899 – 1974) English footballer. He played as a wing half and appeared in over 400 games during his 15 year career, winning five England caps.
James Magee (1877 – 1949) was an aviator and member of the US house of Representatives from Pennsylvania.
Blazons & Genealogy Notes
1) (Most Rev. William Magee, Bishop of Raphoe 1819, Archbishop of Dublin 1822, d. 1831). (Right Rev. William Connor Magee, Bishop of Peterborough 1868, son of Rev. John Magee, Vicar of Drogheda, and grandson of the Archbishop of Dublin). Sa. three leopards' faces ar.
2) (Balmaghie, co. Kirkcudbright). Sa. three leopards' faces or.