Manny Family Crest, Coat of Arms and Name History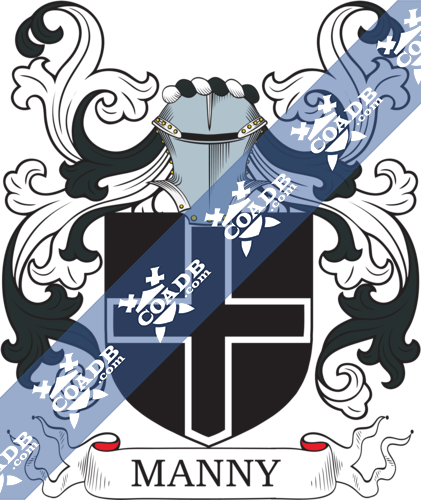 Manny Coat of Arms Gallery
Don't know which Coat of Arms is yours?
We can do a genealogical research. Find out the exact history of your family!
Learn More
Variations:
More common variations are: Manney, Mannya, Mannye, Mannay, Maenny, Mannyu, Manniy, Mannoy, Mahnny, Meanny.
France:
The surname Manny first appeared in Masny in Hainaut, France where Walter De Manny, lst Baron Manny, KG (1310- 1372), voyaged to England as a soldier of fortune and Esquire of Queen Philippa in 1327. He settled in the London area founding Charterhouse and took part in the Scottish wars of King Edward III, eventually rising to be in command of the English fleet.  He later caught and thrown into prison at Saint-Jean-d'Angély but was able to escape.  Upon his final return to England, he founded Charterhouse in London in 1349.  His daughter Anne Hastings, Countess of Pembroke and 2nd Baroness Manny (1355-1384), succeeded him in 1375 and shortly before her death, she invested as a Lady of the Carter.
United States of America:
Individuals with the surname Manny landed in the United States in the 19th century.  Some of the people with the name Manny who arrived in the United States in the 19th century included Laurence Manny at the age of 35, landed in Missouri in the year 1847.
Blazons & Genealogy Notes
1) (Baron Manny, extinct 1391; Walter de Manny was summoned to Parliament 1347, and d. 1372, when the barony devolved on his dau. Mary, wife of John de Hastings, second Earl of Pembroke, and passed to her son, John, third Earl of Pembroke, who d. s. p.). Sa. a cross voided ar.
2) Or, two chev. sa.
3) Or, three chevronels sa. on the uppermost a lion pass. reguard. of the field.