Mantell Family Crest, Coat of Arms and Name History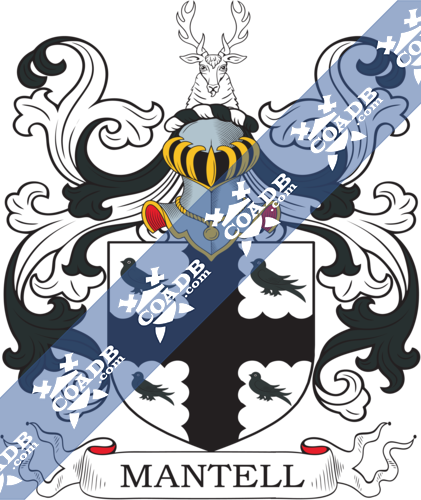 Mantell Coat of Arms Gallery
Don't know which Coat of Arms is yours?
We can do a genealogical research. Find out the exact history of your family!
Learn More
Origins of Mantell:
The name Mantell reached England in the great wave of migration following the Norman Invasion of 1066.  The Mantell family resided in Buckinghamshire.  Their name, however, is a reference to the family's place of residence before the Norman Invasion of England in 1066, Mantell, near Gamages, Normandy.  Before the arrival of the printing press and the first dictionaries, the English language not regulated.   The Sound was what guided spelling in the Middle Ages, so one person's name was often noted under many variations during a single lifetime.  Spelling variations were common, even among the names of the most educated people.  Known variations of the Mantell family name include Mantell, Mantle, Mantel, Mantelle, Manstell and much more.
Variations:
More common variations are: Mantelli, Mantello, Mantella, Mantelle, Mantwell, Mauntell, Mantel, Mntell, Manetella, Manatelli.
England:
The surname Mantell first appeared in Buckinghamshire where they held a family seat from very old times and given lands by Duke William of Normandy, their liege Lord, for their special support at the Battle of Hastings in 1066 AD.
United States of America:
The following century saw much more Mantell surnames arrive.  Some of the people with the surname Mantell who arrived in the United States in the 17th century included Elizabeth Mantel] settled in Virginia with her husband in the year 1663.
New-Zealand:
Some of the individuals with the surname Mantell who landed in New-Zealand in the 19th century included W B D Mantell landed in Wellington, New Zealand in 1840 aboard the ship Oriental.  W. Mantell at the age of 21, arrived in Port Nicholson aboard the ship "Oriental" in 1840.  W. Mantell arrived in Wellington, New Zealand aboard the ship "Wild Duck" in the year 1860.
Blazons & Genealogy Notes
(co. Kent, and Heyford, co. Northampton). (Lewes, co, Sussex; derived from Thomas Mantell, Head Burgess of that town in 1562). Ar. a cross engr. betw. four martlets sa. Crest—A stag's head couped at the neck guard, ar. (another, erm.).