Mariott Family Crest, Coat of Arms and Name History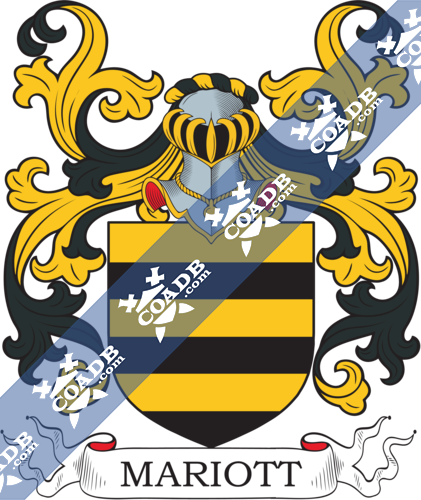 Mariott Coat of Arms Gallery
Don't know which Coat of Arms is yours?
We can do a genealogical research. Find out the exact history of your family!
Learn More
Origins of Mariott:
The Norman Invasion of England in 1066 brought much change to the island nation, including many foreigners with new names. Among these immigrants were the founders of the Mariott family, who resided in Leicestershire.  Their name, however, is a source of the family's place of residence before the Norman Invasion of England in 1066, Marriot in Normandy.  While many of the family settled in England, some stayed behind in Normandy as shown by Richard Mareta who noted there (1180-1195). Some spelling variations describe Norman surnames.  Many variations occurred because Old and Middle English required any definite spelling rules. The introduction of Norman French to England also had a pronounced effect, as did the court languages of Latin and French. Therefore, one person was often referred to by several different spellings in a single lifetime.  The different spellings include Marriott, Mariott, Marriot, Marritt, Marrot, Marrotte, Mariatt, Maryet, Maryott, Marryatt, Mariate, Merritt, Merriott and much more.
Variations:
More common variations are: Marriott, Mariotti, Mariotto, Mariotte, Mariotta, Mariott, Mariiott, Marueitt, Meariott, Marott, Mariot.
England:
The surname Mariott first appeared in Somerset at Merriott, a church, in the union of Chard, hundred of Crewkerne.  This church noted in the Domesday Book of 1086 as Meriet and possibly meant "boundary gate," from the Old English words "maere" and "geat." Some of the first listings of the name contain as Alric filius Meriet, and Aelric Meriete in 1066 and Aegel filius Mergeati near the year 1086. Symon Meriet recorded in the Assize Rolls of 1202.  The Hundredorum Rolls of 1273 listed as John de Meriet in Lincolnshire and Simon de Meriet in Somerset.
Australia:
Some of the individuals with the surname Mariott who landed in Australia in the 19th century included Oliver Mariott at the age of 27, who was a labourer, arrived in South Australia in 1852 aboard the ship "China".
Blazons & Genealogy Notes
1) Barry of eight ar. and sa. a bend erm.
2) (cos. Warwick and Gloucester). Barry of six or and sa.