McDavid Family Crest, Coat of Arms and Name History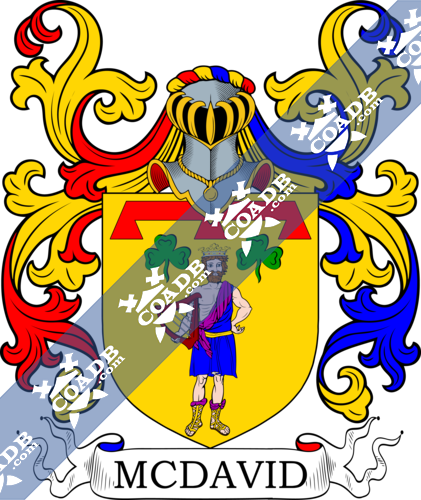 McDavid Coat of Arms Gallery
Don't know which Coat of Arms is yours?
We can do a genealogical research. Find out the exact history of your family!
Learn More
McDavid Origin:
Ireland
Origins of McDavid:
According to the early recordings of the spellings of the surname, this interesting and unusual name is listed in many different forms as shown below. It is an Irish name, but one well listed in Scotland. It is of old Irish origin and acquires from the Gaelic 'MacDaibheid', which means the son of David, though how the Hebrew name David appeared in Ireland at all is not known. Today the surname is spread widely listed as MacDavitt, McDaid, McDavid, McDade, Davison, McDevitt and many others. In its homeland of divisions Donegal and Derry, it is originally in the form of McDaid or McDade. The family was said to have descended not from St David, the supporter of a holy person of Wales, though this is possible, from David O' Doherty, an administrator of Cinel Conaill, who was murdered in the war of the year 1208. It is considered that the new tribe grew to be famous in the town of Inishowen. In its different forms, the surname is also most popular in Glasgow, Scotland. According to the sample recordings in Ireland are the following irregular recordings of William John McDade, named in July 1833 at Dromore, division Down, and Hugh McDavid who departed from Glasgow on the ship Brooksby obligated for New York in June 1846.
Variations:
More common variations are: Macdavid, Mcdavied, McDavit, Mcdavde, Mcdaved, Mcdivid, McDavitt, McDevidd, Macdavit, Mcdaviet.
Ireland:
The surname McDavid first appeared on the Irish peninsula, in the division Donegal, where a sept of this name claim David O'Doherty (d. 1208,) an administrator of Cenel Eoghain, as their offsprings.
The very first recorded spelling of the family was shown to be that of Elizabeth McDeid, who married Barnaby Hargan, at Drumachose, Londerry dated about 1750. It was during the time of King George II, who was known to be the "The Last Fighter King," dated 1727-1760. The origin of surnames during this period became a necessity with the introduction of personal taxation. It came to be known as Poll Tax in England.
Ireland:
Many of the people with surname McDavid had moved to Ireland during the 17th century.
United States of America:
Some of the people with the surname McDavid who settled in the United States in the 19th century included Thomas McDavid, who landed in America in 1812. Patrick McDavid, who arrived in Texas in 1835. William McDavid, who landed in Allegany (Allegheny) Division, Pennsylvania in 1856. James McDavid, who landed in Philadelphia in 1880.
Here is the population distribution of the last name McDavid: United States 3,743; Canada 357; Trinidad and Tobago 217; South Africa 201; England 177; Scotland 53; Guyana 24; Australia 17; Netherlands 13; Nigeria 4
Notable People:
Connor McDavid was born in January 1997. He is a Canadian ice hockey senior player, now playing with the Edmonton Oilers of the National Hockey League (NHL).
Eric McDavid was born in October 1977. He is a green revolutionary person who was found guilty of plotting to use fire or explosives to damage government buildings. He had served eight years and 360 days in jail. American lawyer McGregor Scott called McDavid, the first person in the U.S. to be tried on Earth Liberation Front (ELF)-related charges.
Raven Ioor McDavid, Jr. was born in October in the year 1911 and died in October 1984. He was an American who specialized in understanding all languages. His works contain The Structure of American English, Linguistic Atlas of the Middle and the South Atlantic States, The Pronunciation of English in the Atlantic States (with Hans Kurath), and the 1963 single-volume edition of H. L. Mencken's The American Language.
Ray Darnell McDavid (born July 20, 1971) is a Major-League Baseball player. He played for San Diego from the years 1994 to 1995. He was famous as one of the top players in baseball in 1992, 1993 and 1994.
Blazons & Genealogy Notes
(a Sept of Ulster, of the same race as O'Boyle, deriving their name from Dochartaigh, chief of the territory of Cinel-Edna and Ard-Miodhair, co. Donegal; Brien Duff O'Dogherty was Lord of Ennishowen, same co., 1440; Sir Cahir O'Dogherty, Lord of Ennishowen, was killed in rebellion 1608, when all his lands were forfeited). Motto—Arm Duthchas. For my inheritance Ar. a stag springing gu. on a chief vert three mullets of the first. Crest—A hand couped at the wrist erect graspipg a sword all ppr. Another Crest—A greyhound courant ar. holding in the mouth a hare ppr.