Medeiros Family Crest, Coat of Arms and Name History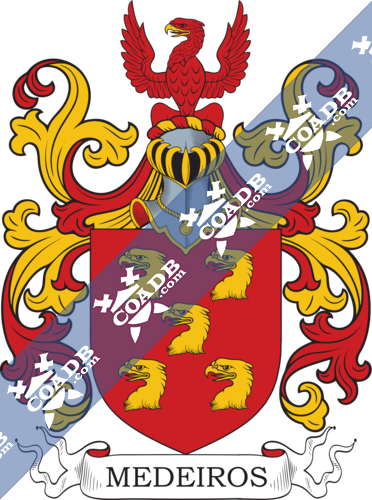 Medeiros Coat of Arms Gallery
Don't know which Coat of Arms is yours?
We can do a genealogical research. Find out the exact history of your family!
Learn More
We don't yet have this section of research completed for this name. If you are interested in being notified when research becomes available, please use this form to contact us and we will let you know as soon as we have something!
Blazons & Genealogy Notes
Source: Armorial lusitano: genealogía e heráldica. Contributors, Afonso Zuquete, António Machado de Faria. Publisher, Editorial Enciclopédia, 1961.
1) A origem desta familia nao e clara, porquanto os genealogistas a pretendem deduzir da que se chamou das Medas, o que nao e muito accitavel, pois, se Medeiros quer dizer das medas, ou que faz medas, ou lugar onde ha medas, nao se explica que seja precedido de preposicao, indicative de origem geografica, tanto mais que ha povoacoes chamadas Medeiros, Martim Sanches das Meda, que parece contemporaneo de D. Afonso III, doi muilo bom cavaleiro e na lide do Porto, no ano de 125 AD, levou o pendao do Conde D. Martim Gil de Soverosa, grande senhor da epoca, que guerreava D. Rodrigo Sanches, filho de Sancho I, o qual ficou vencido e morto neste combate. Casou Martim Sanches com D. Dordia Nunes de Aguiar, filha de Nuno Martins de Aguiar, descendente de D. Arnaldo, senhor de Baio, e de D. Goncalo Mendes de Sousa, de cujo, matrimonio nasceram varios filhos que usaram o apelido das Medas, alcancando os genealogists, por algumas linhas, ate terceiros netos, sem, contudo, fazerem a ligacao desten com os Medeiros. O mais antigo que se conheca deste apelido e Rui Goncalves de Medeiros, que tomou a Partido do Mestre de Avis contra D. Joao I de Castela. O povo de Evora, por o alcaide do deu castelo, Alvaro Mendes de Olibeira, defender o parido da Rainha D. Brites, o expulsou, entregando o castelo a Ruio Goncalves, que o sustentou pelo pretendente portugues, o Mestre de Avis. Dizem alguns autoes que este Rui Gonvalvez era filho de Goncalo Martins das Medas, filho de Martin Sanches, entroncamento que a cronologia nao permite. De Rui Goncalves de Mederios secendem os qu se conhecem deste apelido. Um ramo de Medeiros fixou-se no seculo XV, no Algarve, e outro ramo, tambem no meso seculo, na ilha de S. Miguel, ambos oriundos de Ponte de Lima. As armas dos Medeiros sao: De vermhelo, com inco cabecas de aguia, de ouro, postas em sautor. Timbre: uma aguia estendida, saine, de vermelho, armada de ouro.