Meier Family Crest, Coat of Arms and Name History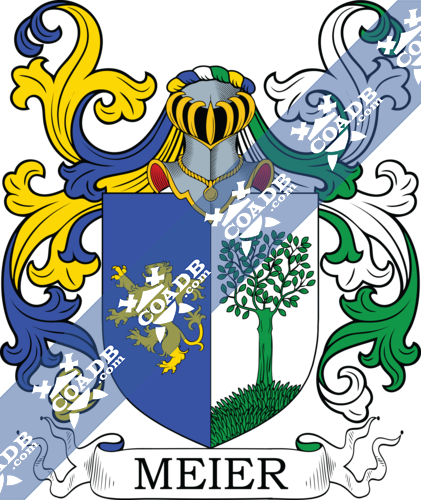 Meier Coat of Arms Gallery
Don't know which Coat of Arms is yours?
We can do a genealogical research. Find out the exact history of your family!
Learn More
We don't yet have this section of research completed for this name. If you are interested in being notified when research becomes available, please use this form to contact us and we will let you know as soon as we have something!
Blazons & Genealogy Notes
1) Silésie – D'azur à une flèche accostée en chef de deux étoiles et acc en pointe d'un croissant figuré le tout d'argent Casque couronné Cimier cinq plumes d'autruche alternativement d'argent et d'azur. English: Azure an arrow surrounded by, in chief two etoiles and in base a crescent with a human figure all argent. Crowned with a helmet Crest five ostrich feathers alternating argent and azure.
2) Soleure – D'azur à sept branches de muguet fleuries trois penchées à dextre et quatre à senestre le tout d'argent posé sur une terrasse de sinople Cimier une femme issante habillée d'une robe écartelée au-dessus de la ceinture de sinople et d'argent et au-dessous de la ceinture des mêmes émaux les manches d'argent tenant de chaque main quelques branches de muguet fleuries d'argent. English: Azure, seven stems of lily flowers in bloom, three slanting to the dexter and four to the sinister all argent place on a mount vert. Crest a woman issuant in a dress quartered, over the waist vert and argent and below the waist the same tinctures, the sleeves argent holding in each hand some stems of lilies in flower argent.
3) Soleure – De gueules au pal d'argent ch d'un vase à deux anses d'or rempli d'une rose de gueules avec son feuillage de sinople et posé sur une terrasse du même Cimier le vase avec la rose et son feuillage Lambrequin d'argent et de gueules. English: Gules a pale argent charged with a two handled vase or filled with a rose gules leaved vert and placed on a mount of the same Crest the vase with the rose and its leaves Mantling argent and gules.
4) Brême – (Nob. du St-Empire, 10 avril 1743) – Coupé d'or sur argent à la fasce d'azur brochant sur le tout acc en chef d'une aigle de sable surmontée d'une couronne impériale au naturel et en pointe d'une étoile (8) d'or entre deux roses de gueules Casque couronné Cimier une étoile (8) d'or entre deux proboscides d'azur les embouchures d'argent Lambrequin d'argent et d'azur. English: Per fess or above argent, a fess azure covering over all, surrounded by, in chief an eagle sable surmounted by an imperial crown proper and in base an etoile of eight points or between two roses gules Crowned with a helmet Crest an etoile of 8 points or between two proboscides azure the mouths argent Mantling argent and azure.
5) Hambourg – D'azur à une femme issante habillée d'azur posée de front mouvant d'une terrasse de sinople les mains posées sur son estomac chaque main tenant par la tige trois pommes de gueules Cimier la femme issante posée de profil tenant sa main senestre avec les trois pommes sur son estomac la main dextre avec les trois autres pommes étendue Lambrequin d'argent et d'azur. English: Azure a woman affronty [facing front] issuant dressed in blue standing on a mount vert the hands placed on her stomach each hand holding the stalks of three apples gules Crest the woman issuant in profile holding in her sinister hand the three apples on her stomach, her dexter hand with the three other apples spread out. Mantling argent and azure.
6) Prusse – Parti au 1 d'azur au lion d'or au 2 d'argent à un arbre terrassé de sinople. English: Per pale 1st azure a lion or, 2nd argent a tree on a mount vert.