Meggs Family Crest, Coat of Arms and Name History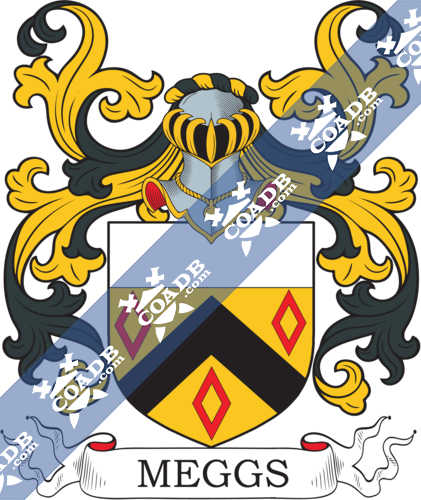 Meggs Coat of Arms Gallery
Don't know which Coat of Arms is yours?
We can do a genealogical research. Find out the exact history of your family!
Learn More
Meggs Origin:
England, Ireland
Origins of meggs:
The name Meggs has a rich and old history. It is an Anglo-Saxon name that originally acquires from the name Megg. Which is a pet form of the particular female name Margaret. The name Meggs is a metronymic surname, which acquired from the name of the mother and features the common patronymic suffix -son, which was most famous in the north of England and replaced other patronymic suffixes during the 14th century.
Variations:
More common variations are: Meigges, Megges, Meggos, Meggas, Mieggs, Meaggs, Megs, Meggyes, Meigges, Meggese.
England:
The surname Meggs first appeared in Oxfordshire where they held a family seat. Commonly used as a surname in old times, Meg-son was the son of Meg or Margeret. The name was generated in Oxfordshire where John Megge noted in 1273. However, the popularity of the name declined and by the year 1500 had become somewhat obscure. Modifications such as Meggison combined and included others as Meggotson, and so on but the main stem of the family name moved north to Northumberland. It was here at Whalton that a " barony given by the Invader upon Walter Fitz-William, to held by the service of three knights' fees. It afterwards maintained by the Fitz-Rogers, Fitz- Roberts, and others 3 in the period of James I. was held by the crown 3 and subsequently given to the Meggison family. "
Ireland:
Many of the people with surname meggs had moved to Ireland during the 17th century.
United States of America:
Individuals with the surname meggs landed in the United States in three different centuries respectively in the 17th, 18th, and 19th. Some of the people with the name Meggs who arrived in the United States in the 17th century included Vincent Meggs and his two sons, John and Mark, settled in Weymouth Massachusetts in the year 1639. Vincent Meggs, who arrived in Weymouth, Massachusetts in the same year 1639. George Meggs, who landed in Virginia in 1652. George Meggs settled in Virginia in 1652. Francis Meggs settled in Virginia in 1667.
Here is the population distribution of the last name Meggs: United States 1,325; Australia 223; England 194; Canada 91; Belize 75; France 49; Ireland 27; Scotland 2; Japan 2; Netherlands 1.
Notable People:
Philip Baxter Meggs (May 1942 –November 2002) was an American graphic artist, professor and author of books on graphic design. His book History of Graphic Design is a definitive, standard read for the study of graphic design. He has been called the most important professor of design since Nikolaus Pevsner (1902-1983). In opposition to Pevsner, he published a history of graphic design that went beyond the nineteenth and twentieth centuries. One of the first teachers to create an overview of the history of graphic design that did not depend exclusively on the traditional structure of the history of the art, Meggs considered that graphic design would need to derive a sufficient understanding of the past and its relation to art.
Fred Meggs (born April 1952) is a writer of music in the United States. He has written and aired over 7,000 pieces of music on radio and television. He has composed the music for movies and documentaries including First Landing (2006), From a Silk Cocoon (2004) and The Bill Collector (2009). Starting in 2003, Fred Meggs started to work on the television series Sell This House which has lasted for seven years.
Lindsay Ross Meggs (born September 1962) is an American college baseball referee, the head coach at the University of Washington in Seattle since July 2009.
William Joel Meggs (born 1942) is a board-certified internal medicine and emergency medicine doctor, allergist and immunologist, and medical toxicologist with "interests in envenomation, medicines, and environmental toxicology. He currently practices in Greenville, NC, where he is a professor of Emergency Medicine and Director of the Division of Toxicology at the Brody School of Medicine at East Carolina University.
Geoff Meggs is a Canadian leader, currently serving on Vancouver, British Columbia's City Council. He was elected in the year 2008 municipal election. He is also President of Tideline Communications, a strategic communications firm.
Blazons & Genealogy Notes
1) (co. Kent). Or, a chev. sa. betw. three mascles gu. a chief ar.
2) (Whitechapel, co. Middlesex: Rev. James Meggs, D.D., and William Meggs, Esq., sons of William Meggs, gent., of same place, and grandsons of William Meggs, gent., of London. Visit. Middlesex, 1663; granted by Cooke, Clarenceux, 1579). Or, a chev. engr. az. betw. three mascles gu. on a chief sa. a greyhound courant ar. Crest—A griffin sejant per bend gu. and or, ducally gorged gold.
3) (cos. Cambridge and Kent). Or, a chev. betw. three mascles gu. on a chief of the second a wolf ar. Crest—A greyhound's head sa. eared ar. charged on the neck with a bar gemel or, betw. three bezants, one and two, issuing out of his head three oak branches ppr.
4) (Bradford Peverel, co. Dorset). Or, a chev. betw. three mascles az. on a chief gu. a wolf pass. ar. Crest—A talbot's head erased sa.
5) (co. Warwick). Or, on a chief sa. a lion pass. ar.