Melbourne Family Crest, Coat of Arms and Name History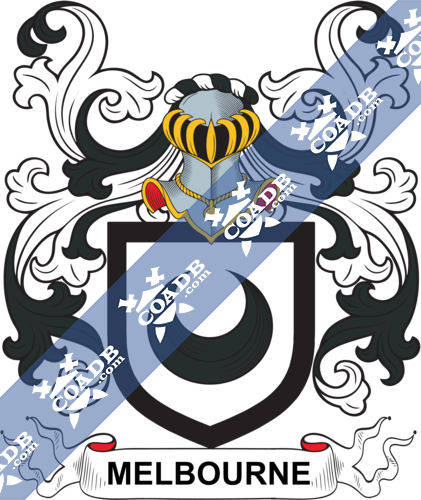 Melbourne Coat of Arms Gallery
Don't know which Coat of Arms is yours?
We can do a genealogical research. Find out the exact history of your family!
Learn More
Melbourne Origin:
England
Origins of Melbourne:
This famous surname was noted in many spellings including Melborn, Melbourn and Melbourne, is English. The worldwide International Genealogical Index lists it in a similar group as the similar surname of Milburn, but in fact there is no connection, although, over the centuries, spellings have overlapped and become 'combined' in some case. This surname which historically at least, is likely to be forever related to Lord Melbourne, the first Prime Minister to Queen Victoria in 1837, and is from any of the three places in England so named. These is Melbourn in Cambridge, noted as Mellburna in the Domesday Book of 1086, and meaning the 'stream (burna) where meld (a herb) grows', in Yorkshire from Melbourne noted as Middelburne in Domesday Book, and probably meaning the middle stream between two other rivers although this not proven, or Melbourne in Derbyshire meaning 'mill stream' and from where Lord Melbourne acquired his peerage. His surname, however, was Lamb, not Melbourne. It is unclear as to when the surname was first noted. As a locational name, it was one which was given to a person after they departed from their original home to move to any other place, although that could be as close as the next hamlet. In this example, an early record is that of Leonard Melbourne of Romaldkirk, in North Yorkshire, in June 1650.
Variations:
More common variations are: Mellbourne, Melbourn, Melborne, Melburne, Milbourne, Malbourne, Mellbourne, Molbourne, Melbroune, Melburn.
England:
The surname Melbourne first appeared in Northumberland where they held a family seat from old times and their first records appeared on the early poll rolls derived by the early Kings of Britain to decide the rate of taxation of their subjects. The origin of surnames during this period became a necessity with the introduction of personal taxation. It came to be known as Poll Tax in England. Surnames all over the country began to develop, with unique and shocking spelling variations of the original one.
Ireland:
Many of the people with surname Melbourne had moved to Ireland during the 17th century.
Australia:
Some of the individuals with the name Melbourne who landed in Australia in the 19th century included John Melbourne at the age of 4, arrived in South Australia in the year 1860 aboard the ship "Schah Jehan". Margaret Melbourne at the age of 24, who was a dressmaker, arrived in South Australia in the same year 1860 aboard the ship "Schah Iehan."
Here is the population distribution of the last name Melbourne: England 1,269; United States 969; Jamaica 625; Australia 581; Canada 330; New Zealand 114; Wales102; Scotland 85; France 49; Guyana 44.
Notable People:
Viscount Melbourne, 1st Viscount of Kilmore in the Division of Cavan, was a title in the Peerage of Ireland held by the Lamb family. This family descended from Matthew Lamb, who showed Stockbridge and Peterborough in the House of Commons. In 1755, he made a baronet, of Brocket Hall in the Division of Hertford, in the Baronetage of Great Britain. He married Charlotte, daughter of Thomas Coke, through which wedding Melbourne Hall in Derbyshire came into the Lamb family.
William Lamb, 2nd Viscount Melbourne, PC, FRS (March 1779 – November 1848), usually marked as Lord Melbourne, was a British Whig statesman who gave services as Home Secretary (1830–1834) and Prime Minister (1834 and 1835–1841). He is well known for his powerful and successful mentoring of Queen Victoria, at ages 18–21, in the ways of politics. Professors have concluded that Melbourne does not rank high as a prime minister, for there were no great foreign wars or domestic issues to handle, he lacked major performances, and he expressed no grand principles. "But he was kind, honest and not self-seeking." He replaced by King William IV in 1834, the last British prime minister to be replaced by a ruler.
Frederick James Lamb, 3rd Viscount Melbourne, GCB PC (April 1782 – January 1853), known as The Lord Beauvale from the year 1839 to 1848, was a British politician. He was a younger son of Peniston Lamb, 1st Viscount Melbourne, and his wife Elizabeth Milbanke, and the younger brother of Prime Minister William Lamb, 2nd Viscount Melbourne. Since his mother had numerous lovers, his real origin is a matter of opinion. He married Alexandrina Julia Theresa Wilhelmina Sophia Gräfin von Maltzan, daughter of Joachim Charles Leslie Mortimer Graf von Maltzan.
Blazons & Genealogy Notes
1) Ar. a crescent and a bordure sa.
2) Ar. a cross moline sa. quarter pierced of the field.
3) Gu. a chev. betw. three escallops ar.