Meldrum Family Crest, Coat of Arms and Name History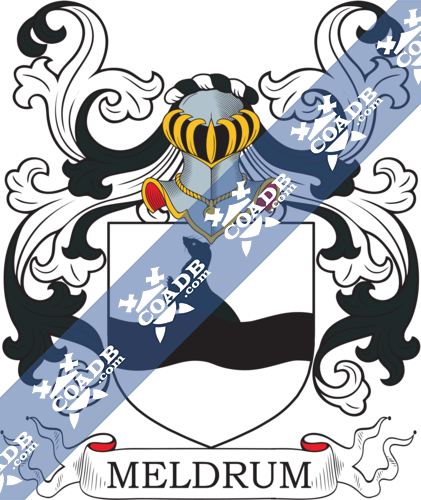 Meldrum Coat of Arms Gallery
Don't know which Coat of Arms is yours?
We can do a genealogical research. Find out the exact history of your family!
Learn More
Meldrum Origin:
Scotland
Origins of Meldrum:
This interesting and uncommon surname is of Scottish origin and is a geographical name from the old barony of Meldrum (Melgedrum) in the old district of Aberdeenshire. The place name, which was first listed in 1291 as "Melgedrom," is combination of the Old Gaelic components "mal(a)g," which means noble and "druim," which means a hill, high part. Among the Middle Ages when migration for the purpose to search a job was becoming more common, people often took their old hamlet name as a source of recognition, thus resulting in a wide distribution of the name. The surname first appears at the end of the 13th Century, where David de Melkedrum of the district of Fife and William de Melkedrom, Sheriff of Aberdeen in 1292, both carried out homage in 1296, according to the "Calendar of records relating to Scotland." Other old examples of the surname such as Thomas, son and heir of William de Melkdrum, "who asked that he may have acceptable nourishment," in 1307, and Philip de Meldrome, who witnessed the gift of the barony of Dalkeith to William de Douglas in 1341. Sir John Meldrum (deceased 1645) helped in the plantation of Ulster, 1610 – 1617, and was a patentee for set up lighthouses on North and South Foreland, 1635 and attended the parliamentary forces against Charles 1, being mortally wounded at Scarborough.
Variations:
More common variations are: Meldrrum, Meldrumm, Meledrum, Melldrum, Mildrum, Meldram, Maldrum, Meldrem, Meldrom, Meldrim.
Scotland:
The surname Meldrum first appeared in Aberdeenshire, an old division, and new Conference Area of Aberdeen, located in the Grampian region of northeastern Scotland, where they held a family seat from old times.
The very first recording spelling of the family was shown to be that of Alexander de Melgedrom, dated about 1278, in the "Record of Dumfermelyn," Scotland. It was during the time of King Alexander III of Scotland, dated 1216 – 1272. The origin of surnames during this period became a necessity with the introduction of personal taxation. It came to be known as Poll Tax in England.
Ireland:
Many of the people with surname Meldrum had moved to Ireland during the 17th century.
United States of America:
Individuals with the surname Meldrum settled in the United States in two different centuries respectively in the 18th, and 19th. Some of the people with the name Meldrum who settled in the United States in the 18th century included George Meldrum, who arrived in Virginia in 1716. Michael Meldrum settled in Virginia in 1724. William Meldrum, who landed in Virginia in 1756
Some of the people with the name Meldrum who settled in the United States in the 19th century included Alexander Meldrum, who arrived in New York in 1816. William Meldrum settled in Philadelphia in 1865. Charles Meldrum landed in Allegany (Allegheny) Division, Pennsylvania in the year 1876.
Canada:
Some of the people with the surname Meldrum who settled in Canada in the 19th century included James Meldrum, Mary Meldrum, Mary Meldrum and James Meldrum, all arrived in Saint John, New Brunswick in the same year 1834 aboard the brig "Maria" from Cork, Ireland.
Australia:
Some of the people with the surname Meldrum who settled in Australia in the 19th century included John Meldrum arrived in South Australia in the year 1854 aboard the ship "Nugget."
Here is the population distribution of the last name Meldrum: United States 2,875; England 1,834; Scotland 1,549; Australia 1,469; Canada 1,116; South Africa 365; Germany 202; New Zealand 194; Wales 135; Northern Ireland 83.
Notable People:
Andrew Meldrum (born 1951), is an American reporter.
Andrew Norman Meldrum (1876–1934), was a Scottish scientist.
Colin Meldrum (born 1975), is a Scottish football player.
Courtney Meldrum (born 1977), is an American long-distance racer.
Glenn Meldrum (born 1986), is an Australian actor.
Jeffrey Meldrum (born 1958), is an American anthropologist.
John W. Meldrum (died 1936), was the 1st U.S. Commissioner, Yellowstone National Park.
Blazons & Genealogy Notes
1) (that Ilk, co. Aberdeen; now represented by the Urquharts of Meldrum as heirs of line). Ar. a demi otter issuing out of a bar wavy sa.
2) (Fyvie, co. Aberdeen). Quarterly, 1st and 4th, as the last; 2nd and 3rd, ar. three unicorns' heads erased sa., for Preston.
3) (Crombie, co. Banff). Motto—Mens immota manet. Quarterly, as the last, within a bordure engr. sa. Crest—A dexter hand holding a book ppr.
4) (Dumbreck, co. Aberdeen). Quarterly, as Fyvie, with a crescent sa. in the centre of the quarters for diff.
5) (Segie, co. Fife). Ar. three otters' heads couped sa.