Meles Family Crest, Coat of Arms and Name History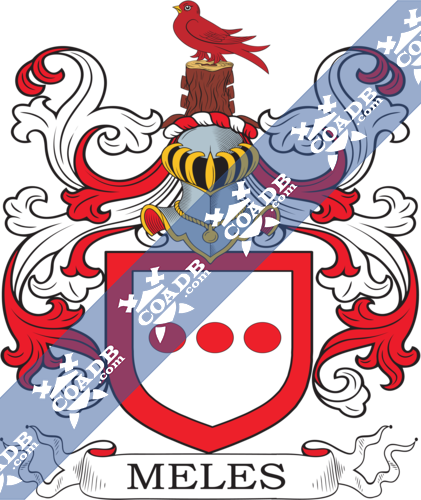 Meles Coat of Arms Gallery
Don't know which Coat of Arms is yours?
We can do a genealogical research. Find out the exact history of your family!
Learn More
Origins of Meles:
The surname Meles is a name that carried to England in the great wave of migration from Normandy following the Norman Invasion of 1066.  The Meles family resided in Melhuish in Devon.  The surname Meles is a habitation name that originally acquired from pre-existing names for towns, hamlets, churches, or farmsteads.  The surname originated as a source of identifying individuals from a particular area.  In the Middle Ages, people often thought the name of the place that they originally resided as their surname during travel.
Variations:
More common variations are: Meales, Melles, Meyles, Melese, Mieles, Meless, Melesi, Melies, Meleas, Meeles.
England:
The surname Meles first appeared in Devon where they held a family seat from old times as Lords of the Estate of Melhuish in that shire, some say, well before the Norman Invasion of England in 1066 A.D. The original name of the hamlet was Melewis.  Conjecturally the family name descended from Hugh of Rennes, holder of the hamlet of Melhuish from Baldwin, Sheriff of Devon at the time of the taking of the Domesday Book Survey in 1086 A.D.
United States of America:
Individuals with the surname Meles landed in the United States in the 20th century.  Some of the people with the name Meles who arrived in the United States in the 20th century included Nick Meles at the age of 29, arrived in Texas in the year 1906.  Constantine Meles, who came to Texas in the year 1910.  Nek Meles who landed in Texas in the same year 1910.
Blazons & Genealogy Notes
(Meles, co. Lancaster). Ar. three torteaux in fesse, a bordure gu. Crest—On the stump of a tree a martlet ppr.