Meller Family Crest, Coat of Arms and Name History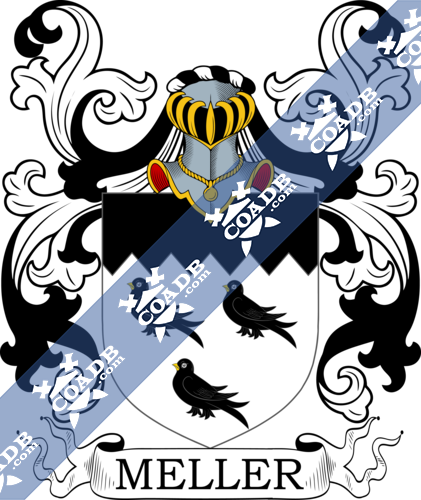 Meller Coat of Arms Gallery
Don't know which Coat of Arms is yours?
We can do a genealogical research. Find out the exact history of your family!
Learn More
Meller Origin:
England
Origins of Meller:
Listed in a remarkable number of spellings such as the famous Mellor and the more rarified Meller, Melor, Mellior, Mellaw, Mellors, Melaugh, Mellarts, Mellowes, Meyller and even Mellop, this is an English surname. It is geographical from the hamlets named as Mellor in Lancashire or Cheshire. Listed respectively as "Malver" in the year 1130, and as Melner in the record of Pleas before the King for the above divisions, the places so called from old British (pre-Roman) words "moel," which means naked, and "bre," which means a slope. Both places are located on the slope of rounded hills. Geographical Surnames frequently originated when old residents of a place shifted to another place, usually to search work, and best recognized by the name of their mother town. The surname first developed on record towards the middle of the 13th Century. Early examples contain the Willelmus de Meller in the Census Tax Returns of Yorkshire in 1379, and in 1588, Edward Mellor of Oldham, Lancashire listed in the Wills documents held in the city of Chester. A Royal symbol related to the family name has the blazon of a silver shield with three blackbirds proper and a black chief dancettee.
Variations:
More common variations are: Moeller, Mueller, Meiller, Mellera, Mellere, Mellero, Melleor, Mealler, Mellery.
England:
The surname Meller first appeared in Dorset where they held a family seat from old times, and their first register found on the early poll rolls derived by the old Kings of Britain to decide the rate of taxation of their services.
The very first recording spelling of the family was shown to be that of Richard de Meluer, dated about 1246, in the "Assize Court Rolls of Lancashire." It was during the time of King Henry III who was known to be the "The Frenchman," dated 1216 – 1272. The origin of surnames during this period became a necessity with the introduction of personal taxation. It came to be known as Poll Tax in England.
Ireland:
Many of the people with surname Meller had moved to Ireland during the 17th century.
United States of America:
Individuals with the surname Meller landed in the United States in three different centuries respectively in the 17th, 18th, and 19th. Some of the people with the name Meller who arrived in the United States in the 17th century included Thom Meller, who came to Virginia in 1651. John Meller, who came to Maryland in 1679.
People with the surname Meller who landed in the United States in the 18th century included Sarah Meller, who settled in Maryland in 1720 with her husband. Felicks Meller arrived in Pennsylvania in 1732. Hans Jacob Meller, who came to Pennsylvania in the year 1732. Johan Georg Meller, who landed in Pennsylvania in 1732. Augustine Meller, who arrived in Philadelphia, Pennsylvania in 1750.
The following century saw more Meller surnames come. Some of the people with the surname Meller who arrived in the United States in the 19th century included Barbara Meller, who landed in America in 1843. Fredrick George Meller landed in New York in 1849. Robert Meller landed in New York in 1862.
Here is the population distribution of the last name Meller: Poland 3,342; Germany 3,295; Brazil 2,846; United States 1,851; Israel 1,390; Russia 1,118; England 769; Argentina 478; France 245; Chile 234.
Notable People:
Amos Meller (1938-January 2007) best identified as an Israeli writer and director. He was born in Kibbutz Ein HaHoresh and died in Tel Aviv.
Nina Genke or Nina Genke-Meller, or Nina Henke-Meller was a Ukrainian-Russian avant-garde artist, author, and graphic artist.
Sir Richard James Meller (1872 – 23 June 1940) was a British barrister and Conservative politician. He was born in London, the son of Richard Meller.
Stefan Meller ( July 1942 in Lyon, France–February 2008 in Warsaw, Poland) was a Polish politician and professor.
Vadym Meller (1884–1962), was a Ukrainian-Russian Soviet artist, modern painter, a professional architect, book cartoonist and developer.
Blazons & Genealogy Notes
1) (Middle Temple, London; granted 1719). Ar. three martlets sa. beaked or, a chief dancettée of the second.
2) (Robert Meller, Doctor of Physic; descended from Sir Robert Meller, Knt., of Bredy, co. Dorset; Fun. Ent. Ulster's Office, 1684, of Elizabeth, his wife, dau. of William Freeman, Esq., of Leigh, co. Surrey). Az. four mascles in cross or. Crest—A demi lion az. holding a mascle or.
3) (Reg. Ulster's Office). Gu. a lion ramp. ar. betw. four annulets of the last.
4) (co. Chester). Az. a fesse ar. fretty gu. betw. three crowns or, a bordure wavy of the second. Crest—A greyhound pass. sa. collared or, resting the dexter paw on an escutcheon az.