Mell Family Crest, Coat of Arms and Name History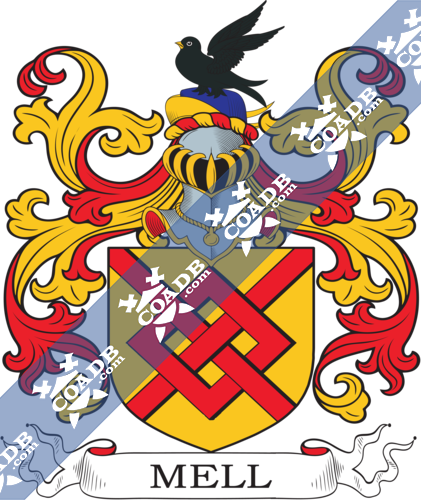 Mell Coat of Arms Gallery
Don't know which Coat of Arms is yours?
We can do a genealogical research. Find out the exact history of your family!
Learn More
Mell Origin:
England, Scotland
Origins of Mell:
This surname is a unique and interesting regional variant of Mill, a name of English and Scottish source, which is either geographical for a person who resided near a mill, or a professional name for a worker at a mill, or certainly the miller himself. The source is from the Old English pre 7th Century "landholders(e)," the middle English "mille," and the Latin "molina," a hereditary of "molere," which means to crush. The mill, either powered by water, air or animals was an essential center of every old village. It was normally completed by an agent of the local land holders and unusual laborers forced to come to him and have their corn ground into flour, a relationship of the ground corn being kept by the Miller instead of payment. Two first weddings of name ancestors in London are between one, Mary Mell and Miles Tompkins in October 1666, at St. James's, Dukes Place and William Mell and Elizabeth Wood in April 1573 at St. Lawrence Poultney.
Variations:
More common variations are: Miell, Melly, Meall, Mello, Mella, Meill, Melli, Melle, Moell, Mellu.
England:
The surname Mell first appeared in Somerset where Mells (St. Andrew), is a local church, in the union of Frome, in the hundred of Mells and Leigh. The church recorded back to pre- Domesday Book and was known as Milne in 942 acquired from the Old English word "myln." By the time of the Domesday Book, the name place name had acquired to "Mulle" or "Mulne" which meant "many mills." At that time, it was part of the land of St Mary of Glastonbury and held land big sufficient for 20 ploughs.
The very first recording spelling of the family was shown to be that of Richard de la Melle, dated about 1200, in the "Curia Rolls," Sussex. It was during the time of King John who was known to be the "Lackland," dated 1199 – 1216. The origin of surnames during this period became a necessity with the introduction of personal taxation. It came to be known as Poll Tax in England.
Ireland:
Many of the people with surname Mell had moved to Ireland during the 17th century.
United States of America:
Individuals with the surname Mell landed in the United States in three different centuries respectively in the 18th and 19th. Some of the people with the name Mell who arrived in the United States in the 17th century included Peter Mell, who arrived in Philadelphia County, Pennsylvania in 1743. Melchior Mell, who arrived in Pennsylvania in 1746. Michael Mell, who landed in Pennsylvania in 1750. Johann Henrich Mell, who landed in Pennsylvania in 1765. Martin Mell, who landed in Charles Town, South Carolina in 1782.
The following century saw more Mell surnames arrive. Some of the people with the surname Mell who arrived in the United States in the 19th century included Johannes Mell, who arrived in America in 1832. William Mell, who landed in San Francisco, California in 1850.
Here is the population distribution of the last name Mell: Brazil 2,464; United States 2,323; Papua New Guinea 1,494; Algeria 982; Germany 706; Malaysia 531; France 404; Morocco 403 ; England 360; Russia 273.
Notable People:
Randle Mell was born in December 1951 in Fresno, California as Randle Dean Mell. He is an actor, famous for Wyatt Earp (1994), The Postman (1997) and Grand Canyon (1991). He is married to Mary McDonnell since September 1984. They have two children.
Stewart Albert Mell (b. 1957), is an old English football player.
Luisa Mell (b. 1978), is a Brazilian actress and old TV performer.
Marisa Mell (1939-1992), was born as Marlies Theres Moitzi. She was an Austrian actress.
Richard F. "Dick" Mell (b. 1938), is an American political leader.
Deborah L. "Deb" Mell (b. 1968), is an American political leader from Chicago.
Richard F. Mell (b. 1938), is an American Democratic leader.
Blazons & Genealogy Notes
1) Or, a fret gu. Crest—On a chapeau az. turned up or, a martlet with wings endorsed sa.
2) (co. Suffolk). Same Arms, a border of the second bezantée and an annulet az.