Meredith Family Crest, Coat of Arms and Name History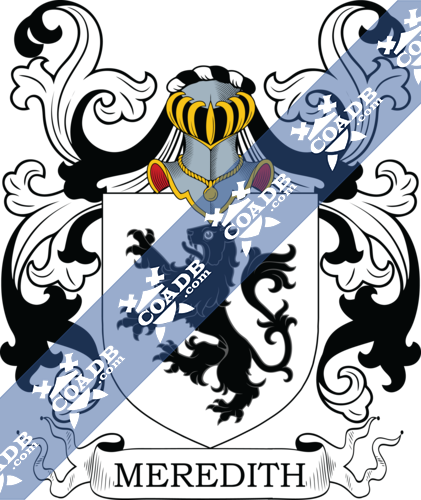 Meredith Coat of Arms Gallery
Don't know which Coat of Arms is yours?
We can do a genealogical research. Find out the exact history of your family!
Learn More
Surname Name Meaning, Origin, and Etymology
This Celtic-Welsh surname is a baptismal surname meaning "the son of Meredith". One source states that old chronicles document the family as first being settled on the shores of Wales, where the sea washed in with great power and noise, from which they took the name Meredyth or Ameredith, deriving from the Welsh word Maredydd, meaning "the animated one". It derives from the old Welsh personal (first) name Maredudd. The old form of the name is Morgeitud, with the first part meaning "splendor" or "pomp" and the last word meaning "lord". Another source notes the Modern Welsh word is marwddydd meaning "mortal day". It describes a descendant of Margetud, King of Dyfe in the 600s AD. Merdydd ap Bleddyn was price of Powys (1047-1132) in eastern Wales. One source claims the name was first found in Denbighshire. Another states claims that this is a locational surname deriving from a local in Herefordshire named Mirridith.
H.B. Guppy's book, Homes of Family Names, published in 1890, states: "Herefordshire is the principal home of the Merediths, who are also to be found in North and South Wales, Shropshire, Monmouthshire, and Gloucestershire. Several of the mayors of Hereford in the 16th and 17th centuries bore this name".
Early Bearers of the Surname
Spelling variants of this name include, but are not limited to: Meredyth, Ameredith, Meredyyd, Merriday, Mordue, Merdue, and Merridew.
Early Bearers of the Surname
Maredud ap Ywein (Meredith son of Owen) was recorded in the Brut y Tywysogion in 985 AD. Meredud ab Grufud (Meredith son of Griffith) was recorded in 1270 AD. Madawc the son of Maredudd possessed Powys within its boundaries, from Porfoed to Gwauan in the uplands of Arwystli. Freeman's Norman Conquest documents three bearers of this surname: Meredyyd, son of Bleddyn, Meredydd son of Gruffydd, and Meredydd son of Owen. A one Meredith ap Eynon was recorded in 1322 AD in county Glamorgan in the Writs of Parliament. Thomas Merydwere was listed in the Poll Tax of Yorkshire in 1379 AD. A one Richard Meredith was recorded in 1575 AD in the Register of the University of Oxford.
History, Genealogy, and Ancestry
The famous genealogist Bernard Burke's book "Peerage and Knights" discusses one branch of this family: Meredith of Pentrebychan. It begins with a mention of Hnery Warter-Meredith, Esq. of Pentrebychan in county Denbigh. He was born in 1900 and succeeded his uncle, Thomas Meredith, in 1802. He was High Sheriff, and in 1824, by royal license, received the surname Merefith. He married Elizabeth Lowry, daughter of Mungo Park, and had children with he: Henry (a Colonel who served in Crimea with the 41st regiment) and Marion (who married Major Philips). His second wife was Mary Augusta, daughter of Bevis Heywood Thelwall. Burke traces the lineage back to Efnydd Gwerny, Lord of Duffryn Clwyd, founder of the XIV Noble Tribe of Wales and Powys. Meredith Ap David, of Alington, was 8th in descent to him, and had a son named Rowland Meredith. His grandson was Richard Meredith, who was seated at Pentrebychan, and became the modern founder of this family. Richard married Jane, the daughter and co-heir of Moran ap David ap Robert and has issue with her: Sir William (Knight of Stansly, who had a son named William) and Hugh. Hugh was of Wrexham and Pentrebychan and his line gave rise to Thomas Meredith, M.D. of Pentrebychan, who died without children in 1802. The estate was inherited by the son of his sister Margaret and her husband, Joseph Warter, Esq. of Sibberscott Salop). The family bore the following arms blazoned as follows: Azure a lion rampant or, with a lion's head erased or for the crest. They are seated at Pentrebychan Hall in Wrexham.
A one Joseph Meredith was born in 1760 in Pettsylvania County, Virginia. In 1780, he married Nancy Skaggs at Bear Creek VA, and together they had numerous issue: Charles Wallace, Thomas, Frederick, Susannah, Joseph Abraham, Nancy VanMeter, Alexander, William, John, Lindsey, and Elizabeth Brooks. He died in 1840 in Kentucky. His son Charles Wallace was born in 1782 in Washington County, VA. In 1801, he married Sarah Wells, in Green County, Kentucky. Together they had numerous children: William H, Bradley, Carrol Lewis, Joseph Wallace, Mary Sanders, Frederick, Susannah Sanders, Nancy Sanders, Thomas A., and John W. His son Bradley Meredith was born in 1803, in Kentuck. In 1826, he married Jemima Sanders. Together they had the following children: Elizabeth, Rose Anne, Charles, Miles W., Bradley, Woodford, Washington A., Sarah W., Elizabeth J., Nancy, and Soloman. His son Frederick was born in 1830 in Edmonson County, KY. He married three times: Rhoda (1852), Surrilda McClendo (1867), and Rebecca G. Anderson (1893). He left behind the following issue prior to his death in 1902: Cynthia Ann, Martha Jane, William Bale, Willis Skaggs, Nancy Elizabeth, Sally A., Mary Jane, Lottie Ada, Ann E. Random Cockeril, Frances H., John R., Eugene Lewis, and Julia Meredith. His son Random was born in 1872 in Bee Spring, KY. He married Mary Frances Goff in Edmonson, KY. He left the following children prior to his death in 1952: Nannie Mae, Mary Elizabeth, Cora Alice, Ernest Frederic, Mattie, Josie, Stella, and Jewell.
Early American and New World Settlers
Early settlers in the New World bearing this last name include Phillip Meredith (Virginia 1635 aboard the Globe from London), David Meredith (Virginia 1650), Elizabeth Meredith (New England 1654), and James Meredith (Maryland 1740).
Mottoes
There Meredith family motto is Heb Dduw heb ddim, a Duw a digon, which means "With God everything, without Him nothing". Another motto is Fiat Dei voluntas, which means "May God's will be done".
Grantees
Later people bearing this surname that bore the arms: 1) Meredith of Berrington Court, co. Wore, [1824] and 2) Edward Phillipps, of Glenely, South Australia, 1878. A coat of arms was granted to Meredith, brother of Griffith Ap Conan, prince of North Wales, with the following blazon: quartered, argent and gules thereon four lions passant counterchanged of the field.
Notables
There are numerous famous people bearing this surname, including: 1) Amaza Lee Meredith (1895-1984) who was an African American architect, educator, and artist that founded the Art Department at Virginia State College, 2) Thomas Meredith (1777-1819) who was an Anglo-Irish clergyman and mathematician, 3) Sir Henry Vincent Meredith (1850-1929), 1st Baronet, who was an Canadian banker and philanthropist, and 4) Richard Meredith or Meredyth (d. 1597) who was Bishop of Leighlin un Ireland.
Blazons & Genealogy Notes
1) (Ap-Meredith). (Wales). Ar. a lion ramp. sa.
2) (Henbury, co. Chester). Gu. a lion ramp. reguard. or. Crest—A demi lion ramp. sa. collared and chained, reflexed over the back or.
3) (Stansley, co. Denbigh, bart., extinct 1730, and Leeds Abbey, co. Kent). Az. a lion rump. or. Crest—A lion's head erased ppr. Another Crest—An Eastern coronet or, thereon a dragon pass, wings expanded gu.
4) (Prince of Wales). Or, a lion's gnmb craned in bend gu.
5) (ap Conan). (Lord of Rhiwhirieth, Coel Tabog, and Nenadd Wenn, North Wales. Descendants: 1) Roberts, near Llain Wenn; 2) Oliver, of Neuadd Wenn and Llanervil; 3) Williams, of Dokanog; 4) Lloyd, of Mairdre in Edeirnion, and Randir; 5) Hanmer, of Hanmer: 6) Bradenheath, of Penley, Bittifield, Halghton, Llai, Fens, Pentre David, Maesbrook, and Bryn; also uf Buryrigg, in Yorkshire; 7) Overton, of Overton Maddock. Meredith was brother of Griffith ap Conan, Prince of North Wales). Quarterly, ar. and gu. four lions pass. counterchanged of the field.
6) (Pentrebychan, co. Denbigh; derived from Hugh Meredith, Esq., of Wrexham and Pentrebychan, temp. Elizabeth, younger brother of Sir William Meredith, Knt., of Stansly). Az. a lion ramp. or. Crest—A lion's head or. Motto—Heb Dduw heb ddim, a Duw a digon: With God everything, without Him nothing.
7) (Upper Weld, co. Buckingham). Per pale or and ar. a lion ramp. sa. Crest—A demi lion ramp. per pale or and ar. collared and lined sa.
8) (Crediton, co. Devon). Ar. a lion ramp. reguard. sa. Crest—A demi lion ramp. sa. ducally gorged and chained or.
9) (Oswestry, co. Salop). A lion ramp. sa. over all a bend sinister or.
10) (Radnor, Wales; granted 1574). Ar. a lion ramp. sa. gorged with a collar and chain affixed thereto, reflexed over the back or. Crest—A demi lion ramp. sa. collared and chained or.
11) Ar. three nags' heads erased sa.
12) (Cloonamahon, co. Sligo). Az. a lion ramp. ar. Crest—On an Eastern crown or, a griffin gu. Molto—Heb Dduw heb ddim, a Duw a digon.
13) (Glenelg, Australia; Edward Phillipps Meredith, Esq.). Ar. a lion ramp. sa. gorged with a mural crown pendent therefrom a chain reflected over the back or, holding betw. the paws an escocheon of the first charged with a pear leaved and slipped ppr. betw. four mullets of six points gu. Crest—A lion ramp. sa. gorged with a mural crown pendent therefrom a chain reflected over the back or, holding in the dexter forepaw a pear leaved and slipped ppr. and the dexter hind paw resting on an escocheon ar. charged with a mullet of six points gu.
14) Per chev. ar. and or, a lion ramp. sa. a canton gu. Crest—A yew tree ppr.
15) (Greenhills, co. Kildare, bart.). Ar. a lion ramp. sa. collared and chained or. Crest—A demi lion ramp. collared and chained, as in the arms. Motto—Heb Dduw heb ddim, a Duw a digon: Without God there is nothing, with God enough.
16) (Carlandstown, co. Meath, bart.). Same Arms and Crest, a crescent for diff. Crest—Fiat Dei voluntas.