Merrifield Family Crest, Coat of Arms and Name History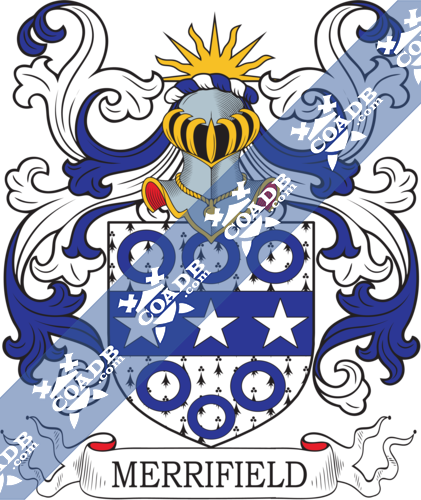 Merrifield Coat of Arms Gallery
Don't know which Coat of Arms is yours?
We can do a genealogical research. Find out the exact history of your family!
Learn More
Merrifield Origin:
England
Origin of Merrifield:
It is an English regional surname from any of the different places so called, like Merryfield in Devon and Cornwall. The name acquires from the Olde English components 'murige' which means 'workers' or 'laborer' and the word 'feld,' which means a meadow or open country, and was used for one resident in pleasant farmland. In the new era, the name has four spelling varieties as Merrifield, Merrefield, Meryfield, and Mirfield. A possibility is that the name is an exploitation of Maryfield. 'The side of Salisbury Cathedral is so known as in old records, being a misplacement of St. Mary's Field' as Patronymica Britannica (1860).
Variations:
More common variations of this surname are: Merifield, Merrfield, Merrifeld, Merriefield, Merrifild, Merriifield, Merryifield, Meerrifield, Merryfield, Merrefield.
England:
The surname Merrifield first organized in Cornwall and Devon, where this prominent family flourished. Walter Merifild listed in Devon in 1200, but it is considered the family had established itself earlier in St. Columb, Cornwall.
The very first recording spelling of the family was shown to be that of John de Merefeld, which was dated 1273. in the "The Hundred Rolls of Somerset". It was during the time of King Edward I, who was known to be the "The Hammer of the Scots," dated 1272 – 1307.
Australia:
Some of the people with the name Merrifield who settled in the Australia in the 19th century included John Merrifield arrived in Adelaide, Australia aboard the ship "Britannia" in 1846. Edwin Merrifield, at the age of 34, arrived in South Australia in 1855 aboard the ship "Velocity." Richard Merrifield, at the age of 19, a seaman, landed in South Australia in 1860 aboard the ship "Ramillies."
Here is the population distribution of the last name Merrifield: United States 4,353; England 1,070; Wales 124; Australia 269; Scotland 53; Canada 533; South Africa 475; France 86; Mexico 209; New Zealand 36.
Notable People:
Charles Watkins Merrifield FRS was born October 1827 and died in January 1884 in Hove. He was an outstanding British mathematician. Having sat for the Bar, he in the year 1847 received a selection in the Education section of the Privy Council Office.
Eric Mowbray Merrifield was known as the creator of the dolls.
Mary Philadelphia Merrifield was born Mary Watkins in April 1804. She died in January 1889. She was a British author of art and crafts. After that she became an algologist (an expert on sea bodies). She was born in Brompton, London in the year 1804. Her father, Sir Charles Watkins, was an advocate who was a specialist in moving property from one person to another person. She married John Merrifield and gave birth to a son, Charles Watkins Merrifield, in the year 1827.
Robert Bruce Merrifield was born in July 1921 and died in May 2006. HE was an American expert in biochemistry who got the Nobel Prize in Chemistry in the year 1984 for the creations of solid state peptide combination.
Whitley David Merrifield was born in January 1989. He is an American professional baseball player and left fielder for the Kansas City Royals of Major League Baseball (MLB). He played college baseball at the University of South Carolina from the year 2008 to 2010. In the second round of the 2010 College World Series, he hit a game-winning RBI single in the bottom half of the 11th inning to give South Carolina the tournament. In his three years at South Carolina, he played in 195 games.
Frederick Merrifield was an English entomologist, administrator of the royal Entomological Society from the year 1905 to the year 1906.
Donald Paul Merrifield was a famous judge, professor and 11th administrator of Loyola Marymount University from the year 1969 to1984.
John H. Merrifield lived from the year 1847 to the year 1906, and was a member of the Vermont House of the Representatives.
William Merrifield was an American member of the Democratic National Convention from West Virginia.
Douglas A. Merrifield was an American congressman and administrator for St. Joseph, Missouri.
Deborah Merrifield was a member of Democratic National Convention from New York in the year 1996.
Blazons & Genealogy Notes
1) Erm. on a fesse betw. six annulets az. three mullets ar. Crest—A sun rising ppr.
2) Ar. a chev. betw. three martlets sa. Same Crest.
3) Or, three roses in fess az. enclosed by two bars of the second betw. three crescents sa.
4) (St. Columb, co. Cornwall). Ar. a chev. sa. betw. three (another, five) Cornish choughs ppr.
5) (co. Devon, and Crewkerne, co. Somerset). Or, on a fesse cotised az. betw. three crescents sa. as many roses ar.
6) (London). Sa. five garbs in cross or. Crest—A garb or, banded sa.
7) Vert two lions ramp. (another, pass.) ar. crowned or
8) Ar. a chev. betw. three martlets (another, crows) sa.
9) Vert three lions pass. guard. ar.
10) Vert six lions ramp. ar.
11) Sa. six lions ramp. or.
12) Or, on a fesse az. betw. three crescents gu. as many roses ar.