Merton Family Crest, Coat of Arms and Name History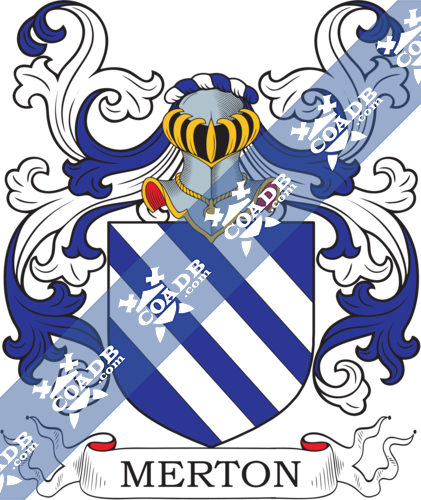 Merton Coat of Arms Gallery
Don't know which Coat of Arms is yours?
We can do a genealogical research. Find out the exact history of your family!
Learn More
This interesting surname is of English locational origin from some places e.g. Merton, in Devonshire, Norfolk and Oxfordshire, Marton in Cheshire, Lincolnshire, Shropshire and the North Riding of Yorkshire, Martin in Lancashire and Lincolnshire, etc. More common variations are: Meriton, Moerton, Mereton, Mearton, Mehrton, Meraton, Meerton, Mertton, Mertoni, Mertono.
The surname Merton first found in Devon, South London, Norfolk or Oxfordshire. The South London village is technically oldest as it records back to Saxon times when it was listed as Mertone in 967. The very first recording spelling of the family shown to be that of Adam de Mertuna, dated 1189, in the Liber Henrici de Soliaco. It was during the reign of King Richard 1, who was known as "Richard the Lionheart," dated 1189-1199.  Surname all over the country became a necessity with the introduction of personal taxation.  It came to be known as Poll Tax in England.  Surnames all over the country began to develop with unique and shocking spelling varieties of the original one.
Some of the people with the name Merton who arrived in the United States in the 17th century included George Merton, aged 23, who arrived in St Christopher in 1635.  Margaret Merton, who arrived in Virginia in 1698.  Richard Merton who settled in Barbados in 1698. Some of the people with the surname Merton who arrived in the United States in the 19th century included William G. Merton, who landed in Philadelphia, Pennsylvania in 1876.
Blazons & Genealogy Notes
1) (Merton, co. Devon; Margery Merton, of Merton, m. William le Moyne, living 11 Edward III., a.d. 1330; quartered by Holland, Earl of Kent and Duke of Exeter. Visit. Devon, 1620). (co. Lancaster). (Merton Sands; co. Chester; the heiress m. Glegg). Az. three bends ar.
2) Same Arms, tinctures reversed.
3) Ar. three chevronels per pale az. and gu. Crest—A demi Moor brandishing a scymitar ppr.
4) Barry of six az. and or; another, Ar. three heathcocks sa. beaked and legged gu.
5) (Walter Merton Lord Chancellor of England, temp, Henry III., Bishop of Rochester, 1274-77, founder of Merton College, Oxford, 1274; arms in Merton College. Visit. Oxon.1574). Or, three chevronels per pale az. and gu.
6) (that Ilk). Ar. a chev. sa. betw. three torteaux.