Mervyn Family Crest, Coat of Arms and Name History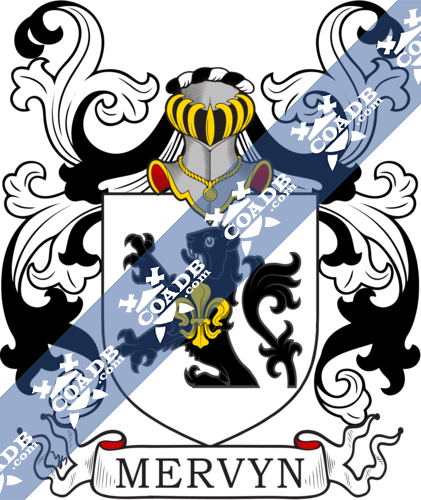 Mervyn Coat of Arms Gallery
Don't know which Coat of Arms is yours?
We can do a genealogical research. Find out the exact history of your family!
Learn More
Mervyn Origin:
Wales
Origins of Mervyn:
It is one of the great Welsh names, both as a surname and much later, a specific name, but one of unknown etymology. It was first noted in the 9th century with Merfyn Frych, or Mervyn, the freckled, King of Gwynedd in North Wales. In those days, names of kings quickly became famous with the people if only for reasons of political truth, but for some reason, this did not happen with this name. It was not until the time of King Edward III of England in the 14th century that the surname became noted in the Hereford area. There is a suggestion that the name was introduced to Wales by a Manxman, and is not really Welsh at all. It might explain its earlier loss of popularity, but we cannot prove this either way except to say that it does not show in the record of early Manx names. The old deeds of Hereford contain the records John Mervin in 1348 and Hugh Mervyn of Brecon in 1525. Probably surprisingly, it was only in the late 19th century that the name started to be used as a special name in any numbers. One of the first being Myrfyn Thomas of Cardiff, who passed away in October 1979.
Variations:
More common variations are: Mervoyna, Mervynne, Mervin, Merven, Mervan, Mervyn, Merfyn, Mervon, Meryvn, Murvyn.
Wales:
The surname Mervyn first appeared in Wiltshire, where this famous Welsh family descended from Mervyn Vrych, (Merfyn Frych 'Merfyn the Freckled', Merfyn ap Gwriad 'Merfyn son of Gwriad', Merfyn Camwri 'Merfyn the Oppressor') an 11th century King of Anglesey, who settled in Wiltshire on the English-Welsh border. He was considered to have passed away around 844 and was King of Gwynedd from around 825 to his death. He came from a long line of royalty.
Llywelyn ap Merfyn (died 942) was King of Powys, son of Merfyn ap Rhodri, and grandson of Rhodri the Great. His father, Merfyn ap Rhodri (died c.900) was also King of Powis (878-900.) Mystery encloses his death. Some belief, he died because of the invasion into Anglesey by the Viking Ingimundr. Others believf, he lost his rule to an attack by his brother Cadell, King of Ceredigion.
All drop back to Rhodri ap Merfyn ( c. 820-878), later known as Rhodri the Great (Welsh: Rhodri Mawr), who received his father, Merfyn Frych, as King of Gwynedd in 844. He is related to "King of the Britons" by the Annals of Ulster and later as the "King of Wales."
Ireland:
Many of the people with surname Mervyn had moved to Ireland during the 17th century.
United States of America:
Some of the people with the name Mervyn who arrived in the United States in the 19th century included Ferdinand Mervyn, who settled in Philadelphia in 1808.
Here is the population distribution of the last name Mervyn: Sri Lanka 456; Canada 240; United States 237; South Africa 183; Northern Ireland 119; England 108; Australia 35; India 32; Trinidad and Tobago 30; Singapore 30.
Notable People:
Audley Mervyn (1603–1675), was a lawyer and political leader in Ireland.
William Mervyn (1912–1976), was an English actor.
Blazons & Genealogy Notes
1) (Fonthill Giffard, co. Wilts). The funeral certificate of Sir John Meryn, who was of this family, d. 1566, as well as the pedigrees in the College of Arms, gives the above arms as the coat of Mervyn, of Fonthill Giffard. Motto—De Dieu tout. (One of the descendants of this Sir John Mervyn settled at Marwood, co. Devon, and the last male heir of that branch d. 1756, leaving two daus., one of whom d. unm., and the other, who eventually became sole heiress, m. Charles Newell Cutcliffe, Esq., of Damage, co. Devon). Sa. three lions pass. guard. per pale or and ar. Crest—A squirrel sejant ppr. cracking a nut or, a plain collar of the last, charged with three torteaux.
2) (Pertwood, co. Wilts, and co. Devon. Visit. Wilts, 1565). Ar. a demi lion ramp. sa. charged with a fleur-de-lis or.
3) (Trellick Castle, co. Tyrone; descended from Sir Audley Mervyn, M.P. for the county of Tyrone, and Speaker of the Irish House of Commons, son of Sir Henry Mervyn, descended from co. Wilts, by the Lady Christiana, his wife, dau. of George, Earl of Castlehaven). Or, a chev. sa.