Miles Family Crest, Coat of Arms and Name History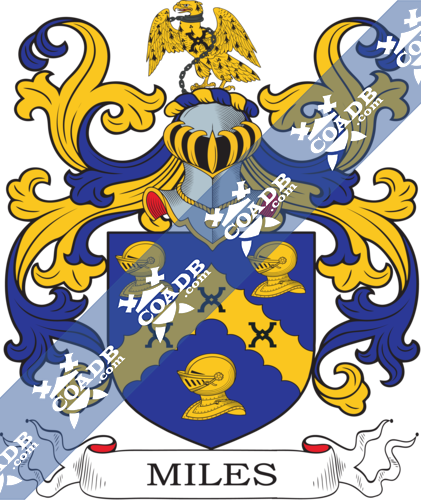 Miles Coat of Arms Gallery
Don't know which Coat of Arms is yours?
We can do a genealogical research. Find out the exact history of your family!
Learn More
Miles Origin:
England, Ireland
Origins of Name:
The surname of Miles has origins in both the English and the Norman societies. This surname of Miles was introduced to the country of England following the Norman Conquest of the year 1066. This surname is believed to derive from the Germanic personal name of "Mild" which comes from the Slavic word "mil" which can be translated to mean "mercy." The English believe that this surname comes from the Latin personal name of "Milo," where the spoken form of this name would have been pronounced as "Mile." It is believed that the "-s" that was added as a suffix represents the descendant patronymic meaning, which means that "Miles" as as surname literally means "son of Milo" or "son of Mile."
Variations:
More common variations are: Milles, Mailes, Moiles, Mieles, Milesi, Milhes, Milese, Miales, Mileos, Milles, Mile, Mills, Myles, Mylles, Millson, Mylls
History:
England:
The first recorded spelling of the surname of Miles was found in the country of England in the year 1177. This person, who was named as Nicholas Miles, was mentioned and recorded in the document the Pipe Rolls of Sussex. This document was ordered, decreed, and written under the reign of King Henry II of England, who was in power from the year 1154 to the year 1189. Other mentions of this surname in the country of England throughout history include Ralph Miles who was said to have founded a charity in the name of Lord Milo in the year 1292, and ended up actually adopting the name of his master, while one named William Augustus Miles who lived from 1753 to 1817 was a notorious political author who suggested the building of the Suez Canal in the year 1791, but stole this idea from the French. Those who bear the surname of Miles in England originally settled in the County of Hampshire. However, these people who bore the surname of Miles eventually ended up in the areas of Lancashire and Yorkshire counties, as well as the city of London. In Wales, those who carry the surname of Miles can be found in the county of Glamorgan.
Scotland:
Those who bore the surname of Miles can be found all over the country of Scotland. The areas with the higher concentrations of those who carried the surname of Miles are Roxburghshire, Fife, and Midlothian counties.
United States of America:
In the 1600's, European citizens began the European Migration, which was when they left their homeland in search of a better life. The United States of America, which at that time was referred to as the New World, was an area that was not explored, but promised religious freedom, work, and better living conditions, so it was a high traffic area. The first settler in America who bore the surname of Miles was Henry Miles, who settled in the state of Virginia in the year 1633, while Elizabeth Miles came to the state of Virginia in 1634. She was closely followed by Anthony Miles, Lewes Miles, and young Anto Miles, aged 11 years, who all arrived in the state of Virginia in the year of 1635. Those who bear the surname of Miles are found all over the United States. In the southern states of Virginia, North Carolina, South Carolina, Texas, and up into New York, Maryland, Ohio and Illinois.
Here is the population distribution of the last name Miles:
United States 93,927, England 26,113, Australia 9,310, South Africa 8,456, Canada 5,608, Wales 2,585, New Zealand 1,659, Argentina 1,314, Scotland 1,208, Uganda 1,120
Notable People:
Lynn Alan Miles (1943-2015) who was a human rights activist in Taiwan, but was from America
Joanna Miles (born in 1940) who was an American two-time Prime time Emmy Award Winning actress who was born in France
A.D. Miles (born in 1971) who was a two-time Primetime Emmy Award nominated writer and actor, who was known for the Late Night with Jimmy Fallon (2009) The Tonight Show Staring Jimmy Fallon (2014) and Horrible People (2008)
William Miles (1931-2013) who was nicknamed "Mule" and was an American Negro League Baseball player for the Chicago American Giants from the year 1946 to the year 1949 and was inducted into the Texas Black Sports Hall of Fame
Lieutenant-General Sherman Miles (1882-1966) who was a Commanding General in the 1st Service Command from 1942 to 1945
Nelson Appleton Miles (1839-1925) who was an Army officer from America
Aaron Miles (born 1976) who was an MLB player from America
Louis Wardlaw Miles (1873-1944) who was a WWII Medal of Honor recipient
Blazons & Genealogy Notes
1) (Narborough, co. Leicester). Az. on a chev. engr. betw. three knights' helmets or, as many millrinds sa. Crest—An eagle rising erminois collared, therefrom a chain reflexed over the back, and charged on the breast with a millrind sa.
2) (Leigh Court, co. Somerset, bart.). (Kingsweston, co. Gloucester). Az. a chev. erm. betw. three mascles, ar. each charged with a fleur-de-lis sa. Crest—A dexter arm embowed in armour ppr. garnished or, supporting with the hand an anchor also ppr.
3) (Cuddington). Erm. a millrind sa. a chief vert.
4) Gu. two bends or. Crest—A demi lion supporting an anchor all ppr.
5) (granted by Betham, Ulster, to Lieut.-Col. Edward Miles, C.B., son of Edward Miles, of Rochestown and Ballylaffin, co. Tipperary). Motto—Sola virtus invicta. Gu. betw. two bendlets erminois a sword ppr. the hilt in chief or. Crest—Out of a ducal coronet or, charged on the rim with three bombs fired ppr. a lion's head az. ensigned with a mural crown ar. and gorged with a laurel wreath gold.
6) (Dartford, co. Kent). On. a chev. ar. betw. three organ-rests ppr. Crest—A buzzard ppr.
7) (London. Visit. London, 1568). Erm. a millrind sa. Crest—A lion ramp. or.
8) (co. Hants). Sa. a bear erect ar. chained and muzzled or.