Millicent Family Crest, Coat of Arms and Name History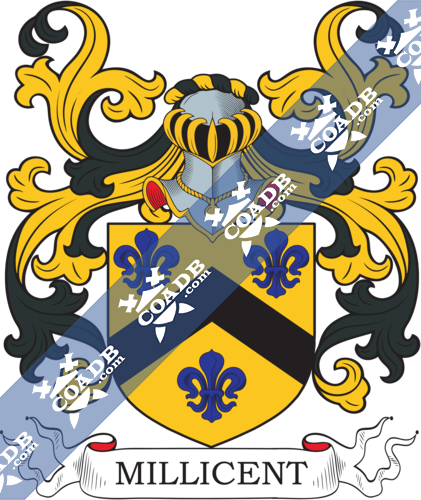 Millicent Coat of Arms Gallery
Don't know which Coat of Arms is yours?
We can do a genealogical research. Find out the exact history of your family!
Learn More
Millicent Meaning, Origin & Etymology
There are several possible origins for this surname. Bardsley's 'A Dictionary of English and Welsh Surnames' states that Millicent is patronymical, and derived from an ancestor's name, meaning 'the son of Millicent'. Lower's 'Patronymica Britannica' agrees, also stating that Milicent is a female Christian name. Harrison's 'Surnames of the United Kingdom…' claims that Millicent of Anglo-French-Latin origin and is derived from the common French names Milcent, Milsent and Milsant, and possibly also Toussaint, another common French surname, masculine Christian name, and Norman place name. Harrison also mentions that Millicent as an Anglo-French feminine Christian name is apparently derived from the Old Teutonic word 'amalaswinth' – the 'amala' being of unknown origin and the 'swinth' meaning strong. A separate source is in some agreement with Harrison, claiming that Millicent is derived from the Old French 'Melisende' which comes from the Germanic 'amal' meaning work and 'swinth' meaning strength. Arthur's 'An Etymological Dictionary…' lists Melicent and Milicent as Christian names of French origin, stating that they both mean 'honey-sweet'. Yet another source states that Millicent is an English form of the Gaelic 'Ó Maolagáin' meaning 'descendant of Maolagán', which derives from 'maol', the Gaelic word for 'bald'. It reports that the name Millicent was first found in the Northern Irish county of Donegal, where a family seat was held in the distant past. The same source also claims that the name has a Scottish origin in the Strathclyde-Briton people, a family seat being held in Wigtownshire in Galloway. Wigtown was first mentioned in 1292, but is likely to date back to the reign of Alexander III (1241-1286), as the sheriffdom was established by the Largs campaign of 1263.
Variations
A lack of structure in spelling arose in early Britain due to a mix of languages and largely phonetic spelling of names, so old names can vary enormously in spelling. Variations of the name Millicent which may share the same origin include, but are not limited to, the following: Millcent, Millacent, Milcent, Milisent, Milsent, Mills-Wint, Milsaint, Mulligan, O'Mulligan, Mullican, Mullighan, Mulliken, Milligan, Millicen, Millicken and Milliken.
Popularity & Geographic Distribution
As of 2014 there were reportedly only seven people worldwide bearing the surname Millicent, making it the 3,743,211th most popular surname today. Six Millicents can be found in India, and one can be found in Canada.
Early Bearers
The late 13th century 'Hundred Rolls' census records a Joan fil. Milicente in Buckinghamshire, a Peter Milisent in Salop and a Millesenta Cruche in Norfolk. A William Millecent is recorded in the 'Close Rolls' taken during the reign of King Edward III (1327-1377). A Mylisant Wyte was recorded in the 1379 'Poll Tax of Yorkshire. One John Myllicent was the bailiff of Yarmouth in 1549, as recorded in the 'History of Norfolk'. The St. James church in Clerkenwell saw a Richard Davis and Millysent Leather married in 1583, and a Mary Millissent, daughter of John Millisent, baptised in 1717. Samuel Pepys' diary records an instance of the name in 1662: "The story of Sir John Millicent that would have had a patent from King James for every man to have had leave to have given him a shilling".
Motto
The Millicent family motto is 'regarde bien' which translates as 'look carefully'.
History, Genealogy & Ancestry
One Thomas Millicent was born in 1810 and married Elizabeth Rachel Henchert in 1837 in Finsbury, England. He had two sons, Thomas and Henry Peter. His son Thomas Millicent was born in 1840 and married Elizabeth Youlden in 1861. They had the following issue: Elizabeth Rachel, Thomas and Alice.
Early Settlers
One James Millicent was recorded as landing in Virginia, USA, in 1653.
Grantees
We have two coats of arms for the Millicent surname depicted here. These two blazons are from Bernard Burke's book The General Armory of England, Ireland, and Scotland, which was published in 1884. The bottom of this page contains the blazons, and in many instances contains some historical, geographical, and genealogical information about where the coat of arms was found and who bore it. 
Notables
Some notable people through history bearing Millicent as a Christian name include, but are not limited to, the following: Millicent Selsham (1912–1996), an American author who wrote over a hundred children's books and won the 1965 Thomas Alva Edison Mass Media Award; Milicent Bagot (1907 – 2006), a British intelligence officer who was reportedly the inspiration behind the character Connie Sachs who appears the John le Carré novel 'Tinker, Tailor, Soldier, Spy'; and Millicent Binks (1987 – present), an English burlesque dancer and London Evening Standard columnist.
Blazons & Genealogy Notes
(Linton, co. Cambridge; John, son and heir of Thomas Mylsent, wt. Elizabeth, eldest dau. of John Gyll, Esq., of Wyddial, co. Hertford). Or, a chev. sa. betw. three fleurs-de-lis az.