Mitton Family Crest, Coat of Arms and Name History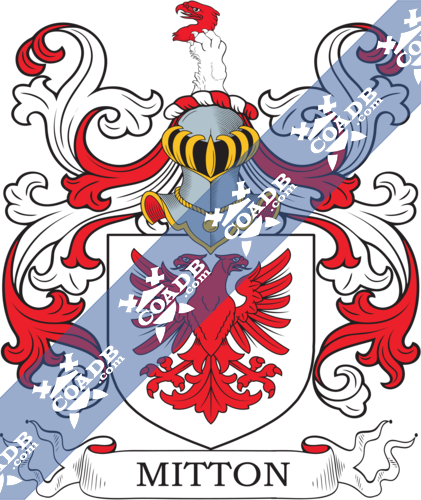 Mitton Coat of Arms Gallery
Don't know which Coat of Arms is yours?
We can do a genealogical research. Find out the exact history of your family!
Learn More
Mitton Origin:
England
Origins of Mitton:
According to the early recordings of the spelling of the surname, this interesting and unique name was listed in many spelling forms such as Mitten, Mitton, Mithon, Mithun, Mitham, and Mytton, this is an English geographical surname. It acquires from any one of the different hamlets called Mitton or Mytton, of which there are many examples all over the country. The name means 'The place in the Middle' from the Olde Engish pre 7th-century 'mydd-tun.' It would have been a hamlet, with most likely a restaurant, between two larger hamlets or towns, and where settlers may have been expected to rest. A similar kind of locational explanation as applied to a Hamlet is that of the Danish-Viking pre 9th century 'Thorp(e)', which mentions an outlying village, one up to three miles away from the main hamlet. These geographical style of surnames were frequently 'from' names. That is to say, they were names provided to people after they departed from their original mother town and shifted to any other place. Spelling being at best unusual and local dialects very thick, lead to the advancement of 'sounds like' spellings. Previous examples of the surname documentation appeared in the remaining records of the parish of Greater London contain as Anne Mythen, who named at the parish known as St Giles Cripplegate, in the City of London in January 1643, and James Mithon, named at St James Poultrey, also city of London, in December 1663.
Variations:
More common variations are: Miatton, Mittone, Mietton, Mittoni, Miton, Mutton, Mitten, Mytton, Motton, Matton.
England:
The surname Mitton first appeared in Shropshire. However, the church of Little Mitton in Lancashire played a major role in the family's ancestors. "It gave the name as early as the time of Richard I. to a strong family, of whom Sir Ralphe de Little Mitton discussed in the Townley M33. Aighton in Lancashire], under the name of Halghton, given by Ilbert de Lacy, former to 1102, with other lands, to a family who is thought to have derived the surname of Mitton."
The very first recording spelling of the family was shown to be that of Jordan de Mitton, dated about 1219, in the "Assize Courts Records for the County of Yorkshire." It was during the time of King Henry III who was known to be the "The Frenchman," dated 1216 – 1272. The origin of surnames during this period became a necessity with the introduction of personal taxation. It came to be known as Poll Tax in England.
Ireland:
Many of the people with surname Mitton had moved to Ireland during the 17th century.
United States of America:
Some of the people with the name Mitton who arrived in the United States in the 19th century included Roger Mitton, who came to Virginia in 1692.
Here is the population distribution of the last name Mitton: England 3,194; United States 1,734; Australia 1,467; Canada 556; Brazil 302; Trinidad and Tobago 292; South Africa 256; Mexico 131; New Zealand 104; Wales 102.
Notable People:
Bernard Mitton (born 1954), was a South African tennis player. He was born in the year 1954.
David Mitton (1939–2008), was a British television artist and manager.
Geraldine Mitton (1868–1955), was an English novel writer, biographer, manager, and guidebook author.
Grant Mitton (field hockey), was an Australian field hockey player.
Grant Mitton (politician) (born 1941), is a Canadian radio talk show presenter and leader. He was born in the year 1941.
Jack Mitton (1895–1983), was an English professional football player.
Jimmy Mitton (1890–1949), was an English professional football player.
Lorne Mitton was a Canadian leader.
Randy Mitton (born 1950), is a National Hockey League electrician.
Simon Mitton (born 1946), is a British stargazer and author.
Trent Mitton (born 1990), is an Australian field hockey player.
Blazons & Genealogy Notes
1) (co. Oxford). Ar. an eagle displ. with two heads gu. Crest—A lion's gamb couped and erect ar. grasping an eagle's head erased gu.
2) (co. Salop). Per pale gu. and az. an eagle displ. with two heads or, a bordure counterchanged. Crest—A demi eagle displ. with two heads per pale or and az.
3) (co. Stafford). (Mitton, co. York). Per pale az. and gu. (another, purp.) an eagle displ. with two heads ar. Crest—A bull's head sa. armed or, charged with three annulets of the last.