Moles Family Crest, Coat of Arms and Name History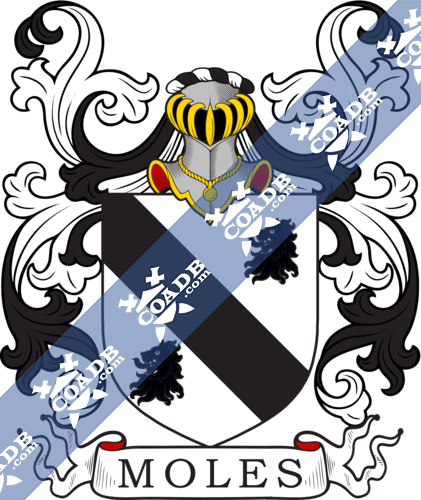 Moles Coat of Arms Gallery
Don't know which Coat of Arms is yours?
We can do a genealogical research. Find out the exact history of your family!
Learn More
Moles Origin:
England, Dutch, Scotland
Origins of Moles:
This interesting and unique surname of English origin is a pet name for a person having an imagined closeness to the mammal, acquiring from the Middle English "mol(le)" which means"mole" and the addition of "s" which means "son of." The surname dates sometime back to the end of 13th Century. More documentations contain one Nicholas de Mol (1272), "Testa de Neville, name Liber Feodorum." Parish recordings consist of Jane Molles who married William Freesey in December 1621, at St. Gabriel's, Fenchurch, London, Richard, son of Richard and Ann Moles named in January 1701 at St. Anne Soho, Westminster. John Henry Mole (1814-1886) was a water-colour artist. He was vice-administrator of the Royal Institute of Painters in Water-colours, 1879. One William Mole at the age of 32, who was a famine traveler, moved from Liverpool aboard the Rochester obligated for New York in May 1846. A Royal symbol gave to a Moles family which contains a silver shield with a black curve or diagonal line mentioning the shoulder strap worn by a fighter in the mid of two black lions heads removed.
Variations:
More common variations are: Moules, Moyles, Moales, Mowles, Moiles, Molles, Molesi, Molese, Molies, Moleas.
England:
The surname Moles was first found in Roxburghshire, Where they held a family seat as a tribe and descended from Eustace the Sheriff of Huntingdon who held his estates of Molesworth in Huntingdon from Countess Judith a fellow of Duke William of Normandy at the taking of the Domesday Book survey in 1086 AD. A section of this remarkable family moved north in 1124 in the train of King David of Scotland ( King David of Huntingdon) and gave estates in the upper half of Morebattle in Roxburghshire.
The very first recording spelling of the family was shown to be that of Willelmus Praepositus de Mole, dated about 1272, Testa de Neville, sive Liber Feodorum, Gloucestershire. It was during the time of King Henry III who was known to be the "The Frenchman," dated 1216 – 1272. The origin of surnames during this period became a necessity with the introduction of personal taxation. It came to be known as Poll Tax in England. Surnames all over the country began to develop, with unique and shocking spelling varietions of the original one.
Ireland:
Many of the people with surname Moles had moved to Ireland during the 17th century.
United States of America:
Individuals with the surname Moles settled in the United States in three different centuries respectively in the 17th, 18th, and 19th. Some of the individuals with the name Moles who landed in the United States in the 17th century included George Moles, who came to Barbados in 1671.
People with the surname Moles who settled in the United States in the 18th century included David Moles, who came to Pennsylvania in 1790.
The following century saw more Moles surnames arrive. Some of the population with the surname Moles who arrived in the United States in the 19th century included Francis Moles, who came to Washington Co. Pennsylvania in 1832. Francis Moles, who landed in Washington District, Pennsylvania in 1832. William Moles, who arrived in Allegany (Allegheny) Division, Pennsylvania in 1855
Here is the population distribution of the last name Moles: United States 3,143; Spain 2,343; England 920; France 882; Italy 773; Argentina 642; Australia 364; Mexico 314; Brazil 286; Germany 235.
Notable People:
Brodie Moles was born in November 1985. He is an Australian rules footballer in the Australian Football League (AFL).
James R. Moles (1884-November 1915) was an English professional football player who made 33 appearances in the Football League playing for Birmingham.
Thomas Moles (November 1871-February 1937) was an Ulster Unionist leader. He was born in Belfast, Ireland in 1871, he got his early education at the Collegiate School, Ballymena.
Andrew James Moles was born in February 1961 in Solihull, Warwickshire. He is an old English first-class cricket player for Warwickshire and Griqualand West.
Abraham Moles (1920 – 22 May 1992) was an engineer of electrical engineering and sound quality, and a specialist in physics and philosophy.
Enrique Moles Ormella (August 1883–March 1953) was a Spanish pharmacologist, physicist, and chemist.
Blazons & Genealogy Notes
Ar. a bend sa. betw. two lions' heads erased of the last.