Mort Family Crest, Coat of Arms and Name History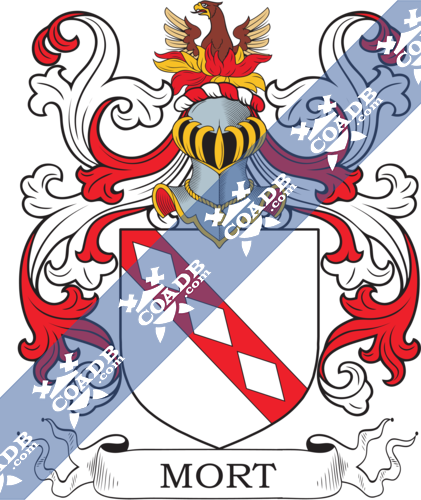 Mort Coat of Arms Gallery
Don't know which Coat of Arms is yours?
We can do a genealogical research. Find out the exact history of your family!
Learn More
Mort Origin:
England
Origins of Mort:
According to the early recordings of the spelling of surname, this interesting and unique name is listed as Mort, Morte, Mortel, Mortell, (English), Mort, Morte, Mortaux, Mortell, Mortin,(French), Mortale, Mortara, Mortato, Morteo, (Italian), and many more. It is a very uncommon surname. It has more than three possible sources. The first is that it is an old pet name from the Old French word "mort" which means death. So, it relates either to an actor who continually performed the role of death in the popular travelling theatres of the time, or it may have related to a person who "looked like death, pale", and had a dim or sickly structure. The second and at least in England a considered origin is acquired of the old pre 7th century particular name "Morta," which means of unknown etymology, and appeared in the place name of Mortlake in Surrey. The third can be of geographical origin from some places such as Morte Bank in Lancashire, England, or Mortagne in France or Mortola in Italy. This geographical origin in England would seem to be introduced by the large number of recordings of the surname in the division of Lancashire, where it well listed from at least Elizabethan period. Examples of parish recordings contain as Edward Morte, a naming witness at Winwick, Lancashire, England, in October 1565, Catherine Mort named at Aizanville, Haute-Marne, France, in August 1715, and Emanuele Monteo who married Giovanna Risso at Genova, Italy, in February 1867.
Variations:
More common variations are: Morte, Morty, Moret, Mortt, Morta, Morat, Morit, Morot, Mortu, Morti.
England:
The origins of the surname Mort was found in Essex where people held a family seat from early times. Someone say better before the success of Normans and the entrance of Duke William at Hastings 1066 A.D.
Ireland:
Many of the people with surname Mort had moved to Ireland during the 17th century.
United States of America:
Individuals with the surname Mort settled in the United States in two different centuries respectively in the 17th, and 19th. Some of the individuals with the name Mort who landed in the United States in the 17th century included Richard Mort, who arrived in Virginia in 1653. John Mort, who arrived in Virginia in 1664.
The following century saw more Mort surnames arrive. Some of the population with the surname Mort who arrived in the United States in the 19th century included James Mort, who landed in Allegany (Allegheny) Division, Pennsylvania in 1864. Joseph Mort, who landed in Allegany (Allegheny) Division, Pennsylvania in 1876.
New-Zealand:
Some of the individuals with the surname Mort who settled in New Zealand in the 19th century included J. Mort arrived in Auckland, New Zealand aboard the ship "William" in 1853.
Here is the population distribution of the last name Mort: United States 3,003; England 1,549; Iran 716; Australia 490; Rusia 452; Wales 373; Mexico 314; Germany 303; France 208; South Africa 164.
Notable People:
Chris Mort was an English advocate and old chairperson of Newcastle United Football Club. He is an advocate for Freshfields Bruckhaus Deringer, where he is co-head of the free time sector group and managing connections with companies in the gaming, holidays, hotels, bars and sports sections.
David Mort (1888–1963), was a British leader. He was born in Briton Ferry, Glamorgan, he left school at the age of thirteen when his father passed away. After starting working in an outfitters shop, he continually entered the local steel works.
Graham Mort was a British author, rewriter and professor.
Greg Mort (born 1952), was an American artist.
Helen Mort (born 1985), was a British poet.
Henry Mort (1818–1900), was a shepherd, businessman and leader in what is now Australia.
Ian Mort (1937–1996), was an Australian rules football player who played for Hawthorn in the VFL during the early 1960s.
John Mort (1915–1997), was an Anglican priest.
Thomas Mort (1897–1967), was an English football player.
Thomas Sutcliffe Mort (1816–1878), was an Australian manufacturer.
Valzhyna Mort (born Valhyna Martynava in 1981), was a Belarusian poet.
Blazons & Genealogy Notes
(Astley, co. Lancaster). Ar. on a bend gu. four (another, three) lozenges of the field. Crest—A phoenix in flames ppr.